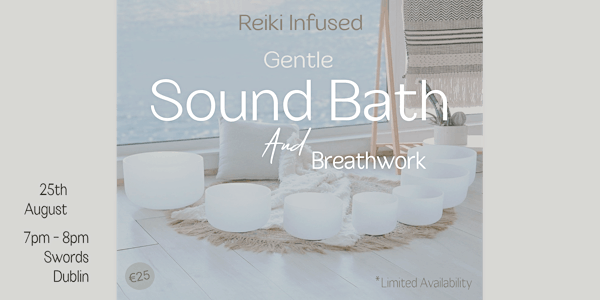 Gentle Sound Bath and Breathwork
Gentle Sound Bath and Breathwork to nurture your wellbeing and bring peace of body and mind...
When and where
Location
Swords Boroimhe Beech Swords Ireland
About this event
Sound Therapy highly improves sleep, awakens creativity and concentration, eliminates stress, calms the mind and releases Oxytocin. Breathwork practice is significant to improve mental, physical, and spiritual well-being.
Sound Bath Sound Baths are contraindicated in the following physical conditions:
• Heart pace maker
• Metal plates
• Metal implants or clips
• Cancer tumors
• 3-6 months after surgery
• Pregnancy
• Broken or fractured bones
Host:
Sasha O Great is a Yoga & Fitness Instructor, Nutritionist and Sound Therapist. She advises on healthy lifestyle choices for positivity of mind and body and is a Celtic Reiki Practitioner.