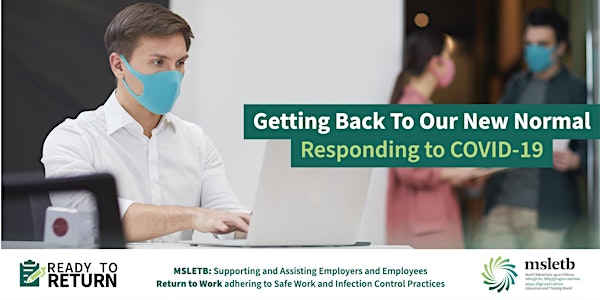 Getting Back To Our New Normal | Responding to COVID-19 | Two-part Webinar
MSLETB: Supporting and Assisting Employers and Employees Return To Work Adhering to Safe Work and Infection Control Practices
About this event
COVID-19 has presented businesses with a number of unique challenges, the next one being how to establish the 'New Normal' in the wake of this global pandemic.
This webinar is essential for business owners and employees looking for guidance on how to continue to work or to be ready to return to the workplace, with expert advice and supplementary resources provided.
These interactive sessions will provide a real opportunity to focus on the supports that are available and to learn how other organisations are preparing for life in the face of COVID-19.
Webinar Part 1:
General Guidance
Best Practice Demonstrations
Reliable Online Resources for Advice and Guidance
Dispelling the Myths and Mystique
Identify Safe Practices
FAQ's
Webinar Part 2 will take place on May 28th.
The importance of Training and Guidance
How to prepare a Risk Assessment
Review Business Continuity Planning
Introducing Contact Tracing
Alleviating Risk
Managing and supporting a Positive Mental Health attitude
This programme is run under the Skills to Advance initiative – and is complimentary to Organisations. Places are limited - please use the waiting list to be notified of future sessions.
Supported by Mayo Sligo Leitrim Education & Training Board (MSLETB).
Everybody Stay Safe: Please Protect Yourself & Others