Global Health Humanitarian and Development Workshop
Description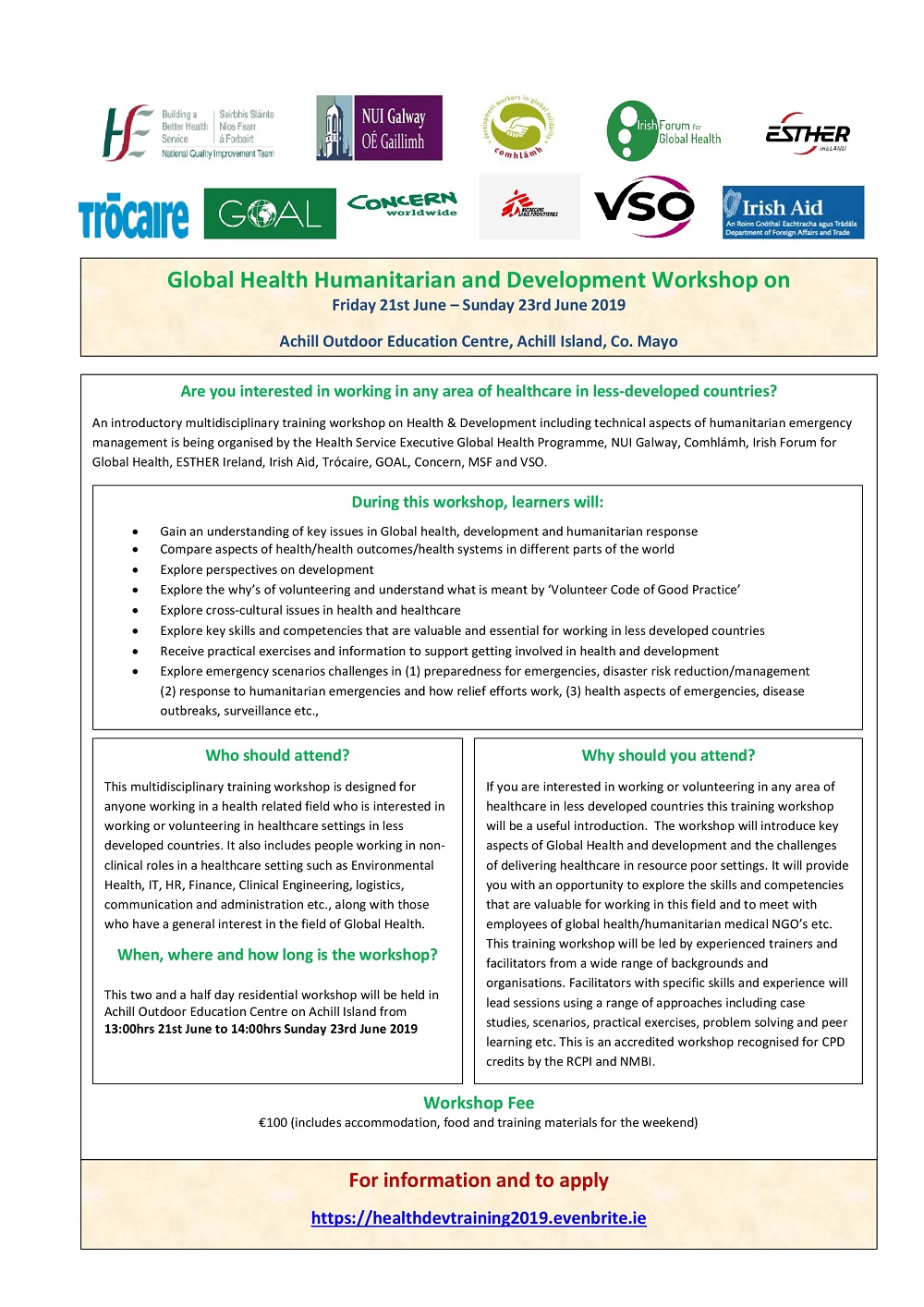 An introductory multidisciplinary training workshop on Health & Development including technical aspects of humanitarian emergency management is being organised by the Health Service Executive Global Health Programme, NUI Galway, Comhlámh, Irish Forum for Global Health, ESTHER Ireland, Irish Aid, Trócaire, GOAL, Concern, MSF and VSO.
BOOK EARLY TO A AVOID DISSAPOINTMENT - A Waiting List will be put into effect once capacity is reached.
During this workshop, learners will:
Gain an understanding of key issues in Global health, development and humanitarian response

Compare aspects of health/health outcomes/health systems in different parts of the world

Explore perspectives on development

Explore the why's of volunteering and understand what is meant by 'Volunteer Code of Good Practice'

Explore cross-cultural issues in health and healthcare

Explore key skills and competencies that are valuable and essential for working in less developed countries

Receive practical exercises and information to support getting involved in health and development

Explore emergency scenarios challenges in (1) preparedness for emergencies, disaster risk reduction/management (2) response to humanitarian emergencies and how relief efforts work, (3) health aspects of emergencies, disease outbreaks, surveillance etc.,
Who should attend?
This multidisciplinary training workshop is designed for anyone working in a health related field who is interested in working or volunteering in healthcare settings in less developed countries. It also includes people working in non-clinical roles in a healthcare setting such as Environmental Health, IT, HR, Finance, Clinical Engineering, logistics, communication and administration etc., along with those who have a general interest in the field of Global Health.
When, where and how long is the workshop?
This two and a half day residential workshop will be held in Achill Outdoor Education Centre on Achill Island from 13:00hrs 21st June to 14:00hrs Sunday 23rd June 2019
Why should you attend?
If you are interested in working or volunteering in any area of healthcare in less developed countries this training workshop will be a useful introduction. The workshop will introduce key aspects of Global Health and development and the challenges of delivering healthcare in resource poor settings. It will provide you with an opportunity to explore the skills and competencies that are valuable for working in this field and to meet with employees of global health/humanitarian medical NGO's etc. This training workshop will be led by experienced trainers and facilitators from a wide range of backgrounds and organisations. Facilitators with specific skills and experience will lead sessions using a range of approaches including case studies, scenarios, practical exercises, problem solving and peer learning etc. This is an accredited workshop recognised for CPD credits by the RCPI and NMBI.