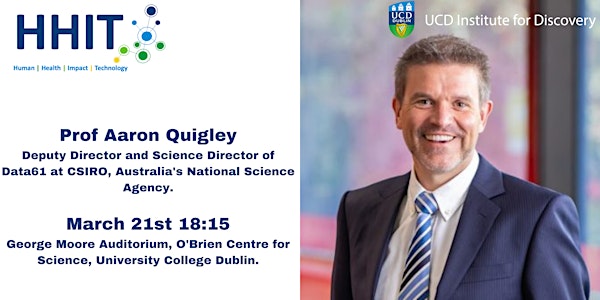 Global Human Computer Interaction and Global Health with Aaron Quigley
Patricia Maguire chats with Aaron Quigley about Global Human Computer Interaction and Global Health on UCD HHIT Series.
By UCD Institute for Discovery
Date and time
Tue, 21 Mar 2023 18:15 - 19:30 GMT
Location
O'Brien Centre for Science UCD Dublin Ireland
Refund Policy
Contact the organiser to request a refund.
About this event
We are delighted to be welcoming Professor Aaron Quigley, Deputy Director and Science Director of Data61 at CSIRO, Australia's National Science Agency, back to UCD for our Human Health Impact & Technology series this month.
Host Professor Patricia Maguire will chat with Aaron in person about Global Human Computer Interaction and Global Health on Tuesday, 21 March, 18:15 – 19:00 GMT in the Moore Auditorium, O'Brien Centre for Science, University College Dublin.
The event will be followed by a wine and cheese networking reception.
This event is open to the public and all are welcome to attend.
Numbers are limited so registration is essential.
Abstract
Global Human Computer Interaction is the study of HCI when considering global challenges, languages, concerns, cultures and different economic drivers. Digital technologies now underpin the human experience around the world. This talk explores the impact of discreet, context-aware, context-sensitive systems on the future of global health and where new technologies and the next generation of interfaces beyond the desktop can improve human health in subtle, discreet yet highly impactful ways.
Today, computers and communications are weaving themselves into the fabric of life. However, the nature of this weaving is far from uniform, distributed or even fair. Yet, the study of HCI and health transcends borders. A technology designed for use by what might be considered an affluent group with cheap broadband and a regular power supply can easily be co-opted by a low income group with irregular network and power supply, to much greater effect. This talk will show examples from eye-glasses to shoes, as low cost ubiquitous platforms for sensing context, human gait, disease transmission and body interaction e.g. breathing patterns while mask wearing. Today, applications can launch in one country and quickly face adoption barriers due to bias which has been baked in by language, assumptions of how family life works, culture, economic models, health regulation or social mores.
Our use and indeed reliance on technology is not new. Indeed, it is one of the defining characteristics of humans and society, our fashioning of tools, instruments and technologies to help shape our world and lives. This talk provides a critical reflection on technologies and the visions and visionaries in computation over the past 4,000 yrs. Consider, for example, that over the past six centuries the world's population has grown approximately twenty fold, our average life expectancies have tripled and our use of technology has become evermore interwoven into everyday life. However, these average life expectancies vary by 40 years across the globe, access to even basic health care varies dramatically, our use of resources is markedly different as is our access to technology to support our work or life.
Many of the improvements many of us take for granted would feel quite futuristic for those living in need. As the author William Gibson puts it, "The future is already here, it's just not very evenly distributed". However, human history is intimately linked with our use of tools, techniques or more broadly technology. Our built environment is shaped by human's use of technology. Each time we introduced new, difficult to master, alien technologies, they became in time really quite unsurprising, invisible and prosaic aspects of our lives. Looking back, while we consider the future, is instructive as it helps us to appreciate and not fear our reliance on, and use of technology.
Today we live in an interconnected world where an interface or experience designed for a local well understood group (e.g. runners) can easily end up being used in a distant place by people whose lives (e.g. low paid mine worker) or use of the interface one cannot quite imagine. This talk provides an introduction to human computer interaction in a global health context. These cross cutting themes are guides for the design, development or deployment of any interactive system. These aspects are not intended to stymie or limit one's creativity or problem solving but instead are opportunities to draw new insights on the problems we face, while considering health concerns and use of the solutions offered.
Often today people value design and experience beyond any feature list and this talk will help you understand and prepare for this global world. This talk will provide recent research examples from radar sensing in the wild to augmented reality, mobile context sensing to subtle graphical health interfaces.
Bio
Professor Aaron Quigley is the Deputy Director and Science Director of Data61 at CSIRO, Australia's National Science Agency, formerly Head of School for UNSW's School of Computer Science and Engineering in Sydney, Australia and an ACM distinguished member and chair-elect of the ACM CHI Steering Committee. Aaron has served as technical program chair for the ACM EICS 2022 conference, general chair for the ACM CHI Conference on Human Factors in Computing Systems in 2021, program chair for ACM IUI conference in 2018, general chair for the ACM MobileHCI conference in 2014, and general chair for the ACM UIST and ACM ITS conferences in 2013.
His research interests include discreet computing, global HCI, pervasive and ubiquitous computing and information visualisation on which he has delivered over 50 invited talks. Aaron is a member of the ACM Europe Council Conferences Working Group. From 2015-2020 Aaron served first as the ACM SIGCHI Adjunct Chair for specialised conferences and then the ACM SIGCHI Vice President for Conferences. From 2016-2017 Aaron was a convenor for the ACM Future of Computing Academy.
Aaron's research and development has been supported by the EPSRC, AHRC, JISC, SFC, NDRC, EU FP7/FP6, SFI, Smart Internet CRC, NICTA, Wacom, IBM, Intel, Nvidia, Google, Microsoft and MERL. He has published over 180 internationally peer-reviewed publications including edited volumes, journal papers, book chapters, conference and workshop papers and holds 3 patents.
He has held academic and industry appointments in Singapore, Australia, Japan, USA, Germany, Ireland and Scotland.
Agenda
6:15 PM - 7:00 PM
HHIT Series Q & A with Aaron Quigley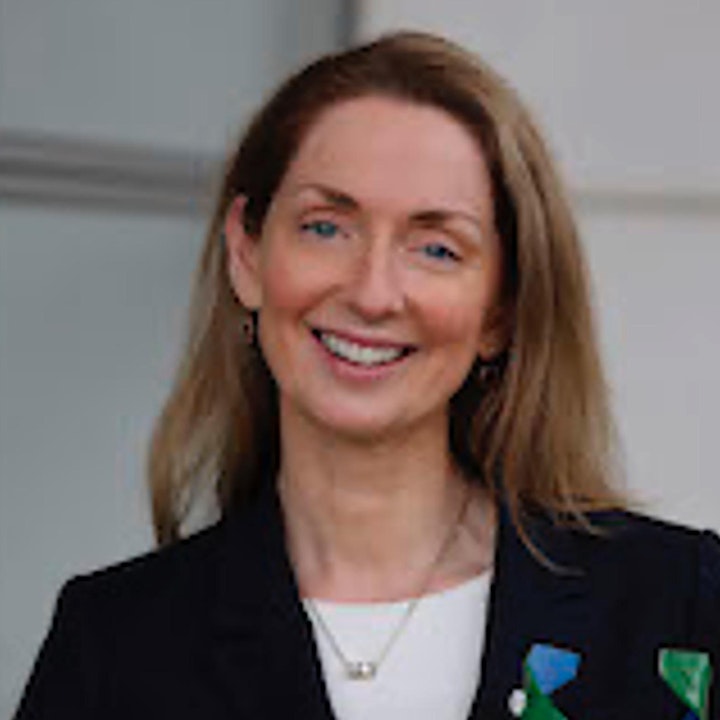 Professor Patricia Maguire
---
Professor Patricia Maguire will host an in person Q&A with Professor Aaron Quigley on Global Human Computer Interaction and Global Health.
7:00 PM - 7:30 PM
Networking Reception
UCD Institute for Discovery
---
Post event wine and cheese networking reception with Aaron Quigley.