About this Event
If you enjoy new experiences and musical styles that transcend time and borders, then you'll love hearing Bangers and Crash Percussion Group's global rhythms on Wednesday 2nd October, as well as Garth Knox's Saltarello Trio, who'll be packing a thousand years of folk-influenced tunes into a punchy two hours on Wednesday 4th March.
Bangers and Crash Percussion Group
Wed 2 Oct 8pm | The Sugar Club, Dublin 2
Saltarello Trio
Wed 4 Mar 7pm | Lutherhaus, 24 Adelaide Road, Dublin 2
Bangers and Crash Percussion Group
Wednesday 2nd October 2019
Percussion virtuosos Alex Petcu, Emma King and Brian Dungan cook up a programme of new music which will tickle your tastebuds and defy your expectations.
Having a physics background can be a useful thing indeed if you are ace percussionist Alex Petcu. So the required sounds don't exist on conventional instruments? No problem, you just invent and build what you need. And that's what audiences can expect when he and fellow percussion adventurers Emma King and Brian Dungan take to the road with their kit bag of the usual suspects of the drum world, along with a fascinating array of metal, wood and string.
Three young and energetic virtuosos cook up a menu of new music (a pity Beethoven never wrote for marimba) which will tickle tastebuds and defy expectations. Their appetite for exploring rhythmic influences from around the world – Flamenco, Afro-Cuban, Javanese gamelan – is healthy, hearty and irrepressible (please note: no sausages will be harmed in the making of this programme).
DOORS 7.30 PM, CONCERT 8.00 PM
Alex Petcu percussion
Emma King percussion
Brian Dungan percussion
PROGRAMME:
Tim Ouderits & Tom Ouderits Surprise! | Alyssa Weinberg Table Talk | Elliot Cole Postlude No 8 | Philip Glass Madeira River | Steve Reich Nagoya Marimbas | Steve Snowden A Man with a Gun Lives Here | Alex Petcu Music Network Commission | Thierry de Mey Musique de Table | Gene Koshinski And So the Wind Blew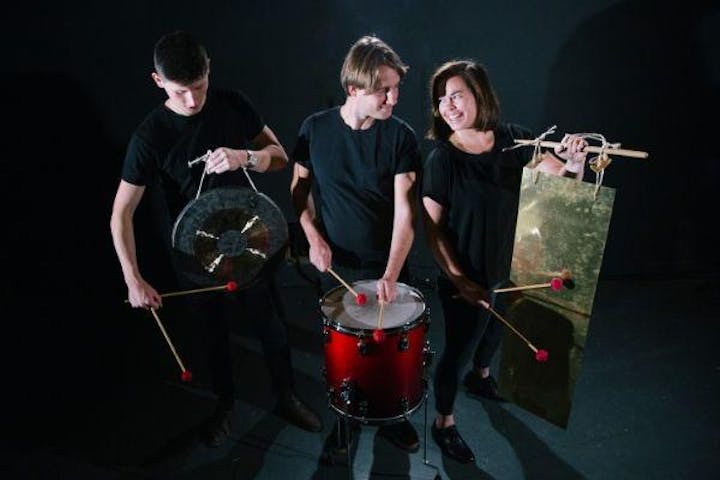 Saltarello Trio
Wednesday 4th March 2020
Condensing a thousand years of music into just two hours might be a bit of a challenge, but Saltarello Trio are here to step up to the plate!
A lot can happen in a thousand years. Condensing it into just two hours might be a bit of a challenge, but Saltarello Trio step up to the plate, tracing a clear musical line from Hildegard Von Bingen to David Fennessy, taking in multiple stops along the way to admire the work of Dowland, Vivaldi and Purcell.
The trio are all very familiar to Irish audiences, their collective and vast experience in the fields of classical and contemporary music have brought us many fine and memorable occasions, but for this outing they seek out the colours and textures of folk music to inform their witty arrangements. In this, they highlight the connections and similarities that exist between soundworlds of today and of hundreds of years ago, and Garth Knox's new composition, specially commissioned for this tour by Music Network, will sit across the centuries, mediating a conversation between past and present.
The trio's gorgeous swirling string lines and tasty percussion open a new window on old music, proving that a good tune can speak easily to all of us, no matter what the language, no matter when the time.
DOORS 7.30 PM, CONCERT 8.00 PM
Garth Knox medieval fiddle, viola d'amore, viola
Sylvain Lemêtre percussion
Agnès Vesterman cello
PROGRAMME:
Hildegard von Bingen Ave Generosa | Guillaume de Machault Tels rit au matin | Medieval Dances arr. Saltarello | John Dowland Flow my tears | Henry Purcell Music for a while | Antonio Vivaldi Largo and Presto from Concerto for viola d'amore in D minor, RDV 393 | Marin Marais Folies D'Espagne for viola d'amore and cello | David Fennessy 3 Hofer Photographs for solo cello | Gérard Pesson Tafelmusik for solo percussion | Black Brittany (traditional tunes) arr. Saltarello | Garth Knox Song from the sea | Garth Knox Galway Green* (Music Network Commission)