EVENT STARTS TODAY!! DETAILS ON HOW TO JOIN BELOW
About this event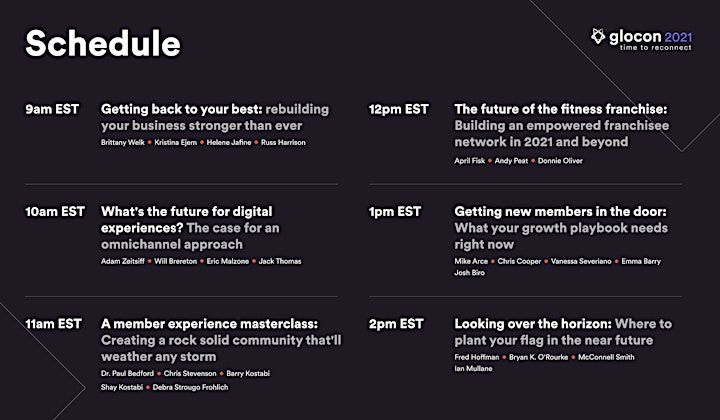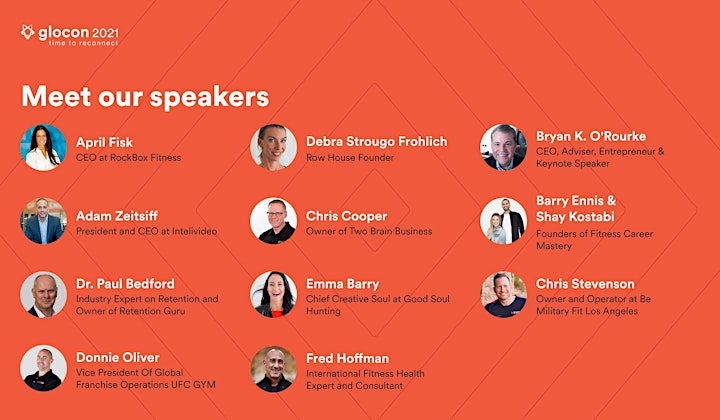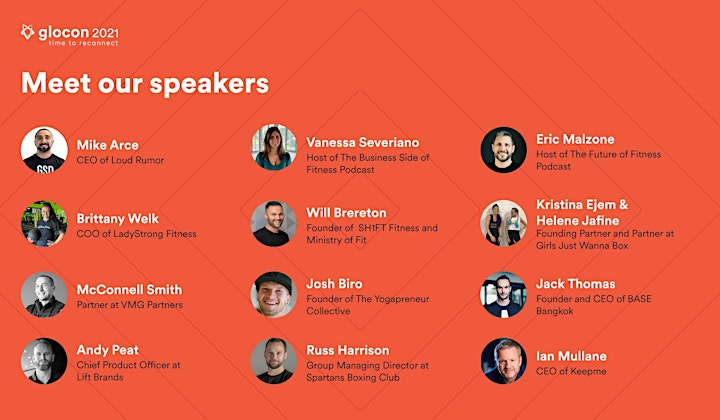 What can you expect?
Roundtable discussions with some of the world's leading experts in the fitness industry.
Q&A session where you can pick the brains of our guest speakers.
Customer spotlights: hear firsthand customer stories from our Glofox community.
An opportunity to connect and build support networks with other owners and operators.
What you will learn
Have you struggled to find the balance between your online/offline member experience? Perhaps you've been having difficulty keeping staff engaged and motivated. Or are you having trouble attracting members back through your doors? Whatever the issue you're facing in this post-pandemic landscape, we'll have plenty of suggestions and learnings for you to take away and apply to your own business.
We'll be talking about:
How the fitness landscape has changed and what success looks like today and in the future for both independent owners and multi-club operators.
The impact of digital fitness and the challenge of attracting members back to your physical space.
Real world learnings and solutions to help you jumpstart your business post-lockdown and continue your growth into the future.
START TIME
We'll be kicking things off on Thursday 29th July at 9 AM New York / 6 AM LA / 2 PM UK and Ireland / 11 PM Sydney - see below for the topics and times! 👇
Getting back to your best: rebuilding your business stronger than ever
⏱️ 9 AM NY / 6 AM LA / 2 PM UK and Ireland / 11 PM Sydney
Brittany Welk, COO of LadyStrong Fitness in Illinois, USA, Russ Harrison, Group Managing Director of Spartans Boxing Club in Singapore and Kristina Ejem and Helene Jafine, Founding Partner and Partner at Girls Just Wanna Box in Toronto Canada, discuss strategies to help you rebuild your business better than ever, taking in perspectives from across the globe.
What's the future for digital experiences? The case for an omnichannel approach
⏱️ 10 AM NY / 7 AM LA / 3 PM UK and Ireland / 12 AM Sydney
Adam Zeitsiff, President and CEO at Intelivideo, Will Brereton, Founder of SH1FT Fitness and Ministry of Fit, Eric Malzone, Host of The Future of Fitness Podcast and Jack Thomas, Founder and CEO of BASE Bangkok, make the case for delivering real value with an omnichannel approach.
A member experience masterclass: Creating a rock solid community that'll weather any storm
⏱️ 11 AM NY / 8 AM LA / 4 PM UK and Ireland / 1 AM Sydney
Dr. Paul Bedford, Industry Expert on Retention and Owner of Retention Guru, Chris Stevenson, Owner and Operator at Be Military Fit Los Angeles, Barry Kostabi and Shay Kostabi, Founders of Fitness Career Mastery and Debra Strougo Frohlich, Row House Founder, lead a masterclass on creating an engaging member experience that future proofs your business.
The future of the fitness franchise: Building an empowered franchisee network in 2021 and beyond
⏱️ 12 PM NY / 9 AM LA / 5 PM UK and Ireland / 2 AM Sydney
April Fisk, CEO at RockBox Fitness, Andy Peat, Chief Product Officer at Lift Brands and Donnie Oliver, Vice President Of Global Franchise Operations UFC GYM talk about the importance of empowering your franchisee network and why this is key to successful and sustainable growth for your brand.
Getting new members in the door: What your growth playbook needs right now
⏱️ 1 PM NY / 10 AM LA / 6 PM UK and Ireland / 3 AM Sydney
Mike Arce, CEO of Loud Rumor, Chris Cooper, Owner of Two Brain Business, Emma Barry, Chief Creative Soul at Good Soul Hunting, Vanessa Severiano, Host of The Business Side of Fitness Podcast and Josh Biro, Founder of Yogaprenuer Collective take a deep dive into what your growth playbook needs to look like in 2021.
Looking over the horizon: Where to plant your flag in the near future
⏱️ 2 PM NY / 11 AM LA / 7 PM UK and Ireland / 4 AM Sydney
Ian Mullane, CEO of Keepme, McConnell Smith, Partner at VMG Partners, Fred Hoffman, International Health and Fitness Expert and Bryan K.O'Rourke, CEO, Adviser, Entrepreneur & Keynote Speaker talk about where the industry is going in the near future and what you need to do to prepare.