GMIT TEL Network - Lunchtime Seminars (GMIT STAFF only networking sessions)
Event Information
Location
Galway (1) Castlebar (1) and Letterfrack (1)
Description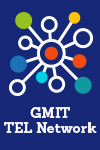 In November 2017, the GMIT Technology Enhanced Learning (TEL) Teaching Network launched in GMIT.
The GMIT TEL Network is a lunchtime seminar series and networking initiative to bring staff together across five campuses, talking TEL and sharing initiatives and ideas of innovative teaching and learning practice.
In February three lunchtime dates will be offered: one in Galway, Castlebar and in Letterfrack. To register for the lunchtime sessions, book your place below.
All sessions can be joined online also, if required. An online link will be circulated on the morning of the seminar.
TEL Network in Castlebar, Wednesday February 7th 1pm -2pm - Digital Media Learning Room. This session will be led by Dr Carina Ginty and it will explore the My Experience RPL Assessment tools (www.myexperience.ie). Staff will learn how to demonstrate the Recognised Prior Learning application process and approaches to mentoring and guiding RPL applicants from the region.
TEL Network in Galway, February 21st, Room 1036, 1pm-2pm. This session will be led by Dr Cormac Quigley and it will explore 'Cool Moodle Tools - Managing Student Workload'.
TEL Network in Letterfrack, Wednesday February 28th 1pm-2pm - LT5 Room. This session will be led by Dr Carina Ginty and it will explore building a Teaching and Learning ePortfolio aligned to the National Forum Professional Development Framework (PDF).
Refreshments provided at the TEL Network sessions - Please register to attend below. All GMIT Staff welcome.
TEL Network Sessions run throughout the academic term. SAVE THE DATE - Tuesday May 1st for an Online Teaching and Learning Development Day - for all staff.
If you are interested in showcasing a Teaching and Learning Tool at a TEL Network lunchtime session, please contact Carina Ginty carina.ginty@gmit.ie
http://www.gmit.ie/teaching-and-learning/projects
Date and Time
Location
Galway (1) Castlebar (1) and Letterfrack (1)