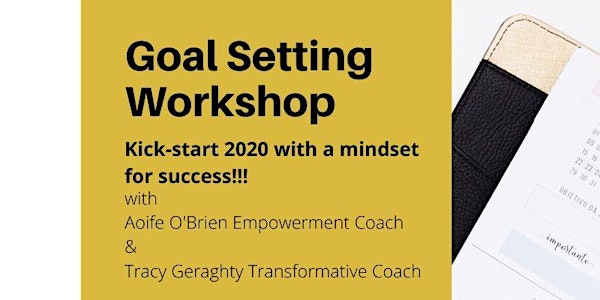 Goal Setting workshop - Kick-start 2020 with a Mindset for Success!
Don't be afraid to dream big, BE PREPARED!
When and where
Location
Action Community Enterprise Ltd t/a ACE Park Bawnogue Road D22 W6V3 Clondalkin Ireland
About this event
Are you ready to launch into a new decade with exciting goals but worry that you will lose motivation and have niggling self doubts?
Have you struggled in the past to stay focused and felt overwhelmed by your goals?
In this 2 hour workshop we will share with you strategies that can help you feel more motivated, energised and make achieving your goals less of a struggle.
What you will cover:
Learn how to overcome self doubt and have greater confidence in your abilities
Become clearer on what you want to create and which areas of your life to focus on
Be given strategies to overcome obstacles that might derail your plans
Discover how to live more courageously, which will give you the freedom to ask for more in life. Workbooks will be provided
With these mindset tools in place we instantly feel more determination and have more focus to create what brings us happiness in life. You will take back control of your time and energy.
Tracy Geraghty is a Transformative Coach who works with business professionals and entrepreneurs who struggle with self doubt and overwhelm, which takes up precious time and energy.
Tracy is no stranger to dealing with obstacles and has had to overcome a long list of challenges throughout her life. It has taught her a lot about resilience and also how important it is that we value ourselves enough to feel comfortable in asking for what we truly want
Tracy's website
Aoife O'Brien is an Executive & Leadership Coach and Organisational Behaviour Consultant, her mission is to empower companies to create thriving work cultures where people can reach their fullest potential.
Aoife has a long list of achievements, both personal and professional. She is learning to slow down, take small steps instead of giant leaps, and create a more fulfilling life. She is passionate about helping others to succeed, whatever success means for them.