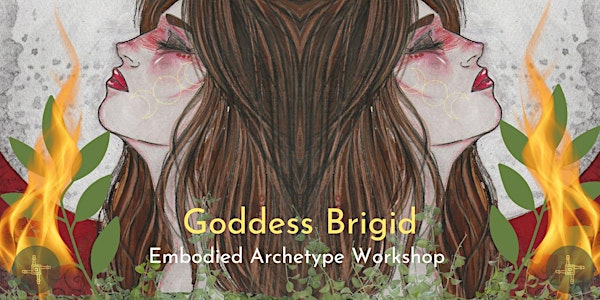 Goddess BRIGID workshop
A sacred workshop about healing & new growth exploring the qualities of Goddess Brigid. It includes an empowering Keening ritual.
When and where
Location
Triskel Arts Centre Top floor, Cork Collective Tobin Street Cork Ireland
Refund Policy
Contact the organiser to request a refund.
About this event
Embodied Archetype Workshop - Goddess Brigid
with Lewis Barfoot
This workshop is about healing and new growth. About surrender of what no longer serves, releasing blocked energy from the nervous system and rebalancing the body and soul for a bright and peaceful journey into spring. We will draw upon the wisdom and strength of the Goddess Brigid. A goddess of healing, fertility, poetry, the waterways, an overseer of the alchemical arts & Matron Saint of Ireland.
The workshop will include guided vocal and physical warm ups, movement medicine, dance, song, ritual, poetry and a Keening ceremony in which we will use our voices to express grief in a safe and sacred circle. There will be plenty of space for journaling, time to share and reflect in confidence with a circle of supportive souls and techniques taught to calm the nervous system. There will also be a tea break with teas and wholesome snacks provided to enjoy together.
It is a beautiful opportunity to let go of fear, doubt, trauma, thoughts that may stop you from being your highest self. To give VOICE to something that wishes to be heard or released. It is not for the fainthearted, but for those wishing to step bolding into a bright future of their own creation. We will warm up the body and voice in gentle and fun ways to be able to use them throughout the workshop. This is an invitation to release any blocked energy, especially in your throat and heart chakras.
WHO IS IT FOR? - If you are reading this, then it is probably for you. The workshop is open to adults of all genders. Over 18's. Overs 16's if accompanied by an over 18 guardian. We will explore the feminine energy of Goddess Brigid. It does not involved any plant medicines. You do not need any experience in dance, movement or singing and if you have loads of experience in these fields, you are also very welcome. It is not about technique, it is about truth, authenticity and the journey. If you have an injury of any sort, you are welcome to attend and work within the easefulness and freedom of your own body.
PREP - You don't need to prepare anything. The workshop is limited 12 participants. Wear something you feel beautiful in and can move in. Layers are good :-)
Please BRING
A water bottle
A cup for the tea
Your journal/ notebook and pen/pencils.
Your brave heart
TESTIMONIALS
"The honesty and trust Lewis provides when working is beautiful"
"Such a transformative workshop and thank you for holding the space so well"
"You created such a special, warm & safe atmosphere"
"I felt a deeper connection to aspects of myself that I don't often connect with"
"I felt IMMENSE CALM. A lovely way to spend the day - wonderful to be with these women"
" I found today extremely rewarding for my sense of self and my personal journey"
Refunds
If cancelled more than 7 days before workshop - 50% refundable
If cancelled within 7 days of workshop - £0 refundable (Unless you find someone to take your place)
CONTACT
lewisbarfoot@gmail.com
www.lewisbarfoot.com and www.embodiedarchetypes.com
ABOUT Lewis
I've been working with archetypes in performance and healing for over 10 years. Initially I read medicine at Southampton University and worked as a medical doctor in the UK hospitals until the call to be creative and approach life from a different paradigm to conventional medicine became so strong that I left my medical career to train as an actor at ALRA in London. I graduated in 2002 and went on to work as an actress, theatre maker and singer performing in classical and contemporary theatre on the fringe, West End and Internationally. In between creative works I would locum as a Doctor in Oncology and Palliative care at the Royal Marsden Hospital in London. Supporting people through life and death. After 11 years of combining the two career the time came to hang up my stethoscope and focus on creativity and supporting others to connect to their creative source.
I have created four performances inspired directly by the Archetypes: The History of the Pomegranate (Jackson's Lane) a solo show drawing on the Persephone myth and her descent into the Underworld. The Seventh Muse (Barbican Theatre, Plymouth) Exploring the seven goddesses in Jean Shinoda Bolen's "Goddesses in Everywomen". Harvest Fire (Lemontree, Aberdeen) Inspired by "King, Warrior, Magician, Lover : Rediscovering the Archetypes of the Mature Masculine" By Robert Moore and WILD (Barbican, Plymouth) Drawing inspiration from Clarissa Pinkola Estes "Women Who Run With The Wolves".
Since 2013 my creative work moved toward music and I released my debut album Glenaphuca in 2021. I have been coaching and facilitating people for over a decade working with body, voice, energy and spirit. I now coach 1:1 from my home in Cork.