Description
GONG - TRAINING with Gong master Slawomir Sówka
Gong playing and gong baths lead to creative and healing body-mind states and help to develop your practical intuition through establishing a closer and practical rapport with the Higher Self. The creative flow and the connection to your practical intuition, the reading and understanding of vibrations and resonances, are an integral part of sound healing.
In this training, developed over 15 years of sound and energy healings you will learn playing skills and methods, experiment with different gongs and play for others, both one on one and in gong baths. At the end of it, everybody is able to give a healing and purifying gong bath.
As gongs activate the dreambody, we will work with dreambody, visions and active imagination to receive creative impulses for our everyday life. Ultimatively, healing is the result of a new inner image.
With the sounds of gong, an engine of self-empowerment, and with holistic power that comes through you when you play in the state of Turya (neutrality), you will create energy fields in gong baths, in which the participants can experience healing, purifcation, transformation, go on a journey and receive answers. They experience deep connection to themselves and the world.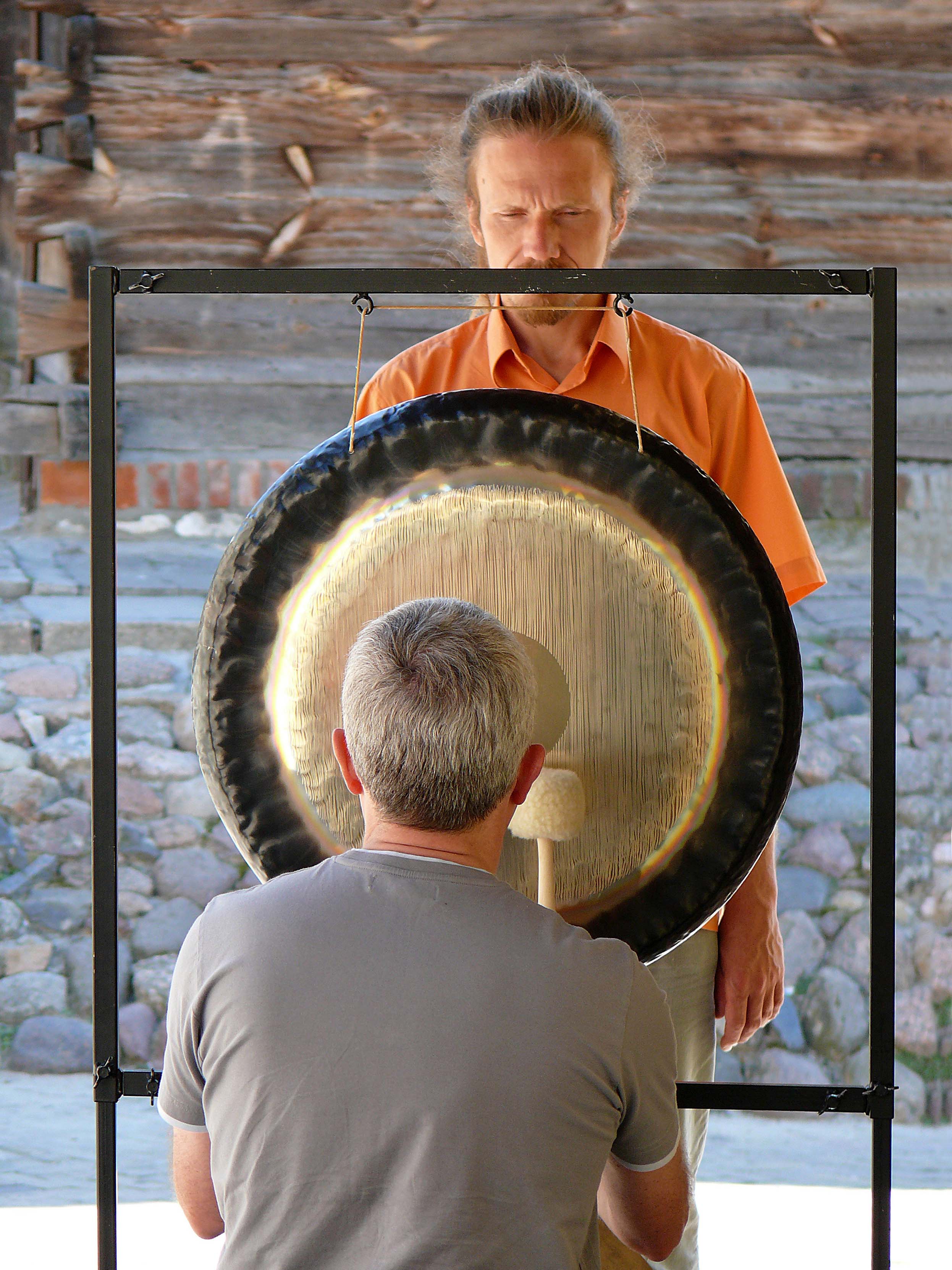 The programme includes:
- the art and craft of gong playing, learning and practising different techniques
- giving a gong bath: sound journeys, phases of and criteria for effective gong baths, tips for self-evaluations, formats
- creating powerful visualisations, healing and grounding meditations with the gong
- planetary gongs and their effects
- effects of gong sounds on different levels, syntonic music
- practising energy reading and practical intuition, structured exercises for practical intuition
- aura clearing with the gong
- basics of overtone singing (one technique)
- applications for gong baths and sound healings
- practical DOs and DON'Ts while giving a gong bath
Please do bring your own gong if you have one and let us know that you bring your own one.
Certificated
Qualifies you to work with sounds for your self-healing, to help your friends and family and to facilitate gong baths.
_________________________________________________
Additional Gong bath & Ritual as well as treatments are available
GONG BATH
Massage your whole body with sound. This is what takes place during Slawomir's gong bath. This is an unforgettable and beyond words experience. Come to this unusual concert with a mat and a blanket to cover yourself with and to feel cosy. The majestic sound of the gong surrounds and permeates you, settles down and soothes, carries you into a different dimension. After the "treatment" people feel younger, healthier, full of energy, and more "in their bodies" - it is like being home.
The gong covers the full spectrum of sound, it vibrates all the body's cells, bones and
organs... The tone produced by the gong is called a "feeling tone" because you feel it in your body, as well as hearing it. This musical touch turns the body into a big ear and creates a sense of well-being. Very often after a concert or "gong bath", headaches are gone and listeners feel free from unnecessary fears, refreshed, energized and full of spontaneous and creative thoughts.
Slawomir will be accompanied at the gong baths by Simone Meschnig. She is an experienced sound healing teacher and practitioner who leads her own flourishing sound baths. Simone will enrich the gong baths not just with her creative way's of playing the gongs, but also with the addition of special notes through her vocal toning, that is enriched in a wonderfully spiritual and musical landscape.
RITUAL OF SELF-EMPOWERMENT
Slawomir creates rituals of self-empowerment based on the work of Felicitas Goodman, to provide a context within which people may find connections to their own inner wisdom and their dreambody in order to make meaningful transitions and expansions of consciousness.
Through her rediscovery of ritual ecstatic postures F. Goodman created a cross - cultural approach to ecstatic experiences, which lead to a deep purification and regeneration. Most of the figurines and cave paintings from different cultures around the world that go back thousands of years are a precise depiction of ritual body postures for journeying. They are archetypes every human being can experience.
When the uniform rhythm of rattles or drums takes us on a journey, the ecstatic posture we assume opens the door to a defined spectrum of experiences. They range from soul journey, transformation, increase in the sense of identity, healing to surprising letting go or renewal.
These rituals are surprisingly simple and include depth and fullness of experience. We receive new energies, new perspectives arise. Well defined physiological changes that are healing and connected to an alternate state of consciousness occur in the body. They are healthy, safe and often provide answers to practical questions of everyday life.
The presence of two experienced facilitators provides a safe space for integration and exchange. The experience deepens from time to time and is supportive in search for our own creative self, our personal flow and a more fulfilled life.
Dates: Sat. 16th June & Mon. 18th June - 7.30pm

Price: Gong Bath & Ritual: 35 €, gong bath only 20 €
Venue: same as the workshop "Chapel of Ease", Irishtown, Dublin 4
What to bring: water bottle, pillow, blankets and bedding for a comfortable stay, you will spend most of the time in a lying position.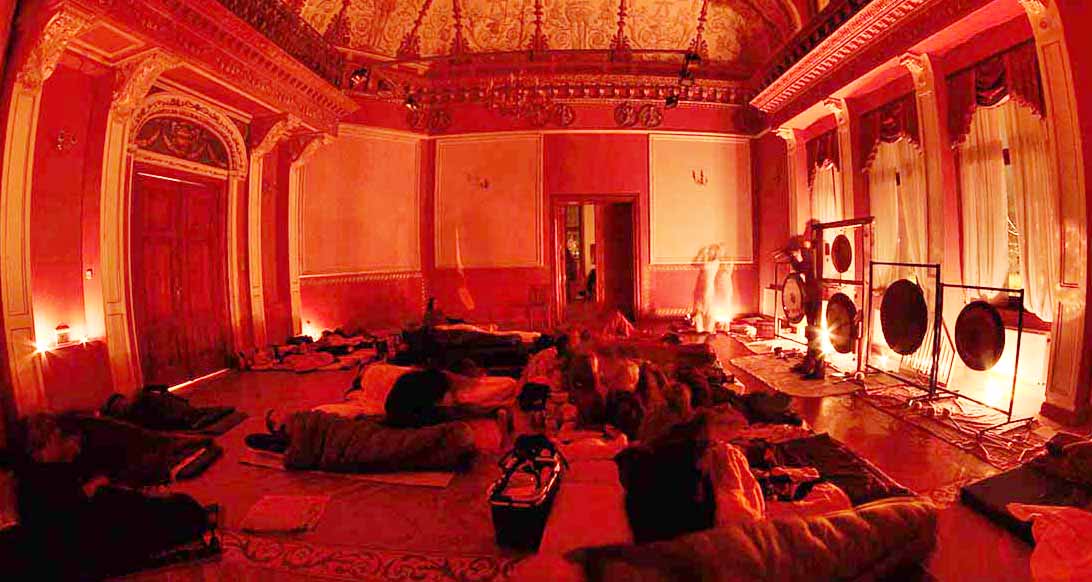 ENERGY HEALING WITH IZABELA & SLAWOMIR
Individual sessions on ......
To live on a high level of energy it is best to be in a pure space, in which we are connected to the higher Self, our own centre (heart) and the mother energy of the Earth.
In each session we renew the connection with these three levels through clearing your aura and chakras from energetic burdens, foreign energies, spell and black magic, old thought forms, self-restricting energy patterns, souls attached to your aura or people who wear you out.
The effects of these sessions include:
- freeing from headache,
- enhanced concentration,
- improved quality of sleep,
- letting go of "difficult times" into new lightness,
- overall well-being; physically, emotionally and spiritually,
- new perspectives, free from illusion and manipulation
A session is also possible when a specific topic has not yet crystallized but you feel resonance with our energy.
Each session is focused on clearing of the whole energy body, has a nourishing quality and includes no touch. It takes approx. 60 min, the first one usually 90 min, generally until the process is completed.
As new layers can possibly be felt and recognised in the healing process, we offer help within a week through phone or skype which is free of charge.
The session does not replace the advice of a doctor.
We wish everybody lots of courage and persistence in search for loving oneness.
---
COURSE TEACHER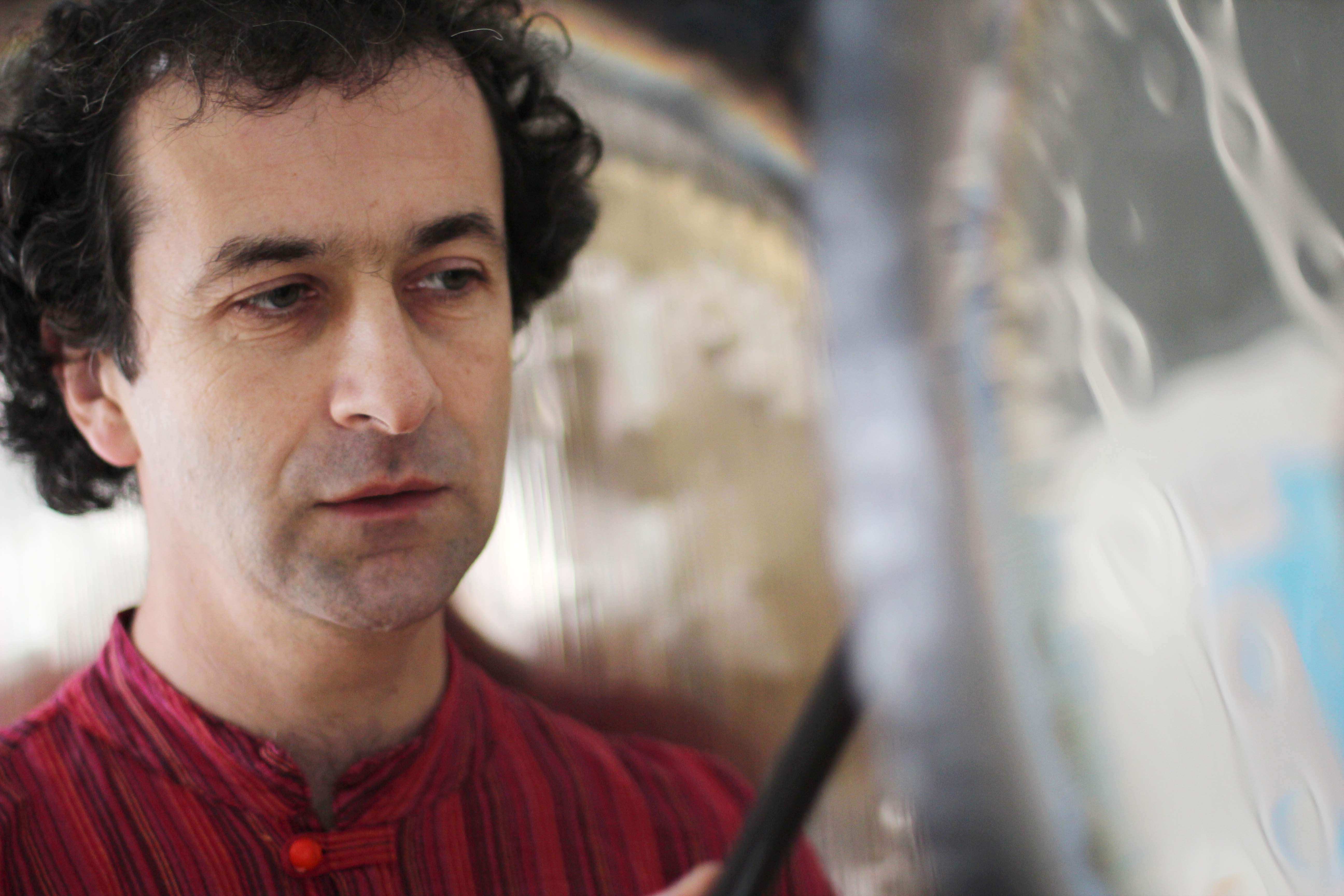 Slawomir Sówka, Ph.D. – gong master and energy healer, led projects in cancer and allergy research at the Rockefeller University, the encounter with gong maestro Don Conreaux in a New Yorker cafe became the starting point of 15 years of experimenting and working with the diversity of the gong sounds and its effects on the human energy system, rhythm, improvisation, overtone singing and energy healing.
He realized musical projects with Don Conreaux, the world-famous harpist and composer Monika Stadler and the Syrian multi-instrumentalist Bashir Mirzo, recorded two CDs and is certified TaKeTiNa rhythm teacher, with bases in Vienna and the Austrian Alps he leads gong baths, rituals, gong trainings, family constellations, intuition trainings and individual energy healings in Austria, Germany, Italy, Poland, the US and Spain, his natural, strong connection to the soul from early childhood allows him to support others in their personal growth.
---
Course Dates & Times:
16th – 19th June 2018
10am to 6pm every day (with lunch break)
---
Location of Venue:
"Chapel of Ease" - Irishtown, Dublin 4, Ireland
---

Training Fee:
4-day Training + Certificate: €450
The course fee does not include accommodation or meals.
We are happy to provide details of local places to stay and eat.
---
For bookings & further information, please contact the organiser INFINITE SOUND:
Email: simone.meschnig@gmail.com
There are a limited number of places available, and this training is likely to sell out.
Secure your place to avoid being disappointed later.
Book with a deposit of €45.
Please contact Simone to book your place now!
Cancellation policy
50% refund of the full fee (less the Deposit) will be given for cancellations requested 15 days before registration on the first day of the scheduled training, less an administrative charge.
No refunds will be given after this date or for no-show on the days of the scheduled training.
Anyone who paid for training but cannot attend may send a substitute.