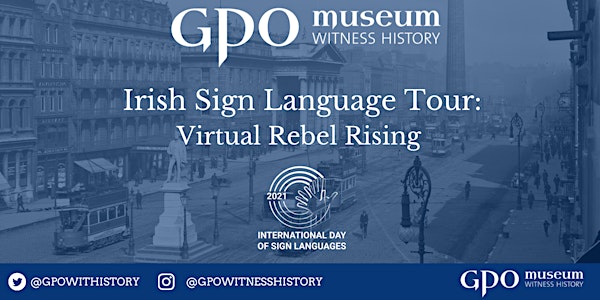 GPO Museum ISL Virtual Tour
Join the GPO Museum on our live virtual Irish Sign Language Tour about The 1916 Rising.
About this event
This International Sign Language Day the GPO Museum is delighted to present our first live virtual Sign Language Tour.
Written and interpreted by one of our own team members, the tour includes:
• A live tour guide will bring you on a journey through the lead up to The Rising, Easter week, the aftermath and the legacy of the Easter 1916 Rising.
• A live Q and A discussion after the tour.
• A specially curated Irish Sign Language tour of this period of Irish history.
• An Irish Sign Language interpreter.
Join us on this live online exploration of this revolutionary period of Irish history, that influenced modern Ireland from the comfort of your home.