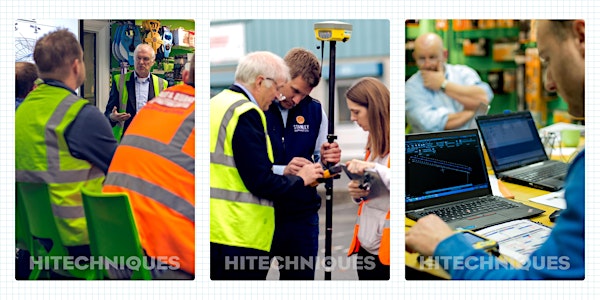 GPS/GNSS Training Course For Surveyors And Construction Engineers
Intensive GNSS surveying course focused on trainee's requirements!
Date and time
Wed, 23 Feb 2022 09:00 - 13:00 GMT
Location
Hitechniques Ltd Unit 17 Block Q, Grants Road, Greenogue Business Park D24 N252 Rathcoole Ireland
Refund Policy
Contact the organiser to request a refund.
About this event
Want to improve your surveys, get more site information and spend less time connecting the dots in the office?
Attend the Practical Usage of GPS on Construction Site Training Course with Hitechniques to be more confident in using modern technology on site, complete your jobs faster and increase your revenue with better orders from contractors.
NOTE:  Although the training course is usually carried on Geomax equipment, the class gives you firm base for using GPS Rovers of all different brands.
Join our pleased customers
"Very informative course with excellent practical field work. I would recommend this course to fellow construction workers" Noel Lyons, Noel Lyons Architectural Services, Birr
"Picked up new functions: offsets, trilateration, auto-recording. Will speed up surveying for me" Peter O'Dwyer, Architect, Dublin
"Good detail, hands on, easy to pick up, not too theory heavy" Peter Daly, Pivotal Construction, Dublin 6
Who should attend:
Architects, Engineers – if you are involved in
preparing planning applications – learn to survey with the latest technology, use a 1-man system to complete a survey in the field to Ordnance Survey co-ordinates
surveying sites for preparation of plans for new buildings or structures – check existing site layouts
overseeing construction work – see how to set out quicker and more efficiently than using a total station
Site Managers/Foremen
If you are involved in construction, learn how to use GPS for setting out or surveying.  There will be no complicated mathematics (unless you want it!) and nothing more complicated than using your Satnav.
What you will learn:
How to survey with GPS Rover
Topographical survey with output to Autocad & Excel
Using feature coding for layered survey
Dealing with overhanging trees
Surveying close to buildings
How to set out buildings, roads, features
Solving up/downloading problems
How GPS works
Coordinate Systems, ITM/Irish Grid
Troubleshooting internet connection problems
Quality control
How accurate is your survey
Testing your GPS Rover
Adding Contours
Calculating Areas & Volumes
and more
The Instructor
Philip Hanrahan B.E., B.A., M.I.E.I  has over 35 years of experience in surveying instrument handling:
6 years as a site engineer on civil construction projects, including roads, sewerage schemes, housing developments, industrial buildings.
27 years demonstrating and training users in surveying instruments
2 years lecturer in Engineering Surveying, Trinity College Dublin, including design of the Engineering Surveying module in the Civil Engineering degree course and approval by Engineers Ireland
Program
09:00 – 11:00 Surveying - carry out survey of surrounding area, picking up lines, features, utilities, points. Download the survey
11:00 – 12:00 Setting out points & lines, recording set out points.
12:00 – 13:00 How the GNSS rover works, the NTRIP caster, georeference, ITM/IG coordinate system, checking your GNSS rover.
Class size
To ensure everyone's safety we're reducing the number of attendees and making few more changes. You can read more about them on our website: https://hitechniques.ie/training/ or contact us directly at 01 257 2323 to find out more.
THE TRAINING COURSE WILL TAKE A PLACE IN OUR OFFICE IN GREENOGUE BUSINESS PARK, RATHCOOLE, CO. DUBLIN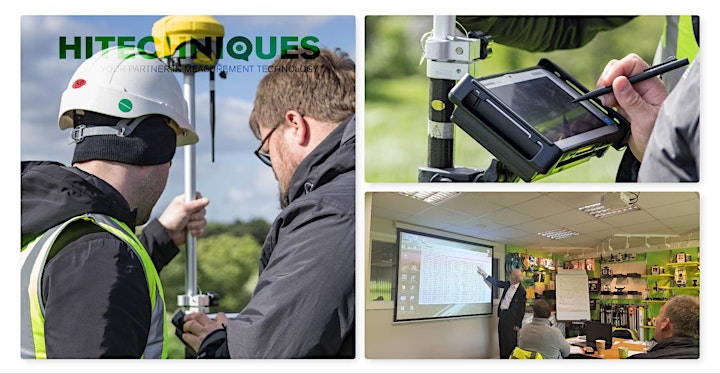 About the organiser
At Hitechniques we work to create better opportunities for construction workers and businesses in Ireland.
We provide GPS/GNSS and Total Station training courses as well as on-site and on-delivery training for individuals and corporate groups.