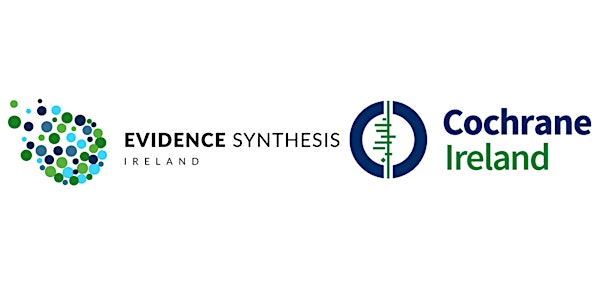 GRADE Workshop
Introduce GRADE approach, create evidence profile for intervention based on a systematic review & have basic understanding of GRADE software
Refund Policy
Refunds up to 7 days before event
About this event
*If your type of ticket is sold out, please join the waitlist or contact us at esi@nuigalway.ie
Background
GRADE (Grading of Recommendations, Assessment, Development and Evaluation) is used by over 100 international organisations such as WHO, Cochrane, American Society of Haematology and others to produce rigorous and transparent clinical practice guidelines and other healthcare recommendations.
GRADE is a standardised and transparent approach to assessing the certainty of evidence and the strength of healthcare recommendations. The approach provides a manageable system that integrates all important aspects. The GRADE approach was developed by the multidisciplinary GRADE working group. More information on GRADE can be found at: http://de.gradeworkinggroup.org
Aim
To lead course participants through the complete process of guideline development with GRADE using a concrete example: starting with the selection of a relevant PICCO question and ending with the formulation of a recommendation. The GRADEpro GDT software is used for this purpose. The thematic focus is on assessing the certainty of the underlying evidence as well as the strength of the recommendation. In lectures, we introduce GRADE and explain its use with examples.  
Learning outcomes
In this course participants will be enabled to:
• Understand the basic principles of the GRADE approach and be able to comprehend the individual steps in the assessment of the evidence and their impact on the strength of the recommendation
• Be able to create an evidence profile for a therapeutic intervention based on a systematic review
• Have a basic understanding of the GRADE Software
Teaching strategies
The workshop will consist of a mixture of presentations and exercises in small groups.
Course content/timetable
Day 1
10:15 - 10:30 Welcome & introduction of presenters
10:30 -11:15 Presentation: Evidence-based healthcare
11:15 -11:30 Break
11:30 -12:15 Presentation: What is GRADE? An overview
12:15 -12:30 Break
12:45 -13:00 Practical exercise: Set PICO and outcomes
Day 2
10:15 -10:45 Recap & questions on previous presentations & exercise
10:45 -11:45 Presentation: Certainty of evidence - downgrade
11:45 -12:00 Break
12:00 -12:45 Presentation: Certainty of evidence - upgrading and Summary of Findings tables
12:45 -13:00 Break
13:00 - 13:30 Presentation: Introduction to GRADEpro GDT (GRADE software)
Day 3
10:15 - 10:45 Recap & questions on previous presentations & exercise
10:45 - 12:00 Exercise: Assessing the certainty of evidence (Methodological limitations)
12:00 - 12:15 Break
12:15 - 13:30 Exercise: Assessing the certainty of evidence (Inconsistency)
Day 4
10:15 - 10:45 Recap & questions on previous presentations & exercise
10:45 - 12:00 Exercise: Assessing the certainty of evidence (Indirectness)
12:00 - 12:15 Break
12:15 - 13:30 Exercise: Assessing the certainty of evidence (Imprecision)
Day 5
10:15 - 11:00 Presentation: Formulation of recommendations
11:00 - 11:15 Break
11:15 - 12:15 Exercise: Developing and formulating recommendations (Evidence to decision)
12:15 - 12:30 Break
12:30 - 13:30 Discussion of the results and conclusion
Facilitators
Inrgrid Töws (Institute for Evidence in Medicine, University Medical Centre, Freiburg, Germany)
Dr Nuala Livingstone (Cochrane)
Dr Chris Noone (NUI Galway)