About this Event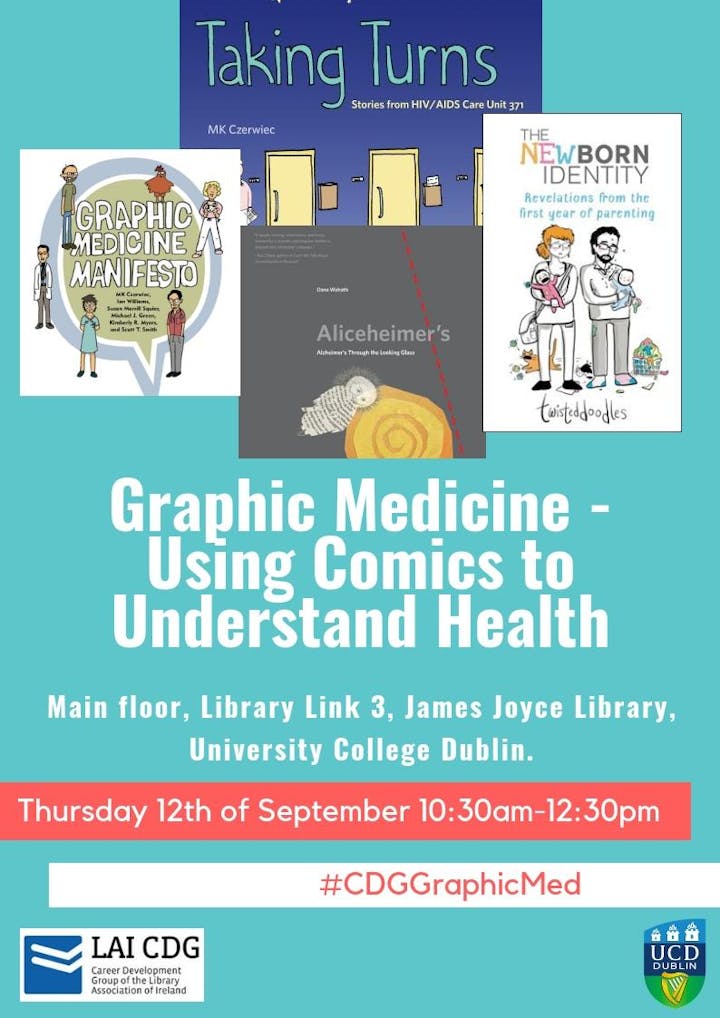 On Thursday 12th September the Career Development Group of the Library Association of Ireland will host a seminar on Graphic Medicine - Using Comics to Understand Health. We are delighted to announce an international panel of speakers on the topic, the panel discussion will chaired by Jane Burns (Twitter @JMBurns99), Institute Librarian at AIT and Lecturer in School of Information Studies at UCD and will include the following speakers:
Dana Walrath - A writer, artist and anthropologist, Dana, likes to cross borders and disciplines with her work. After years of using stories to teach medical students at University of Vermont's College of Medicine, she turned to writing her own. Her award winning verse novel, Like Water on Stone, was completed during the year she spent as a Fulbright Scholar in Armenia. Her graphic memoir series, Aliceheimer's has brought her throughout North America and Eurasia to speak about the role of comics in healing including talks at TEDx Battenkill and TEDx Yerevan. Her recent essays have appeared in Slate and Foreign Policy.
Twitter: @danawalrath
MK Czerwiec - MK Czerwiec, RN, MA is a nurse who uses comics to contemplate the complexities of illness and caregiving. She is the Artist-in-Residence at Northwestern Feinberg School of Medicine and a Senior Fellow of the George Washington School of Nursing Center for Health Policy & Media Engagement. MK has been making comics under the pseudonym Comic Nurse since 2000. She co-runs GraphicMedicine.org, a website devoted to the intersection of comics and health.
Twitter: @ComicNurse
Maria Boyle - Cartoonist, scientist, parent and author. Many of you will be familiar with Maria Boyle from Twitter, where she tweets as @TwistedDoodles. Her 'doodles' are often witty, intelligent and very funny cartoons, usually on the topic of parenting and life with small children. Maria has recently written a parenting book The Newborn Identity - written in diary form, her book and doodles capture the unique experience of motherhood and the huge range of emotions that it brings.
Twitter: @twisteddoodles
Tea and coffee will be provided and we welcome you to join in the fun and take a morning out to learn about the world of Graphic Medicine.
As places are very limited , be sure to follow the conversation on Twitter! #CDGGraphicMed
Parking is extremely limited so attendees should use public transportation. Getting to UCD : http://www.ucd.ie/students/newstudents/transport.html
Important Attendance Note: All registered names and accompanying email addresses will be forwarded on to UCD Library before Friday- August 16th in order to gain access to the library and event on the day. It is really important to note when signing up to attend the event that you can commit to attending on the day. As cancellations made after the 16th of August will result in empty spots that cannot be filled due to security restrictions.
GDPR Photographic Policy: This event will be photographed. Images will be stored by the CDG committee and may be used in print publications, on the CDG blog, shared on Facebook and Twitter or other online or print publications. If you would prefer not to be photographed or for photographs of you not to be published please contact the committee by email before the event laicareerdevelopment@gmail.com