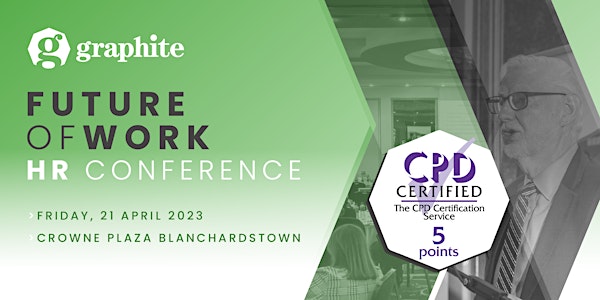 Graphite HRM Annual HR & Employment Law Conference - CPD Certified
Graphite HRM Annual HR & Employment Law Conference 2023
Date and time
Fri, 21 Apr 2023 09:30 - 16:00 IST
Location
Crowne Plaza Dublin - Blanchardstown, an IHG Hotel Blanchardstown Town Centre D15T1FD D15 T1FD Dublin Ireland
Refund Policy
Contact the organiser to request a refund.
About this event
6 hours 30 minutes

Mobile eTicket
Future of Work: Reshaping HR and Employment Law
Graphite HRM is thrilled to announce the details of our Annual HR & Employment Law Conference for 2023, taking place on 21st April at the Crowne Plaza Blanchardstown.
Over the past few years, the landscape of HR and employment law has seen big changes. From the advent of remote working to changes in sick pay entitlements, HR leaders in Ireland are adapting to shape the workplaces of tomorrow.
At this event, you can look forward to a day of invaluable expertise tailored to empowering employer success as we all go forward into the Future of Work.
Join us on Friday 21st April and join the discussion with other HR leaders.
What to expect at this year's event:
Singular insights into the current and future impact of recent trends in HR and Employment Law from an expert panel of speakers
HR problem solving; rising to current and future workplace challenges such as employee conduct standards and remote working requests
What new and incoming legislation means for the future of HR
A unique opportunity to network with like-minded professionals
Earn 5 CPD points from attending this years conference
Who should attend this conference?
Directors
Business owners
Human Resource professionals
Meet the Speakers:
Neale Richmond, TD
Neale Richmond TD was appointed as Minister of State at the Department of Enterprise, Trade and Employment with special responsibility for Employment Affairs and Retail Business and the Department of Social Protection, on January 13th 2023.
Much of his work at the Department of Enterprise, Trade and Employment is with businesses, workers, their representative bodies and the State Agencies to ensure that the economic recovery and growth extends to all parts of the country. He works closely with the SME sector, including retail, on building resilience and on the transition to the green and digital economies.
Minister Richmond has responsibility in Government at international level for EPSCO – the Employment, Social Policy, Health & Consumer Affairs Council; EMCO - Employment Committee and the ILO – International Labour Organisation.
Prior to his role as Minister of State , he was elected as a TD for Dublin Rathdown in the 2020 General Election. In April 2016 he was elected to Seanad Eireann, on the Labour Panel, where he was the Fine Gael Spokesperson on European Affairs and chair of the Seanad Special Select Committee on the withdrawal of the UK from the EU.
Neale served for seven years on Dún Laoghaire Rathdown County Council where he was first elected in 2009, and then re-elected in 2014.
Neale served for two years as a member of the EU's Committee of the Regions, leading the Irish delegation, acting as Rapporteur on the Opinion on a more responsible trade and investment policy.
Neale holds a BA in History and an MA in politics from UCD. He lives in Stepaside with is wife and their two children.
David Begg, Chairperson - Workplace Relations Commission (WRC)
Former General Secretary of the Irish Congress of Trade Unions David Begg was appointed Chairperson of the Workplace Relations Commission in January of 2021.
The appointment for a five-year term was announced by Minister of State at the Department of Enterprise Trade and Employment Damien English. Mr Begg chairs the Pensions Authority, the Mater Misericordiae University Hospital and the Fire Service National Oversight Implementation Group of the Department of the Environment.
He is also an Adjunct Professor at Maynooth University Institute of Social Sciences. Mr Begg's extensive history in the trade union movement included heading up the ESB Officers Association, the Communications Workers' Union and the Irish Congress of Trade Unions, holding the latter role from 2001-2015 when he retired. Between 1997 and 2001, he stepped away from trade union activities to chair international aid agency Concern. Mr Begg was previously a director of the Central Bank of Ireland between 1995 and 2010 and of The Irish Times Trust from 2001-2011.
Deiric McCann, Director - Genos International Europe
Deiric McCann leads Genos International Europe – the EU division of a world-leading provider of emotional intelligence solutions.
He has 20+ years of experience at the highest levels of management in multinational organisations, and a further decade of experience working with multinational clients worldwide, helping them to develop the resilience, emotional intelligence, psychological safety and engagement of their teams.
Having published several books that emphasise the critical role of engaging people to achieve business success, his particular expertise is in helping clients and partners implement EI-based solutions that deliver measurable Return-On-Investment; something he speaks on regularly around the world. Deiric is also an accredited teacher of Google's Search Inside Yourself Mindful Leadership Program.
A sought-after keynote speaker, he regularly delivers emotional intelligence, resilience, psychological safety and mindfulness training worldwide to extremely positive reviews.
Deiric is also a TED speaker - his talk on 'The Invisible Epidemic: Worry' has more than 350,000 views.
Mark Carpenter, Director of Regulatory & Corporate Affairs - Sky
Mark Carpenter is Director of Regulatory & Corporate Affairs at Sky Ireland. In this role he has responsibility for External and Internal Communications, Public Policy and Regulatory Affairs and the company's 'Bigger Picture' (CSR) programme. He also works closely with Sky Group teams on a variety of matters, in particular our partnerships with domestic broadcasters.
Prior to working at Sky, Mark worked as a Policy Officer in Houses of the Oireachtas and as a Management Consultant at Accenture. He has a BA in History from Oxford University and a PhD in Political Science from Trinity College Dublin.
Olga Shevchenko, Director/Advocate - Immigration Advice Bureau
Immigrant Advice Bureau Ltd is a one-stop shop for Visas , Work permit applications and Employment law queries.
Olga specialises in immigration advocacy and consultancy, in particular, employment permit, visas, family reunification, citizenship, etc, for those seeking to visit, reside or invest in Ireland.
Olga provides extensive information, knowledge, and support to her clients, enabling access to positive solutions for people struggling to handle the immigration law.
She works closely with companies to ensure your employees arrive in Ireland for work, safe and sound.
Immigration Advice Bureau are trusted by some of the largest construction companies and engineering companies in Ireland to advise them on their employees' immigration procedures. Services range from critical skills employment permit, general employment permit, Irish entry visas, long term residency, and more!
Rhiannon Coyne, Senior HR Consultant - Graphite HRM
Rhiannon Coyne joined Graphite HRM in January 2020 as a HR Consultant.
Rhiannon holds a Bachelor of Social Science degree from Maynooth University and a MSc in Human Resource Management from Smurfit Business School, Dublin. Rhiannon has a vast range of HR industry experience, ranging from the homecare industry to retail, and most recently, a long-standing role within the hospitality sector including experience at head office level. She has vast experience dealing with investigations, grievances, and disciplinaries. Rhiannon's extensive recruitment experience includes heading European-wide recruitment initiatives.
Rhiannon has a keen interest in employee engagement, training, and policy development.
Nóra Cashe, Litigation & Compliance Manager - Peninsula Ireland
Nóra studied Law in Griffith College Dublin and qualified as a Barrister in 2008, practising in the area of Criminal law before joining the Peninsula Litigation team in 2014. During her time at the Bar, Nóra volunteered regularly with the Free Legal Aid Centres, was a member of the Irish Criminal Bar Association and taught law to students in DCU on the CTYI summer programme.
Nóra has extensive experience in the area of Employment Law and HR Policies and procedures, representing Peninsula clients at Employment Tribunal hearings, Conciliation / Mediation meetings before both the Workplace Relations Commission and the Labour Court. Nóra has also authored many articles for Peninsula, provides regular training within the Group and regularly presents at Peninsula seminars.
Nóra is a member of the Irish Employment Law Association and engages with the WRC Adjudication Service as part of their stakeholder engagement forum.
Didn't find the information you were looking for?
Phone: 01 850 6055
Email: bookings@graphitehrm.com
Website: www.graphitehrm.com
We look forward to meeting you at the Graphite HRM Annual HR & Employment Law Conference 2023!