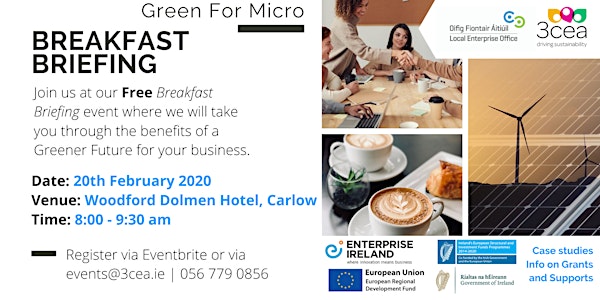 Green for Micro Free Breakfast Briefing - Carlow
Join us at our Breakfast Briefing event where we will guide your business to a Greener Future.
When and where
Location
Woodford Dolmen Hotel Kilkenny Rd R93 N207 Carlow Ireland
About this event
The South East Local Enterprise Office's, in partnership with 3 Counties Energy Agency (3cea), have identified a need to work with businesses in the region to assist them in transitioning to a Low Carbon Economy. Low carbon translates into savings in Water, Energy, Waste, Procurement and Transport management.
Carlow Local Enterprise Office is holding a breakfast briefing to showcase to businesses what they can do .
Mary White from Blackstairs Eco Trials will be there to talk about how going green has increased the footfall in her business. She will discuss how geothermal heating and solar photovoltaic panels will help the business accommodation come off grid.
Ray Flynn of Flynn's Foodhall will talk about what they have done in improving the environmental and cost competitiveness of the business. 3cea will give a presentation on supports available to SMEs and how to access theses supports and grants.
Sustainable competitive advantage is the key to business success. It is the force that enables a business to have greater focus, more sales, better profit margins, and higher customer and staff retention than competitors.
Registration for the event starts at 8 am in the Woodford Dolmen Hotel, Carlow. The first speaker will begin at 8:30 am.
The Breakfast Briefing event is free to attend but please register your attendance on Eventbrite or by contacting Mari and Patrick on 0567790856 or at events@3cea.ie

GDPR Data Protection Notice: by registering to attend the Green For Micro Breakfast Briefing event you agree that 3cea and Carlow Local Enterprise Office can collect and use the data relating to you in connection with your participation at the event. We will use personal data relating to you for the purposes of: a) processing your registration for the Green for Micro Breakfast Briefing . b) communicating with you in relation to the Green for Micro Breakfast Briefing . c) sending you e-mails in relation to the event. *We will not hold your data for longer than is necessary. * The personal data will be securely stored, in order to prevent unauthorised access. If you have any queries in connection with our processing of your personal data, you can contact us at events@3cea.ie. Thank you.