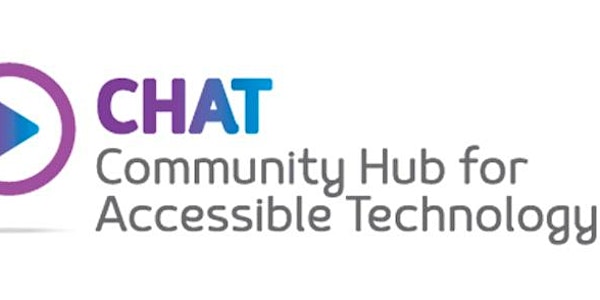 Green shoots, CREATE-ing an AT Ecosystem
Sales Have Ended
Registrations are closed
Thank you for registering for CHAT on Thursday 2rd December 2021 We look forward to meeting you virtually on Zoom and we will send you the Zoom link in advance. In preparation for our call, there are a couple of practical things that will help us make the most of our time together. Of course, we are all living with different constraints, so we will be fine with whatever you can manage. Leave enough time to get set up, especially if you are not familiar with Zoom. The meeting will open from 2:45. That will allow us to start the session at 3:00 pm sharp. A laptop or tablet works better than a phone as it is easier to see everyone in the gallery view. Feedback to date is that it is still ok with a phone but a larger screen has more scope. If you have any questions, please contact Sarah@freedomtech.ie
CHAT- CREATE project 2022 - We will chat about how this fund could form the cornerstone for a dynamic national AT Ecosystem in Ireland.
About this event
Freedomtech is delighted to invite you to register for the next online CHAT gathering. This Community Hub for Assistive Technology event will focus on the 11 projects funded through the HSE's CREATE Grant Stream. We are delighted that Minister Anne Rabbitte, who has championed this grant scheme, and the grant recipients will join us for this much-anticipated CHAT. Minister Rabbitte recently launched the first Global Report on Assistive Technology by the WHO and UNICEF. She noted that, "AT plays a pivotal role in supporting people with disabilities & it's a space we're developing further."
When: Monday, 27th June 2022 at 2pm
During this CHAT the 2022 CREATE grant recipients will share summaries of their funded projects, and will discuss and listen to the broader CHAT community for their thoughts and feedforward on the projects. We will be joined by key members of the Digital Assistive Technology wider community both in Ireland and internationally to discuss the CREATE fund, the first Assistive Technology grant opportunity of its kind in Ireland. We will chat about how this fund could form the cornerstone for a dynamic national AT Ecosystem in Ireland.
If you have any queries about this event, please do get in touch with Sarah@FreedomTech.ie
We aim to make sure that the event is accessible and we would appreciate it if you could let us know if you have any accommodations we should consider. 
Contact: Sarah@freedomtech.ie Twitter @Freedomtech_Irl  https://www.linkedin.com/groups/8407996/
*Please note that this session will be recorded and you will be asked to consent to this recording in line with EU regulations. If you do not wish to be a part of the recording, please make sure your camera remains off and mute your microphone.
To all of those who are new to CHAT (Community Hub for Accessible Technology) is a community of practice of Assistive Technology Practitioners and Assistive Technology Users that connects the Assistive Technology sector in Ireland like never before. 
The Brothers of Charity have asked us to share an exciting job opportunity to join their DAT project team.
FreedomTech established a vibrant community of practice called The Community Hub for Assistive Technology (CHAT). This is community-driven by people who believe in the transformative impact that assistive technology has on individuals' lives. CHAT aims to facilitate and create opportunities among people to learn from each other in an atmosphere that supports equality, collective and individual sharing and learning. This approach makes the most of people's expertise to identify better challenges and gaps and to consider solutions regarding AT.
CHAT has a national membership of over 200 people and organizations. This includes people with disabilities (expert and non-expert AT users), AT practitioners, researchers, educators, service providers, developers, suppliers, and other interested parties. Each CHAT gathering (all of which have been online during Covid) is co-created by those involved. As participants share knowledge, we think together and work horizontally across and beyond the disability sector.
Enable Ireland, and the Disability Federation of Ireland have partnered since 2014 to promote and develop a national Assistive Technology ecosystem. This partnership is FreedomTech currently sponsored by Sight and Sound Technology.
We look forward to welcoming you on Monday 27th June at 2 pm on Zoom 
Thanks again and don't forget to keep in contact, keep posting and sharing.