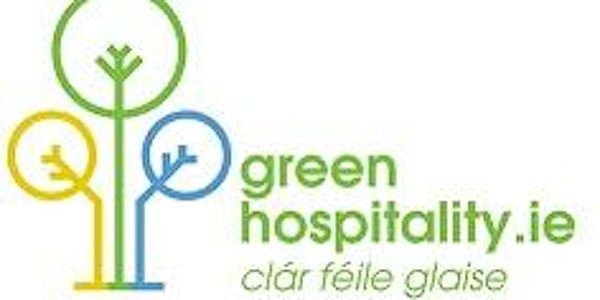 GREENFest 2017 - Resource Efficiency for the Hospitality Sector - "The Smar...
Event Information
Location
Carlton Hotel Dublin Airport
Old Airport Road
Dublin
Ireland
Refund policy
Refunds up to 7 days before event
Description
GREENFest 2017 - Resource Efficiency – "The Smart Move"
In association with: Fáilte Ireland and Repak
Why are so many other sectors talking about Sustainability whilst the Tourism and Hospitality Sector is conspicuously absent when it comes to policies and initiatives. Why is the Sector almost unique in its poor leadership and performance when it comes to Climate Change and the Actions it should be taking and promoting to the sector. 2017 is the UN International Year of Sustainable Tourism for Development – what have we done?
Why are a few smart hotel owners/managers leading the way in sustainable management – what are they doing?
What more could hotels and other tourism businesses do to cut costs, secure grant aid. What are other business sectors doing – what benefits are they achieving. Why are so many managers ignoring the Hundreds of Thousands of Euro that can be saved annually by implementing some practical steps and initiatives.
What are the challenges and opportunities facing the sector for 2018? Is Dublin ready for the Global Destination Sustainability Index – what is the GDSI? What does the Near Zero Energy Building 2020 regulations mean for new hotels – and existing hotels?
These are some of the topics we plan to discuss and present on at GREENFest2017
Come along and find out how you can position your business as a sustainable business and make substantial savings at the same time
Implementing Sustainability properly saves a business money – in the short, medium and long-term!
Our GREENFest is designed to bring together hospitality managers with experts in the field - energy, water and waste - to identify solutions that can be implemented which will lead to savings.
Attendees: The conference is aimed at all those in the hospitality sector interested in resource efficiency and sustainability - Hotel Managers, Facility/Maintenance managers, Academics/Students, State agencies, etc.
Exhibitor Area
We will also have a number of supplier partners showcasing their products and services on the day
Times
GREENFest 2016 will start at 9.30 am sharp with registration, trade exhibition and refreshments from c. 8.30 am - Conference is scheduled to finish no later than 16.00
Conference Agenda Overview
Session 1
Overview - 2017/2018
Resource Efficiency and Energy Funding
Session 2
Water Management, Responsible Suppliers, Energy Efficiency and Opportunities
Lunch Break
Building for the Future
- Corporate Social Responsibility Programme
- Running a Green Hotel - Practitioners
- Near Zero Energy Buldings 2020 - Challenges
- Global Destination Sustainability Index - Dublin's opportunity
Open Forum and Close of Conference
Hotel Information
Room Rates: Bed & Breakfast Rates are available as follows: Single Room - €119 per night - Double Room - €129 per night - Quote GHA2017 when making the booking.
Car Parking: This is available in the hotel and is free for delegates
Directions: Check out the hotels site here.....
Date and time
Location
Carlton Hotel Dublin Airport
Old Airport Road
Dublin
Ireland
Refund policy
Refunds up to 7 days before event