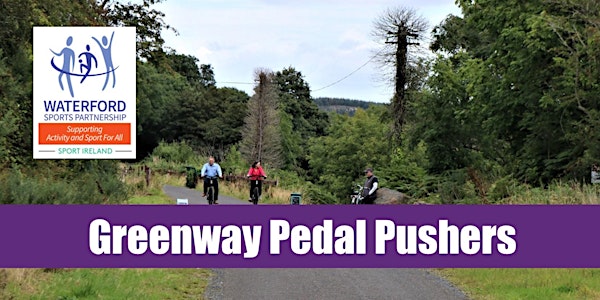 Greenway Pedal Pushers Waterford -31st May 2022
Get back on your bike, cycle with a group, make friends and brush up on your cycling skills in a fun and safe environment.
When and where
Location
Waterford Greenway WIT West Campus Car Park Waterford Greenway @ WIT Arena Carriganore Ireland
About this event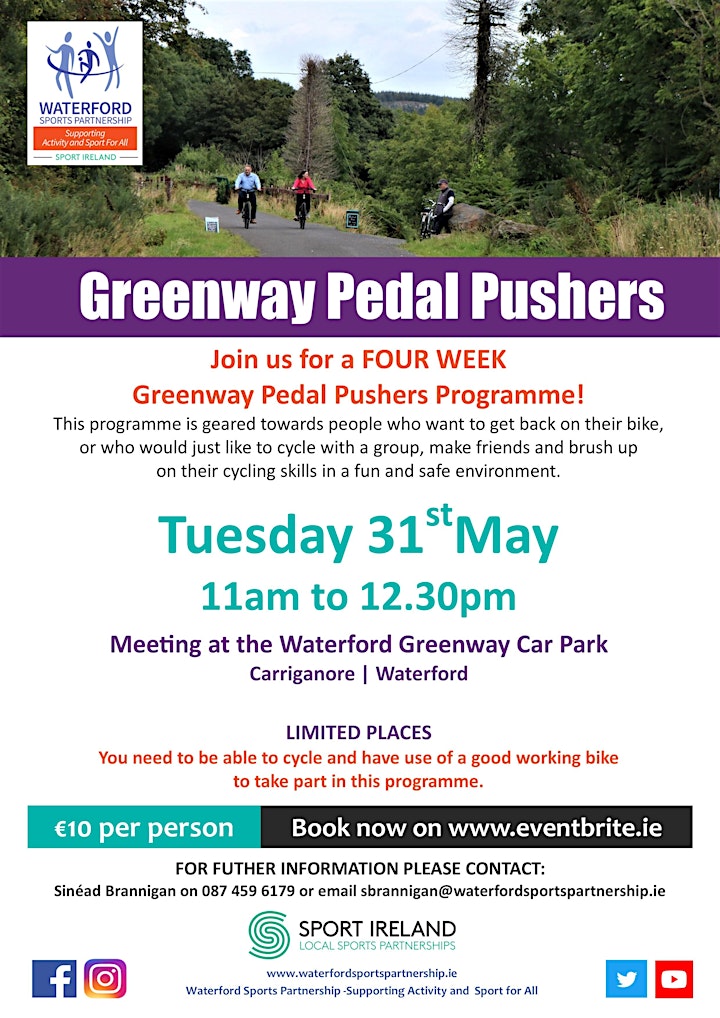 COVID 19 Health & Safety Guidelines:
• Waterford Sports Partnership will be adhering to strict Health & Safety protocols for the delivery of all training and events in line with Government/HSE guidelines.
• Participants are required to comply with social distancing and observe good personal hygiene/hand washing and cough/sneeze etiquette.
• Any participant who is feeling unwell or starts to display symptoms at the training/event will be asked to leave and seek medical attention.
• The sharing of equipment/bottles etc. will not be permitted and participants are asked to bring their own. Any equipment provided by WSP for the participants use will be fully sanitised before and after the event.
• Participants are asked not to congregate in close groups while arriving/departing the event and should maintain social distancing.
• Only those who have pre-registered are guaranteed entrance to the programme/event
• Thank you for your understanding and we look forward to seeing you being active in a safe environment
• If you have any further questions, please contact sbrannigan@waterfordsportspartnership.ie
GDPR
In order to evaluate the impact of the work that we do and support Sport Ireland's National Evaluation Programme, we need to capture certain physical activity participation data. We would appreciate your co-operation with this process.
All data collected on participant's physical activity levels is anonymised before submission to Sport Ireland. Individual level data is recorded and stored by Waterford Sports Partnership in accordance with GDPR regulations