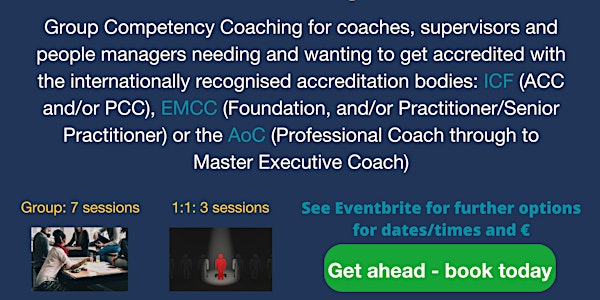 Group Competency Coaching - limited spaces
GROUP COMPETENCY COACHING - ICF, EMCC AND/OR Association for Coaching
Refund Policy
Contact the organiser to request a refund.
About this event
Are you accredited as a coach? Are you lost in the maze of accreditation requirements?
If you answer 'Yes' to either of these questions - get in touch.
For ICF you need Mentor Coaching which can consist of 7 sessions in a group (no more than 10 per group) and 3 individual sessions; for EMCC and AoC you need competency development and Coach Supervision.
All of these requirements we meet and more...
Our first Competency Coaching group starts in October:
First Monday of every month 19.00-21.00 GMT (Dates: 03/10, 07/11, 05/12, 09/01, 06/02, 06/03, 03/04.)
Please get in contact to arrange your place at one of our groups - remembering there are limited places available. Admin@sandownbusinessschool.com
As part of the Group Competency Coaching ("GCC"), you will receive:
1. GCC guidelines. This document explains each session and enables you to be prepared for the session content.
2. Competencies. A powerpoint document setting out 'competencies' in focus for each session.
3. GCC Reflections. This is a reflective template to be completed after each session.
1:1
During your GCC we will also arrange for your 1:1 sessions to ensure you are finished and ready to apply to your chosen Accreditation body as soon as the last GCC session is completed*
The cost for this package of 7 Group Competency Coaching sessions (2 hours) and 3 1:1 Mentor Coaching and/or Coach Supervision sessions is €1,150. This can be paid in one instalment or over the three instalments.**
*As long as you have all the requirements for each Accreditation body
** Please note that if you use a CREDIT CARD, please add a fee of 1.75%. Or if you use PAYPAL please add a fee of 4.95%. Both amounts will be added to the invoice.