Group Coaching Supervision programme that is a WIN-WIN
About this event
This Group Coaching Supervision programme is a WIN-WIN for you and your clients. The WACN together with its professional partner QPCD are providing you with an opportunity to work with other Coaching Professionals to elevate your coaching performance. This programme is facilitated by master coaching supervisors with neuroscience.
Since the WACN stands over the art-neuroscience-art model of coaching, it stands to reason that we put huge value on the care for both human art forms in the coaching relationship.
The WACN takes the view that humans are energy beings. We care deeply about the preserving the quality of the data exchange between coach and client. It is the energy and data shared between humans that if left un-checked can build to an un-healthy accumulation and influence the quality of the coach's performance. Sustaining a healthy open loop system is an essential for all coaches and therefore we see Coach Supervision as a mandatory part of Coaching CPD.
Group Coaching offers the coach a richer and broader opportunity for support and development. As a group we reflect on what's happening in your work as a coach, and how can you become more effective in your practice. Supervision draws on adult learning theory, systems thinking, reflective practice, mindfulness, and neuroscience.
The benefits of this programme include
• Establishing healthy coaching boundaries
• Enhanced reflectivity with content and process
• Building the internal supervisor
• Gaining new perspectives
• Working with the parallel process
• Increasing professional range and competence
• Learning about coaching self-care
• Deepening Practitioner Presence
• Clear contracting, and multi-party contracting
• Generating creative new innovative ideas and perspectives
Our Group Supervision programme focuses on
• Professional Development
• Personal Development
• Contracting
• Ethical Challenges
• Coach Performance
• Competence Confidence
• Emotional Dynamics
The cost of the Group Supervision Programme is
WACN Members and QCPD members 280 euro for 4 one hr sessions
Non-members 360 euro 4 one hr sessions.
Dates:
Wednesday 10th February 7.30pm-8.30pm
Wednesday 24th February 7.30pm-8.30pm
Wednesday 7th April 7.30pm-8.30pm
Wednesday 21st April 7.30pm-8.30pm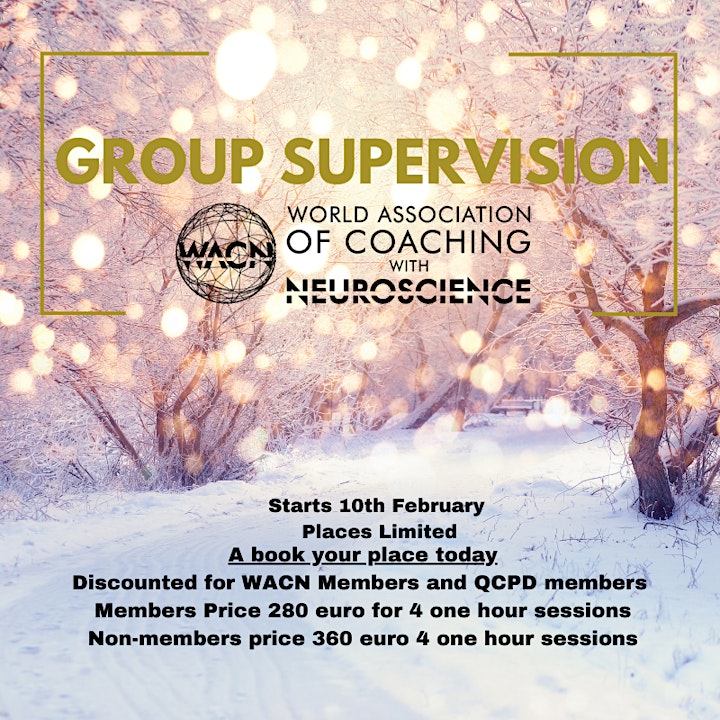 Organiser of Group Supervision with Neuroscience