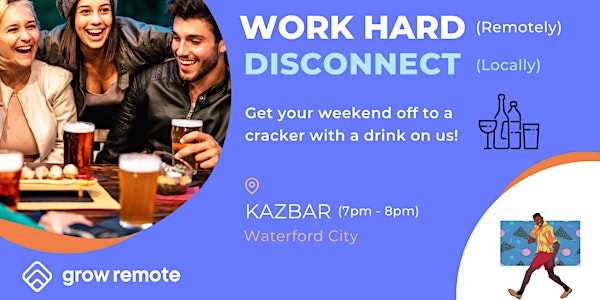 Grow Remote - "Bring on the Weekend" in Waterford City
Remote workers of Waterford City.. we invite you to get your weekend of local fun off to a cracker with a drink on us!
When and where
Location
kazbar 57 John Street X91 F974 Waterford Ireland
About this event
If you live in Waterford and work hard remotely we know that you want to disconnect & have fun locally at the weekend!
So, on the last Friday of every month we invite you to get your weekend in Waterford City off to a flyer with a drink on us!
Where? = Kazbar, Waterford City.
When? = Between 19:00 & 20:00 on the last Fridays on the month. Oct 28th, Nov 25th, Dec 30th.
What? = A free drink for remote workers (employed by a company either fully remote or hybrid).
Why? = To help you disconnect locally, meet other remote workers & get your weekend started socially!
Sound good?
Please register now as ticket #'s are limited & each registration will need to be confirmed.
What happen's next?
1: We will drop you an email to say hello & confirm you will be attending & that you are a remote employee. If we don't hear back from you by email we will have to cancel your registration so please keep an eye out for the email!
2: We will email you on the day at 15:00 with final information on who to look out for on the night as a point of contact & any important info that will help you connect with others.
One last thing..
We will need a volunteer from the community for each of these event's to go ahead. All you'll need to do is meet & greet and connect with the bar manager on the night for us. All volunteers will get a small Grow Remote thank you gift in the post!
Please register here first & then email community@growremote.ie to let us know if you can help out when "Volunteer Required" is shown.
Oct - Volunteer required - email community@growremote.ie
Nov - Volunteer required - email community@growremote.ie
Dec - Volunteer required - email community@growremote.ie
Due to the nature of the event we trust you can appreciate that the # of tickets we can offer here are limited so please only register if you can lock in the date & will be there on the night.
Last Friday's in Waterford City - here we come!