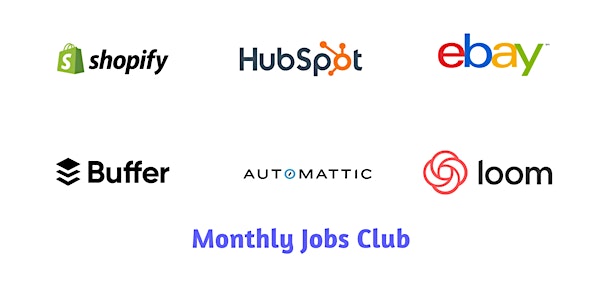 Grow Remote Jobs Club - April Meetup
Finding work is challenging at the best of times. Join the Grow Remote community for support & knowledge in your remote job hunt.
About this event
A request before you go further, there is a high demand for these events, please do book a ticket but if you can't attend please cancel the ticket to free up a space for others. Here are the directions on how to do that:
You can cancel free tickets to an event before the event starts. Go to "Tickets," select your order and choose "Cancel Order". If you want to cancel a single ticket in your order, contact the event organizer.
The job hunt is hard, it's harder again if you're facing into a new industry. But you don't need to do it alone.
Join the Grow Remote Jobs Club
Hear from industry experts
Learn skills to improve your job hunt
Learn more about remote working
Talk to current remote workers
Ask questions, tell us your challenges
Gain support and accountability
Jenny Butler, Customer Success Manager & Content Marketer/Producer at Fluix - Fluix's mission is to help companies become more efficient and teams more productive. They currently have 5 open remote roles.
During the event you will get the chance to speak to people in smaller groups (optional) and learn from others who are already working remotely, or with experience in the Grow Remote community.
The event will be held via Zoom, we will email you a link to the meet-up an hour before.
Want a free mini-course to help you through the remote work job hunt? You can find that here: https://growremote.ie/grow-remote-jobs-club/
And to note that all our facilitators and speakers are donating their time to help more people to find jobs they love to live the lives they want. If you get a chance please do say thank you to our wonderful volunteers and speakers, and perhaps you'd like to get involved? If so you can contact our community manager, Rose Barrett, at Rose@GrowRemote.ie with the headline: Giving Back.
Grow Remote is an Irish non-profit that advocates for remote working, we started as a community project over 2 years ago and are in over 70 communities around Ireland. Even though we'd normally meet face to face, we're not letting that stop us from helping our communities.
Each month we will meet to share information & knowledge around remote work and the remote work job hunt. You will hear from skills experts (CV preparation, interview skills and so on), from remote employers and workers.
Learn what it's like to work for the top remote employers such as Shopify, Hubspot, Buffer, eBay, Automattic, Glofox, ScrapingHub and more.
Speak to those on the same path as you, share your challenges and what you've learned along the way. You don't need to go it alone, it's better together.
Please share this with someone you know on the job hunt and before we meet check out our website, you can join our Slack workspace (Slack is a communication tool many companies use for their teams, we use it to share info in our community, there are over 1000 people on there, some current remote workers and some on the job hunt like you), also learn about Grow Remote's chapters and see if there's a chapter near you.
We also have "Get Started Guide" for remote work listing many of the companies that hire remotely and check out our Remote Jobs Board, curated specifically for candidates based in Ireland, at last count there were 300 roles listed there.
Want to learn more about Grow Remote? Or watch talks from remote employers, workers and consultants? Check out our YouTube channel here - https://www.youtube.com/channel/UCqYeCt86bKViiRdPtgfMzHw/videos