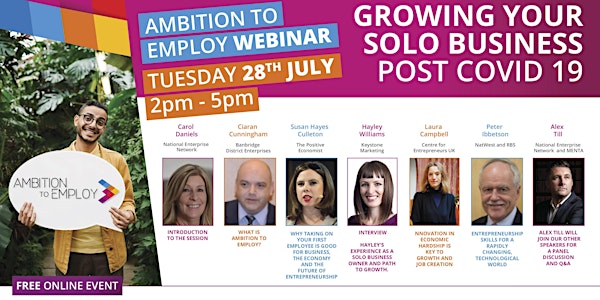 GROWING YOUR SOLO BUSINESS POST COVID - An Ambition to Employ event
An Ambition to Employ event to prepare for growth
About this event
2.10 What is Ambition to Employ?
Ciaran Cunningham, Banbridge District Enterprises
Ciaran will introduce the Ambition to Employ project – an ambitious Erasmus+ working to enable self-employed owner-operators to hire their first employee with knowledge, ability and confidence.
Ciaran Cunningham is Manager of Banbridge District Enterprises since March 2000. With almost 60,000 sq. ft. of property and over 50 businesses operating across four different centres, Banbridge District Enterprise has grown steadily over the last 30 years. Ciaran plays a key role in within the local economic development sector and works closely with enterprise partners to encourage entrepreneurship and assist those businesses who are on a growth protectory.
2.20 Why taking on your first employee is good for business, the economics and the future of entrepreneurship
Susan Hayes Culleton - The Positive Economist
There are many barriers that people perceive to taking on their first employee - financial concerns, lack of confidence, fear of uncharted territory and little understanding of what exactly needs to happen. Susan Hayes Culleton co-founder of The Positive Economist will put it all into perspective for us as she candidly shares some of her early experiences and insights about what the self-employed process and journey feels like. She will share tips, tools and techniques that complement the resources launched by "Ambition to Employ" and give you the "hearts and minds" reason why this project is important to sole traders, financial markets, economics and the future of entrepreneurship.
Susan is managing director of the Hayes Culleton Group, co-founder of The Positive Economist, an author (Positive Economics, Savvy Woman's Guide to Financial Freedom, The Savvy Guide to Making More Money) and an associate Lecturer at Ulster University. Susan is also the inspiring and enthusiastic presenter of the Savvy Women Online podcast. A strategist and thought leader, Susan also serves on the boards of the Irish International Business Network and the Ireland Hong Kong Business Forum.
4.00 Innovation in economic hardship is key economic growth and job creation
Laura Campbell - Centre for Entrepreneurs UK
COVID-19 has caused a significant health emergency and economic hardship in recent months and recovering from a multi-month societal lockdown caused by the pandemic is a particularly significant challenge for solo entrepreneur businesses. Laura will address this and discuss the strong need to innovate in this post-COVID environment and how innovation is key economic growth and job creation.
Laura is Head of Marketing and Partnerships at the Centre for Entrepreneurs UK and a champion for entrepreneurial knowledge and creativity. In her work Laura encourages positive innovation to help regenerate the economy and solve complex societal issues. A dedicated scientist and business analyst, Laura brings a unique insight into innovation and social innovation. An esteemed speaker and educator, Laura's expertise is coveted by Universities and organizations across the UK.
4.15 Entrepreneurship Skills for a Rapidly Changing, Technological World
Peter Ibbetson - Chairman of Small Businesses for NatWest and RBS
How do micro businesses gain access to the skills they need to grow in a rapidly changing, technological world and how do they maintain the confidence, flexibility and energy needed to pivot? Peter Ibbetson taps into thirty years of experience in financial services, strategic management, marketing and PR to answer this question and explore the opportunities for sole traders post-Covid and post Brexit.
Peter is Chairman of Small Businesses for NatWest and RBS since 2008, non-executive Chairman of the Lenlyn Group and a former non-executive Director of The Start Up Loan Company. Peter is passionate about the power of technology and has a special interest in the media. He is a Director of Primedia Solutions - a bespoke media coaching company and a Director of Journolink Limited - an online platform which provides small businesses with affordable PR in a box and also a matching service to link journalists to small businesses keen to talk in the media.