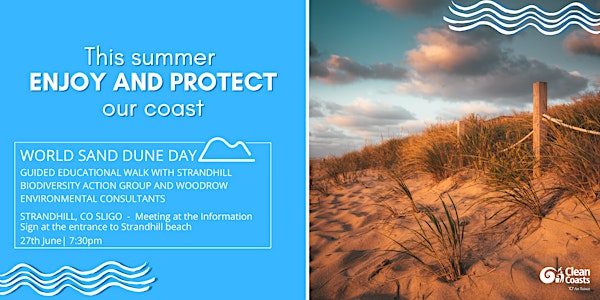 Guided Educational Walk along Strandhill Dunes, Co. Sligo
Clean Coasts 'World Sand Dune Day' Event. An Educational Guided Walk on Strandhill Beach, Co. Sligo with Woodrow Environmental Consultants
When and where
Location
Strandhill Beach Strandhill Beach Strandhill Ireland
About this event
'World Sand Dune Day' is coming up on the 25th of June and to celebrate Clean Coasts are organising a number of events around the country.
On Monday 27th June @ 7.30pm Clean Coasts are teaming up with the Woodrow Environmental Consultants and Sligo Biodiversity Action Group to host an educational guided walk on Strandhill Beach, Co. Sligo.
We will be taking you on a journey along the beach and dune system, discussing how they are formed, dune habitats, and the species that make this site a nationally important sand dune system.
Olivia Jones, Clean Coasts Senior Development Officer will be there to talk about 'World Sand Dune Day' and the work Clean Coasts carries out in the region.
Emmeline Cosnett an Ecologist on the Botany and Habitats team with Woodrow Ecological Consultants in Ballisodare, Co. Sligo. Emmeline will be talking about some of the wonderful and diverse plant species we can find growing along our coastal ecosystems here in Sligo as we take a walk along the coast in Strandhill.
Topics to cover:
• The importance of our seagrass meadows as a blue-carbon sink, in preventing coastal erosion and as a habitat for biodiversity
• Some of the unique coastal habitats we have along our west coast - case-study Machair and the Great Yellow Bumblebee
• Flora and fauna of the Strandhill Dunes
• The value of our dunes and ways to protect our dune systems
The event takes place at 7.30pm and we will meet at the information sign to the entrance of Strandhill beach.
Please wear appropriate footwear and dress accordingly for the weather.
Looking forward to seeing you there.
#EnjoyAndProtect #ProtectOurDunes