Event Information
Location
The Dew Drop Gastropub
Main Street
Kill
Ireland
Guinness world record attempt at The Dew Drop on Nov 30th is in aid of CMRF (Crumlin Childrens Hospital) We Need You!!!
About this event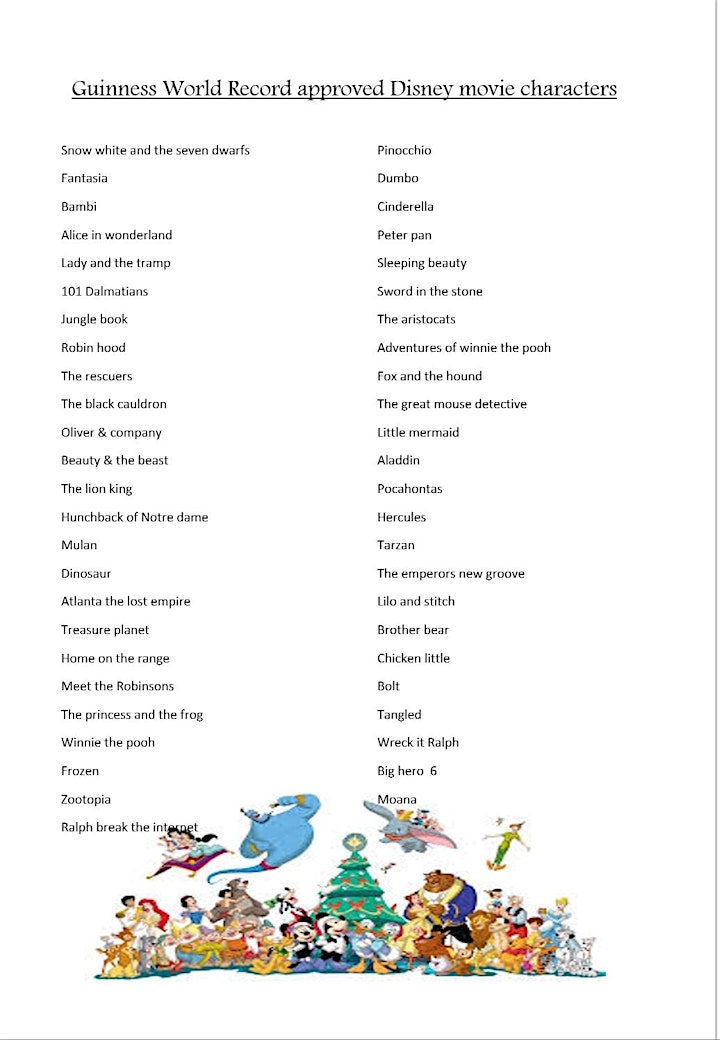 UPDATES
So guys, just to remind everyone of our Guinness World Record day
Marvel, D.C, Star Wars and Mary Poppins are not permitted for our Guinness World Record attempt. GUINNESS are very strict with the rules and regulations and they must be adhered to to get the record.
Registration will be open from 12pm and will close at 2pm. We ask people to try and arrive well before 2pm to avoid queues and avoid having any delays as the record itself is starting at 3pm sharp. We will be calling people into the record venue at 2.45pm. Record Needs to start at 3pm as Guinness stipulates that the times stated for record to be attempted must be at times given to them from the offset.
Car parking on the day will be available in Kill GAA, Kill Community School, and St. Bridget's Catholic School all of which are a short walking distance to the Dew Drop Gastro Pub. There will be signs on the road and Garda presence directing traffic too. The Dew Drop Carpark will be closed from 3pm Friday 29th November till 7pm Saturday 30th November.
All children doing the record attempt must be accompanied by an adult in the record venue. All adults must be in full costume to enter the record venue. Waivers will be given to families with small children to comply with GDPR regulations, as cameras will be recording on entering, during and exiting the record venue. Photographs will be taken on the day also for local newspapers, and social media. Coats , hats, scarves ect must be removed prior to entering the record venue, and be kept off while in the record venue. All people must be dressed in full costume only for the time of entering until the time of leaving the record event. Stewards will be checking all costumes prior to record starting. Coats may be held during the event and put back on when exited the record venue.
If you have any questions please dont hesitate in giving the Dew Drop a ring and we will answer any queries you have for the day. Look forward to seeing you all on Saturday folks.
So folks, we have got word from Guinness world records that we can use Disney Pixar as part of the record, so all you toy story fans, cars and any other Pixar favourite film, go on ahead and get hunting those costumes!
On Saturday the 30th of November at the Dew Drop there is an attempt in conjunction with Crumlin Chidren's hospital to break the Guinness world record for "Largest gathering of people dressed as Disney animated characters" The attempt will take place in the carpark of The Dew Drop in the afternoon at 3pm. We need as many people as possible to dress up, so find those princess dresses, prince charming suits and come out to be part of something really unique & special. We want the kiddies, mammies & daddies to dress up for this attempt. Don't be shy as its for such an amazing cause.
Also the wonderful people at Fancy Dress Party Store in Stillorgan have been absolutely amazing and offered everyone a 10% discount on Disney costumes if you buy online or in store, just use the promo code DISNEY. The website is fancydressstore.ie and contact number is 012957522. Address is Fancy Dress Party Store, Unit 1C, Birch Avenue, Stillorgan, Co. Dublin. Go have a look online and get those costumes ready for November 30th!!
The magic number to beat is 361
We would ask upon registering here on Eventbrite, for the event a minimum donation of €20 ( more if you want guys!!) per family of four, which goes direct to CMRF
On the day we will be hosting a small Christmas market with stalls, plenty of games, small cinema room, and also some special guests and music
There will be complimentary mulled cider, coffee/tea and hot chocolate for the kiddies on arrival with food vans on site also.
The event will be strictly supervised and carpark will be closed on Friday evening to setup. We will have independent adjudicators to count each person on the day for the record attempt and there will be security and helpers in place all afternoon. With weather in mind we will have a big cover over us also so don't worry.
The carpark will be available to enter from 12 noon for wristband collection and for the market and games and the record attempt will be from 2pm and we have to be together for a full 5 minutes in the one area. (Please remember once you come in to the carpark you cannot leave until after the event, as we have to be strict on the entry and exit for the regulations from Guinness, unless there is an emergency etc)
IMPORTANT
There are strict rules in place by Guinness to make this attempt legitimate in relation to the costumes. People must be head to toe in Disney animated characters. It must be Disney animation so Star Wars, Marvel, DC etc are not accepted as part of it. PLEASE BE AWARE OF THIS.
We will be posting on our Dew Drop facebook, twitter and instagram pages and website about the do's and dont's for the event over the next few months leading up to it.
This event is being run solely by the management of The Dew Drop Inn with the help of our sponsors KFM & JJ Mahons & Sons so please be patient with us if you have questions etc.
Date and time
Location
The Dew Drop Gastropub
Main Street
Kill
Ireland