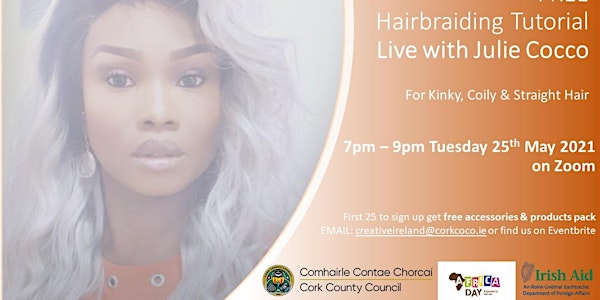 Hairbraiding Tutorial; Live with Julie Cocco
To celebrate Africa Day 2021, Cork County Council Library & Arts Service presents a free hairbrading tutorial, live with Julie Cocco.
About this event
Join Julie Cocco for a free, live hairbraiding tutorial on Zoom, Tuesday 25th May. Kinky, coily and straight hair will be covered, and the first 25 to sign up get free accessories & products packs. Get your ticket now and get your free pack to help take part in this fantastic Africa Day event!
For further details email creativeireland@corkcoco.ie or phone 0214285995
Africa Day is the annual commemoration of the foundation of the African Union, which took place in Addis Ababa, Ethiopia on 25th May, 1963. It is celebrated around the world and is an opportunity to appreciate and mark the African continent's diverse cultures, history and heritage. At home, Africa Day represents an opportunity to acknowledge a diverse and important group of people in our community who enrich and make a valuable contribution to Irish society. Since 2006, Irish Aid at the Department of Foreign Affairs has supported events to mark Africa Day in Ireland. According to the 2016 census, Ireland was home to people from 50 African countries. The positive impact and influence of Ireland's African communities is evidenced across many aspects of Irish life, not least the worlds of art and culture, music, literature, sport, business, food and community development.