Sales Have Ended
Ticket sales have ended
Thank you for enquiring about our event but regrettably sales have now ended. If you wish to be on standby, should there be a cancellation, please send us a text on 083.800.6251. Do follow us on social media to find out about future events and becoming a Volunteer. If you want to be added to our WhatsApp Text Alert (it's not a WhatsApp group) please send a text via WhatsApp to 083.800.6251 wit h your name and your estate's name. We do not share your details with third parties and you can opt out at anytime. Have a Happy Halloween Regards Ballyboden Tidy Towns
Sales Have Ended
Ticket sales have ended
Thank you for enquiring about our event but regrettably sales have now ended. If you wish to be on standby, should there be a cancellation, please send us a text on 083.800.6251. Do follow us on social media to find out about future events and becoming a Volunteer. If you want to be added to our WhatsApp Text Alert (it's not a WhatsApp group) please send a text via WhatsApp to 083.800.6251 wit h your name and your estate's name. We do not share your details with third parties and you can opt out at anytime. Have a Happy Halloween Regards Ballyboden Tidy Towns
Find 24 words we have hidden in St Enda's Park & identify which 20 words belong to a poem & which 4 words we have tried to trick you with.
About this event
We have removed 20 words from a spooky poem and hidden them, in no particular order, on designated posters around the grounds of St Enda's Park excluding the Walled Garden, Museum, Tearooms, Toilets and Courtyard. All posters are viewable from the main paths in the Park.
The challenge for each ticket holder is to find all 20 words that we have hidden from the poem but to make it 'trickier' we have added an extra 4 words that do not belong to the poem, just to confuse you as it is Halloween! So you need to collect a total of 24 words during park opening times. This event ends on the 29th October so you can make more than one visit to the Park to collect all the 24 words.
Rules of Engagement:
Each ticket holder will receive a copy of the poem by email with the 20 words removed within 24 hours of booking their ticket. Find all 24 words in the Park and email us just the 4 'trick words' that do not belong to the poem. If there is more than one winner there will be a draw. There are lots of runner-up prizes to be won. Please do not remove or touch our Posters. To save paper we encourage you to take a picture of the 24 words using your phone. In the interests of safety all posters are viewable from the main paths in the Park.
Entries stating the 4 'trick words' are to be returned by email to ballybodenttgroup@gmail.com no later than Midnight on 29th October 2021 with proof of ticket . Only one competition entry is allowed per ticket. All prizewinners will be notified by email on the 31st October 2021.
All children must be accompanied and supervised by an adult.
Halloween is very different this year thanks goodness and we hope you will enjoy this Halloween Scavenger Hunt and help us raise funds for Ballyboden Tidy Towns and the area.
Wishing you all a Happy Halloween.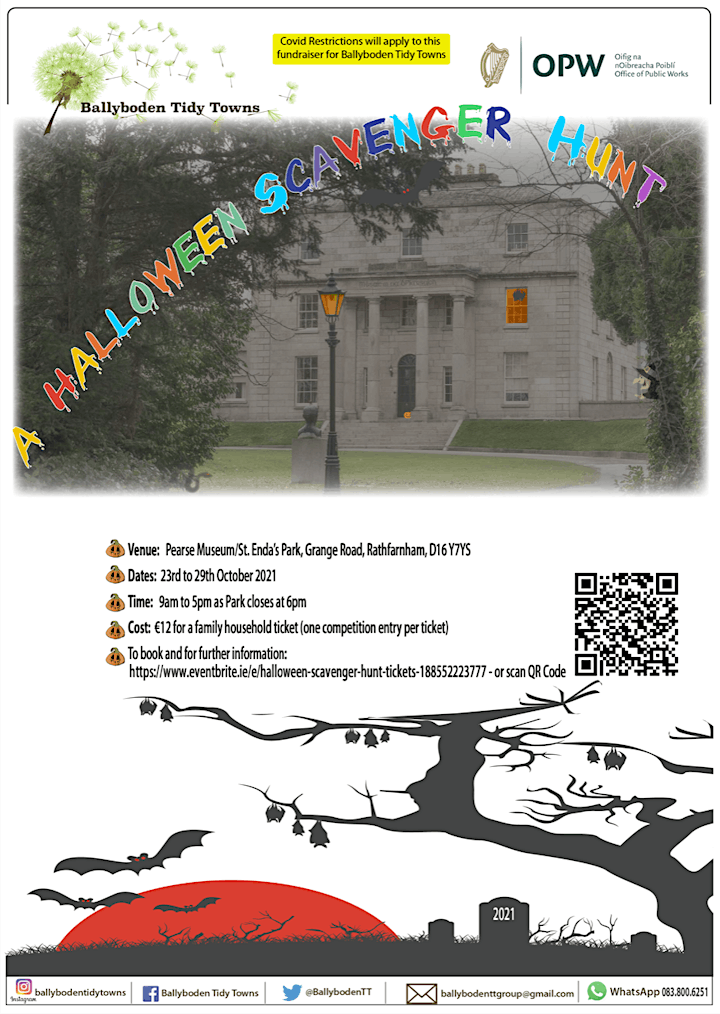 Organiser of Halloween Scavenger Hunt
Ballyboden Tidy Towns has been competing in the SuperValu Tidy Towns National Competition since 2017. The competition has 8 categories: Community, Streetscape & Public Places, Green Spaces and Landscaping, Nature and Biodiversity in your locality, Sustainability - Doing More with Less, Tidiness and Litter Control, Residential Streets & Housing Areas and Approach Roads, Streets & Lanes.
Our area is quite large as it stretches from St Enda's Park/ Pearse Museum all the way to Junction 12 of the M50; from Fanagans (Tuning Fork) all the way up to the M50 overpasses on Whitechurch Road, Edmondstown Road and Stocking Lane. It includes estates that egress onto Ballyboden Road, Taylor's Lane, Scholarstown Road, Whitechurch Road, Ballyboden Way, Stocking Lane and Edmondstown Road.
We work with residents associations, community groups, businesses, Men's Sheds, Sports Clubs, Schools, nursing homes and residential care centres, Gaisce, state bodies, political representatives and local authorities.
We host a lot of events and organise plenty of activities throughout the year and we always welcome new Volunteers.