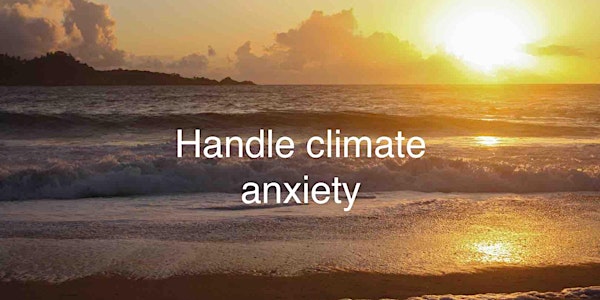 Handle Climate Anxiety - 5 lessons online.
TO PAY A DIFFERENT AMOUNT BY DONATING WHAT YOU CAN AFFORD, CLICK 'TICKETS' AND SCROLL DOWN.
Refund Policy
Refunds up to 1 day before event
About this event
34 days 22 hours

Mobile eTicket
As we face and experience the challenge of climate change, our emotional response is likely to vary from one person to another.
For many, anxiety is the main response. For others, feelings such as anger or loss predominate. In most the response will be probably be a mixture of all three.
All these responses are valid in their own way - but we also, for the sake of our own wellbeing, need to cultivate positive responses such as hopefulness, appreciation and gratitude (to the planet on which we live.
In this course we will look at all these aspects of 'eco emotions', together with exercises and information.
The aim is to help you to respond to climate change's emotional challenges in ways that are good for your mental health.
The course will help you to cultivate realistic hopefulness alongside the other emotions that will accompany climate change.
It will give you mindfulness and other resources you can use into the future and not only in response to climate change but to other challenges.
Where and when can I take part?
The course is online and accessible at any time from 12th November.
What does it contain?
Practice prompts
Ideas for practice
Videos
Links to useful material
A discussion forum (optional or if you prefer you can use a non-identifying username.)
I will add course participants to my daily mindfulness reminder, The Daily Bell, for the duration of the course as the material will reinforce the lessons. Should you wish to unsubscribe at the end it is very easy to do so.
​What if I can't keep up because of work or holidays (or even work or life in general)?
Don't worry, the course will be there for you when you get back. You can postpone at any time.
Can I buy a place for a friend?
Yes. I recommend you buy it as if for yourself and then send the enrolment link (which I will send you) to your friend who can take it from there.
Can I get a CPD certificate?
Yes, for 5 hours. Contact me after you have finished the week.
How do I get into the course?
The access link will be in the confirmation when you buy a place.
If I buy a place what happens next?
You will get a confirmation from Eventbrite on the screen and by email. Scroll to the bottom of the email to see the message from me. I will also email you separately before the course begins. If you don't get a confirmation email check your spam folder.
What is your refund policy?
On a case by case basis. Contact me at the email address below.
Contact information
My website is https://www.padraigomorain.com and my email address is pomorain@yahoo.com