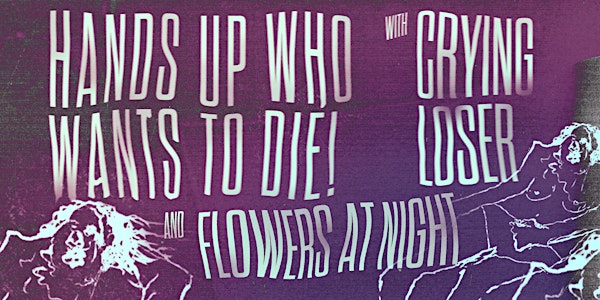 Hands Up Who Wants To Die ALBUM LAUNCH w/Crying Loser & Flowers At Night
Dublin noise wonk quartet "Hands up who wants to die" celebrate the release of their third album "Nil all" with Crying Loser
Date and time
Thu, 9 Mar 2023 20:30 - Fri, 10 Mar 2023 01:00 GMT
Location
An Spailpín Fánach 29 South Main Street Cork Ireland
Refund Policy
Contact the organiser to request a refund.
About this event
Hands Up Who Wants To Die (Wonky Gothic Noise Rock) joined by Crying Loser and Twitcher with Flowers At Night. Spailpin Fanach 9th March
Hands Up Who Wants To Die have been a DIY noise rock band since 2009, played across 12 countries, have released music on labels in France, Ireland, London & the U.S. There third full length LP 'NIL ALL' , produced with John 'Spud' Murphy and Ian Chesneutt @Guerrillasounds, is out March 2023 on Human Worth, Sleeping Giant Glossolalia & Fonoradar. Gothic Wonk.
https://humanworth.bandcamp.com/album/nil-all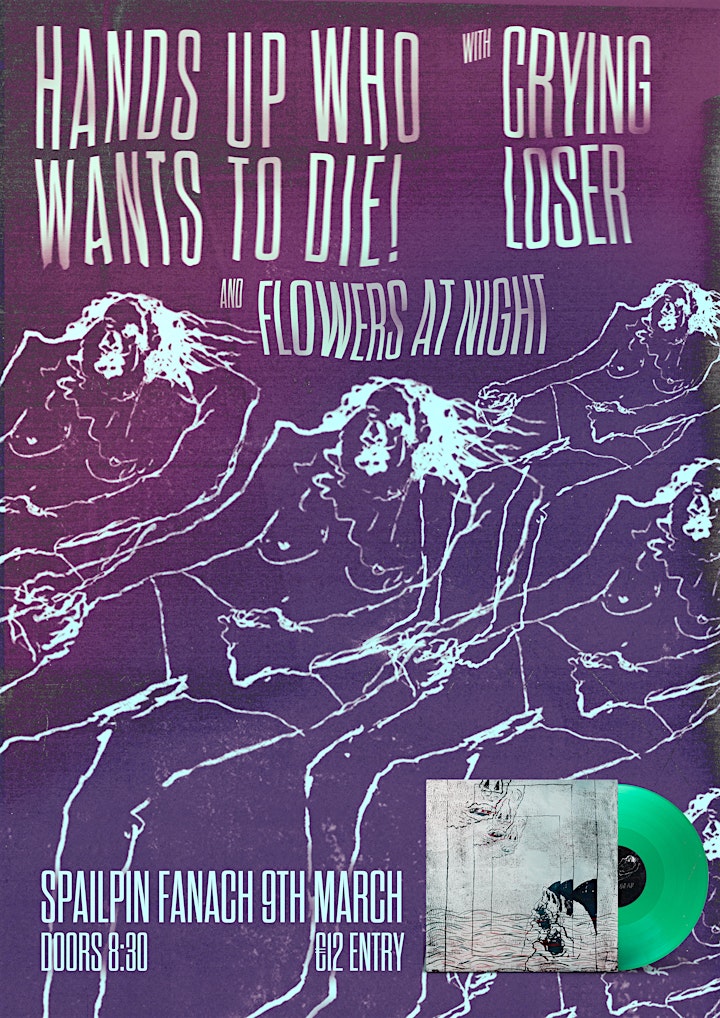 NIL ALL expands upon the delicate / brutal spectrum found on Hands Up's previous LP, *Vega in the Lyre*, pushing further into spacious light and claustrophobic void. The band has twisted minimal musical ideas in various directions, with Spud's sonic orchestration harnessing the exploration of elastic time and guitar micropolyphony.
The first release featuring Ten Past Seven's Rory O'Brien on lyrical duties, themes include strange histories and characters enduring, often out of delusion. The anomalies and warped stories, barely believable. Life as a zero-sum game, brutal and absurd.
The record is being co-released by Human Worth in the UK, Sleeping Giant Glossolalia in the US and Fonoradar in Poland/EU, with 10% of the proceeds from Human Worth's sales going to masi.ie, an organisation demanding justice for asylum seekers in Ireland stuck in the devastating system of 'direct provision.'
Crying Loser
No wavey- post-punk from Cork
'Friends' channels the spirit of the 'late 70s no-wave era with a recording that sounds like it was beamed from CBGBs, clarinet and all.
Irish band featuring people of a tearful persuasion and hideously low scores on the popularity matrix
Crying Loser are Mícheal Fitzgerald, Ruairí De Búrca, Arthur Pawsey and Sam Clague, and 'Friends' is on Bandcamp.
https://cryingloser.bandcamp.com/track/friends
Flowers At Night
The music of Juno Cheetal from Sherkin Island, Cork, Ireland.
Her sound is characterised by layers of synths, guitar, vocal layering with electronic soundscapes.
She uses vintage synths, guitar, piano, autoharp orchestral strings/ field recordings. Her inspiration comes from 80s instrumental B sides and film soundtracks. She also composes music for theatre and short films.
https://flowersatnight.bandcamp.com/music