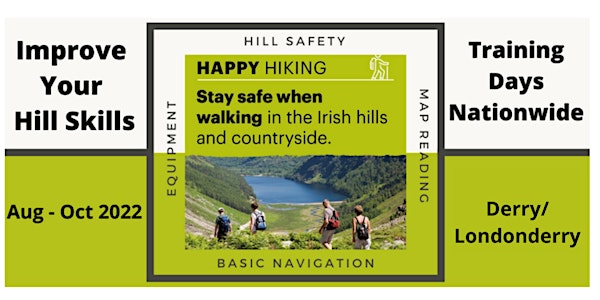 Happy Hiking - Hill Skills Day - 25th September - Derry/Londonderry
Learn basic navigation skills and key safety tips to help you stay safe on the hills!
When and where
Location
Binevenagh Limavady Londonderry xxxxx United Kingdom
About this event
Mountaineering Ireland are delighted to announce their Happy Hiking Programme. This is a great opportunity for anyone new to the hills or those who want to learn navigation to join a qualified instructor for a full days training and gain useful information and skills that will help keep you safe on the hills.
There will be up to 40 skills days in 17 locations to choose from. Full details are available when registering.
These hill skill days are subsidised by Mountaineering Ireland - Entry fee for each skill day is only €10. Adult Only - Members and Non-Members welcome.
This hill skills day we will hike along forest road and through coniferous forest with a steep section leading to the summit of Binevenagh with panoramic views over Lough Foyle, the Roe Valley, Inishowen and to the west coast of Scotland. Extended routes are available.
Throughout the day you will learn about movement skills, basic navigation, map reading, equipment and safety considerations.
What gear do I need
Wear comfortable clothing like - leggings, tracksuit bottoms, breathable T-Shirt and fleece & an extra warm layer. Be ready for the rain and pack a rain jacket and rain trousers. A hat and gloves to keep you safe from the wind. Wear good sturdy walking shoes or hillwalking boots with woolly or synthetic socks. Have a backpack with water (minimum 1.5 litres, sandwiches and snacks, coffee, or tea. There is nothing more rewarding than a nice cup of coffee or tea drunk on top of the mountain. Don't forget to bring first aid kit with plaster and bandages, personal medicine, inhaler, epipen etc.
In Addition: you can bring an OSI, Harvey or East West map of your local area and a compass if you have one. Bring a whistle but, hopefully, you won't get lost. Maps and compasses might be supplied by the instructor. Have your phone fully charged.
#happyhiking
Disclaimer: Mountaineering Ireland recognises that climbing, hillwalking and mountaineering are activities with a danger of personal injury or death. Participants in these activities should be aware of and accept these risks and be responsible for their own actions and involvement.