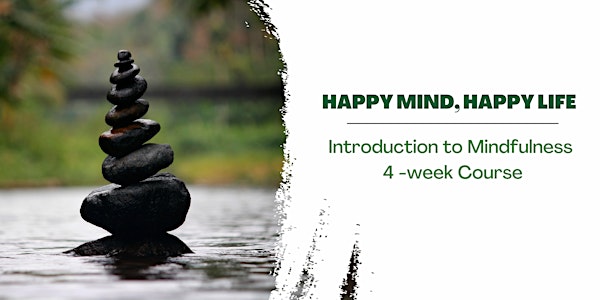 Happy mind, Happy life - A free in-person mindfulness introduction course
Happy mind, Happy life is a free 4 week in-person course teaching the fundamentals of mindfulness/meditation in Bru Columbanus near Wilton
When and where
Location
Bru Columbanus Cardinal Way T12 TN97 Cork Ireland
About this event
Every Wednesday at 7.00 - 8.30 PM between 16th Nov -7th Dec 2022
Guided by an experienced mindfulness practitioner, Happy Mind, Happy life is an in-person course sharing simple and concrete ways to generate energy and well-being and release the stresses and strains of life.
In the 4 sessions we teach you how to meditate effortlessly, so you can ease painful thoughts and emotions; you will also be encouraged to use mindfulness practices to bring joy into your daily life.
We invite you to join this course comprising guided practices, group discussions and practical exercises. There will be a maximum group size of 12 people, for a light-hearted and deep exploration of mindfulness together, in a friendly, welcoming atmosphere.
Course content
The four sessions of the course explore the following themes:
Introduction to Mindfulness: Stopping and calming
Mindfulness of Emotions: Turning to the positive
The Wise Heart: Loving Communication
Bringing your practice into the world: Nourishing Happiness
Reported benefits
Increased enjoyment of life
Increased ability to be calm and relaxed
Increased control of emotions such as anger and anxiety
Improved sleep quality
Fewer feelings of anxiety and low mood
Who can attend?
This course is suitable for beginners, as well as those wishing to gain a fuller understanding of how mindfulness can support calm and happy living. Mindfulness is a practice originating in Buddhism and supported by neuroscience and psychology; it may be practiced by those of all faiths and none.
Many of our participants learn new ways to care for their well-being and are able to develop positive responses to challenging situations.
Commitment
For this course to be effective, we recommend that you commit to attending all four sessions and also do a minimum of 20 mins daily practice for five days each week. Creating a stable and strong practice of mindfulness is a habit that needs regular, ideally daily, practice. If you know ahead of time that you cannot make a session, then please discuss with your Course Leader so that you can understand the content of the missed session.
Course schedule
This course is taught over four Wednesday evenings starting on the 16th of November in Bru Columbanus (Cardinal Way, Wilton, Cork, T12 TN97) near Wilton Shopping Centre. The following are the dates and times of the course:
1. Wednesday, 16th of November from 19:00 - 20:30
2. Wednesday, 23rd of November from 19:00 - 20:30
3. Wednesday, 30th of November from 19:00 - 20:30
4. Wednesday, 7th of December from 19:00 - 20:30
Ticket pricing
There is no cost for this course. There will be the opportunity to offer some money at the end as a donation to cover the room cost but there is no obligation to offer anything. The only cost is that we kindly ask you to commit to all four Wednesdays and attend each session.
Course leaders
The course leader is Gavin O'Driscoll. He has practiced mindfulness for over 15 years and recently returned to Ireland from spending six years living in a mindfulness practice centre called Plum Village where he lived as a Buddhist monk. He is extremely interested in how ancient wisdom can help us to lead happier and healthier lives in a very past paced modern world with many commitments.
Gavin is in the final stage of completing a certification as Mindfulness Mediation Teacher as part of a 2 year intensive training program led by Tara Brach and Jack Kornfield through Sounds True and the U.C. Berkley Greater Good Institute.
What if I miss a class?
It is ideal if you can make all the classes as this way you will gain a sound foundation in mindfulness practice. If you have to miss a class and know ahead of time, do let Gavin know. They will be able to advise you on how you can continue your mindfulness practice.
What further information will I receive?
You will receive an e-mail welcoming you to the course from Gavin when you register.
What is your cancellation policy?
As the course is free, you will not loose any money if you cancel.
Gavin kindly asks however that everyone should commit to all four evenings for the harmony of the group.