Happy Workplaces Ireland 2019 - Become a happier more productive workplace
Description
Happy Workplaces Ireland 2019
in association with
The event is designed to get senior management thinking differently. That happier workplaces are more productive workplaces, they perform better financially and are more rewarding for everyone involved. Life is a journey and not a destination. We need to enjoy the ride... and that doesn't mean we have to compromise as businesses on targets, KPI's, etc.
This event is designed to help you create a happy workplace, by learning from international industry experts, meeting key stakeholders in like minded organisations and gaining practical examples.
Happy Workplaces 2019 is a one day conference for leaders who are ready to embrace high-trust, high-autonomy, high-performance management.
Key speakers will share how they build and sustain happy workplace culture and practices - and how you can do the same. You will leave not only inspired, but fully equipped to take concrete action steps in your organisation.
Could you be doing more to engage your people at work?
Happy Workplaces 2019 Thursday 4th April 2019 in The Gibson Hotel, Dublin 1.
Henry talks to Ray Darcy on RTE Radio 1 about eating lunch away from your desk
Make Your organisation a Great Place to Work - Now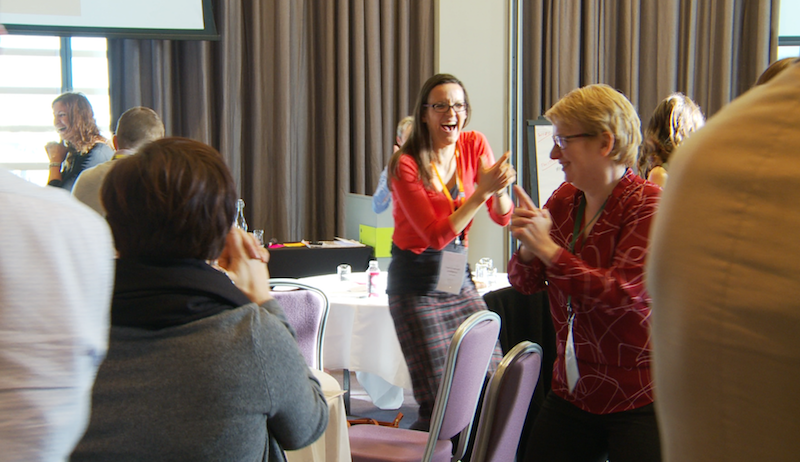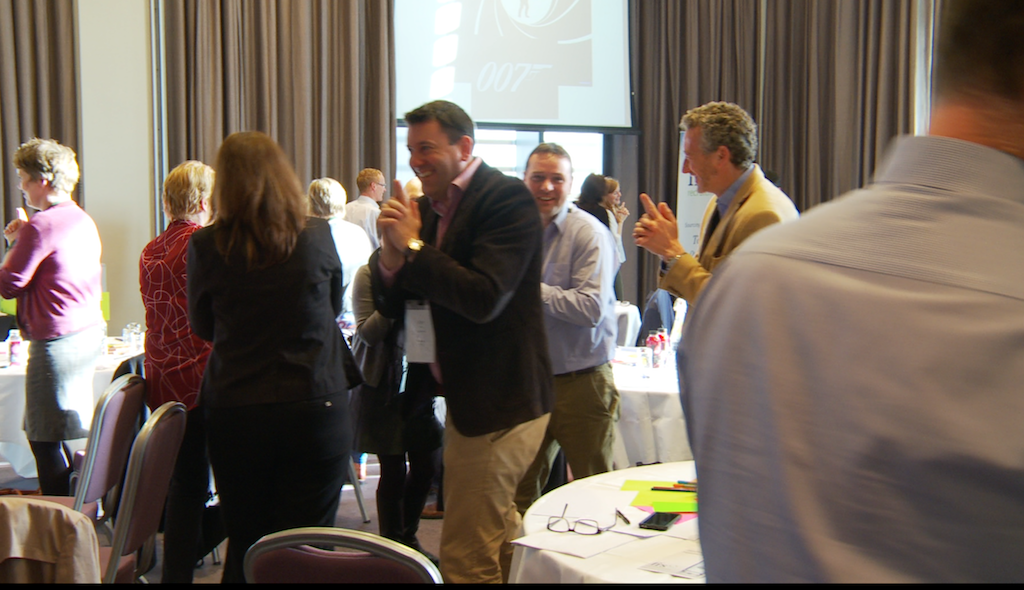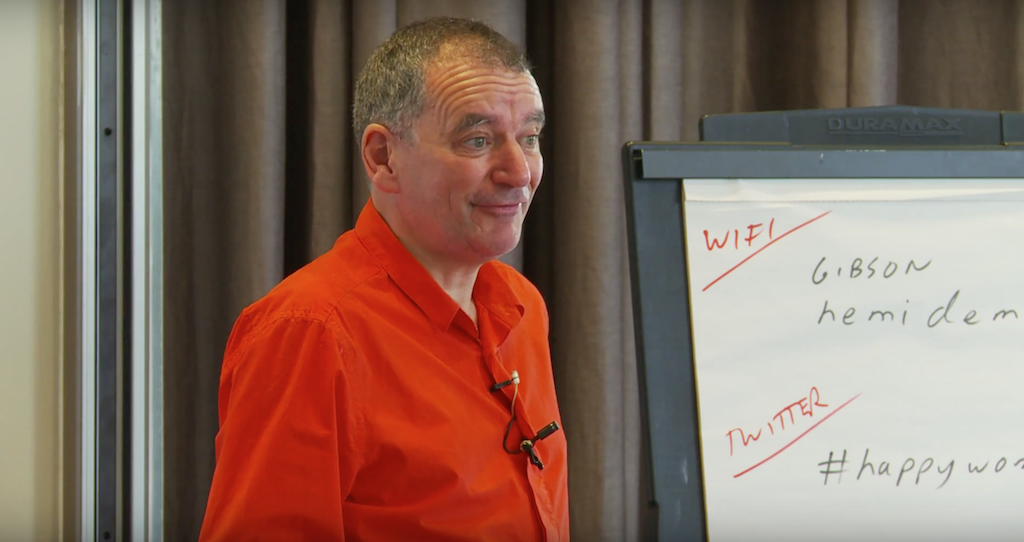 What will you learn?
Happy Workplaces 2019 features dynamic speakers, an eclectic agenda and energetic discussion topics. You will hear from:
Henry Stewart, CEO at Happy - Happy have won numerous awards for not only being a great place to work but also a democratic workplace. Henry is one of the Worlds leading speakers on workplace happiness. Author of The Happy Manifesto, highlights the organisations which have achieved success by implementing Happy principles, all presented in Henry's usual dynamic style.
Stephen Dargan, CEO at Wake Up! - Since 2010, Stephen has written on what work should mean to us. While attending Henry Stewarts Happy Workplaces London in 2013, Stephen saw the potential to wake up Irish Industries to the importance of happier workplaces and ultimately, more fulfilled,relationships, families, cultures and communities. Together with Andrew Tobin from T2 Digital Strategies, they brought Happy Workplaces to Ireland in 2015. Now in the third year of Happy Workplaces Ireland, Stephen realises that if you do not address the problem of employee engagement and ultimately wellbeing, you will be left behind.
Melissa Curley, Melissa Curley is an ex-secondary school teacher turned entrepreneur. Travelling the world for 11 years gave her a crystal keen sense of the importance of people and culture.
Returning to Ireland in 2011, Melissa proceeded to design and build two businesses, both of which had the same core WHY: to bring people together to converse, connect, and create communities once again in their lives, both professionally and personally. The connected world is a peopled world, and in order to be happy and productive, both in our personal lives and our professional workplaces, we need to prioritise people, and interaction, and F2F communication.
Dom Monkhouse, Foundry Media and the Melting pot Podcast

and previously

Peer 1

and

ServerBeach Dominic had early flirtations with hospitality, retail, pharma and bling before falling into technology. He then founded and scaled up two 2 UK IT service firms.As managing director, Dominic took Rackspace to £26m and then Peer 1 Hosting to £30m, both in 5 years, growingthe firms from zero to 150 and 120employees respectively. At Peer 1 the company scaled up globally from $90m to $200m and sold for $635m.The tools used in these endeavours nowform the basis of Dominic's technologybusiness coaching practice; helping othermid-market IT firms to scale up sustainably and without drama. Inessence, he helps clients focus on employee engagement and customer satisfaction.
Ken Tormey, Director at Typetec

-

Typetec are one of Ireland's leading IT providers. Ken talks about smart working and will share some practical insights into how he implemented a change management process in Typetec. He will demonstrate the improvements in staff engagement and the impact in their customers satisfaction survey.
Andrea Callinan, Founder and Inspirational Diva at InspireMe. Voice expert Andrea Callanan has a passion for people. She's the founder and owner of inspireMe, the authentic engagement company providing mindful, creative people solutions for top brands. InspireMe, the home of the &inspire activities is best known for the award winning Sing & Inspire, recognised for its motivational 'Inspire' workplace choirs and impactful team building workshops
Richard Murphy - Zevo Health - Richard Murphy is the CEO & Founder of Zevo Health, a workplace wellness provider that aims to make companies a healthier place for people to work in, both physically and mentally. Richard created Zevo Health just over three years ago and the company has fast grown in to one of Irelands leading workplace wellness programme providers. Zevo Health have successfully implemented various wellness programmes in organisations across the UK and Ireland and continue to make employers and employees happier and healthier in their working environment.
The tailor designed wellness programmes are created by a team of over 20 health coaches who deliver training in areas such as stress management, mindfulness, work-life balance that are tailor-made to the needs and culture of the organisation.'
Sarah Metcalfe.

.

Sarah joined Sure Petcare in 2010, taking responsibility for the company's customer service and guiding it through an extraordinary period of expansion and growth. She now leads a talented multi-lingual team who deliver outstanding customer service and happiness to all Sure Petcare customers around the world. Sarah is passionate about happiness in the workplace, and she knows the positive impact this has on the customer experience. Through continuing to innovate and improve the customer journey, Sure Petcare now has an Net Promoter Score of 90+ in over 20 countries around the world.Sarah also runs her own consulting company Happy Coffee Consulting to help companies create great customer service & happy workplaces.Sarah has trained with Happy Ltd, and Woohoo Inc, and has recently become a certified partner of Woohoo Inc and a certified Chief Happiness Officer to provide training & keynotes on creating happiness at work.
Treasa Spragg -

From ballet dancing until her early 20s with the Cork Ballet Company and Cork City Ballet to presenting Zumba(r) on top of the Meydan Hotel in Dubai, Revolution Project Ltd's Treasa Spragg has had a varied and exciting journey in bringing health and wellbeing to the masses in Ireland, Germany and the UAE. Treasa has one main mission in life; to make people happier and healthier. The company itself is based on the belief that moving more, nourishing ourselves, minimising our stress and optimising our sleep leads to a fuller, more productive and meaningful life. Treasa firmly believes that we're all of intrinsic value with something unique to offer to the world and that we thrive when we feel like we belong and have meaningful connections Treasa will talk about the benefits of sleep optimization Treasa's talk brings energy and movement to a subject that usually requires pillows and calmness.
Terri Moloney -

Terri is Senior Director, Employee Success, with

Salesforce.com - In this role, Terri leads the company's efforts in Ireland to attract, develop and retain the best talent.

Since joining Salesforce in 2015, Terri has placed a focus on creating a strong and engaged culture at Salesforce that has led to recognition as a Great Place to Work. Prior to joining Salesforce, Terri led human resources and employee development in various multi-national companies in Ireland, the USA and UK.

Terri holds a MSc in Training & Performance Management and MBA.
The conference day runs from 9:30 to 17:00 with registration from 09:00. Stephen Dargan will be facilitating discussions between sessions.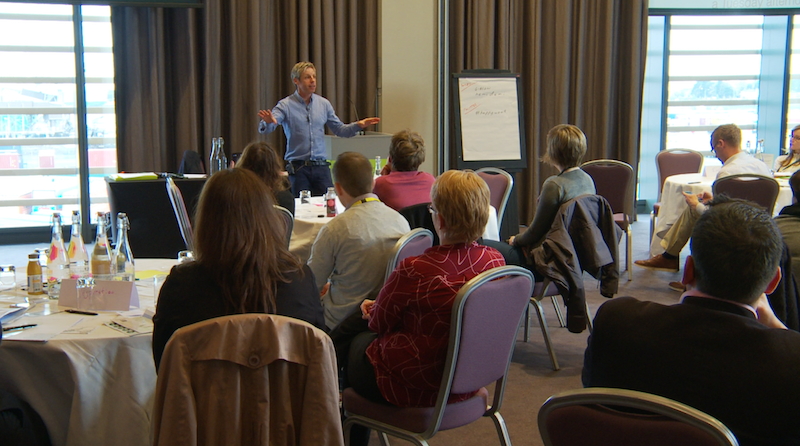 Who should attend?
Happy Workplaces 2019 is designed for delegates in both private and public sector organisations:
You are C level/director, executive or manager

You are in charge of the HR function in your organisation

You are in the area of recruitment

You have an interest in a way the modern workplace should be evolving
What results can you expect?
Build a high trust working environment.

Improved productivity by having a highly engaged, motivated and happy workforce.

Get practical examples of how you can change your workplace for the better.
Book your place now
Happy Workplaces 2019 takes place on 4th April 2019.
This event wil sell out, so avoid disappointment and buy your ticket now.
If you have any questions, simply contact Andrew on +353 (0)87 228 1696.