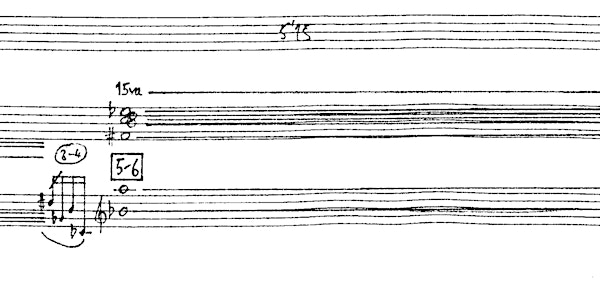 "Headaches Among the Overtones": Music in the Work of Samuel Beckett
When and where
Location
Neill Lecture Theatre Trinity Long Room Hub Trinity College Dublin 2 Dublin Ireland
Refund Policy
Contact the organiser to request a refund.
Description
"Headaches Among the Overtones": Music in the Work of Samuel Beckett
a public lecture by CATHERINE LAWS
Our public programme features one lecture from within the academic programme each year. This year we are pleased to present the cutting-edge research of Catherine Laws, a member of the Summer School 2016 faculty who is leading the seminar on Beckett and Music.

Samuel Beckett was a lover of music. He enjoyed playing the piano, was married to a professional pianist, and regularly attended concerts. His listening tastes were broad, but his great love was for music of the late Classical and early Romantic periods, especially Beethoven and Schubert, and in some of his work he references particular compositions or even, occasionally, includes excerpts of the music itself. He also thought hard about music. His early writing includes occasional, often obscure references to music history, philosophy and theory, and in some of this we can observe Beckett explicitly thinking about – or through – music in order to work out the kind of writing he wants to produce: to help him find his literary voice. A musical attention to the detail of sound and its patterning seems increasingly to seep into the very pores of his language. As his voices fizzle on with their broken, empty, repetitive, hopeless – and often very funny – attempts to tell stories, the language fragments and fissures. But whether truncated and percussive, or accumulative and spieling, the closer Beckett seems to get to exhaustion and silence, the more musical the impact of the language. This was important to Beckett: rehearsing Footfalls with Rose Hill, Beckett announced: 'We are not doing this play realistically or psychologically, we are doing it musically'.
This lecture will explore the musicality of Beckett's writing, his use of and references to music, and some of the ways in which composers have responded to Beckett's texts.
Catherine Laws is a musicologist and pianist. She is a Senior Lecturer in Music at the University of York and a Senior Artistic Research Fellow at the Orpheus Institute, Ghent. As a performer Catherine specializes in contemporary music, often working collaboratively with composers. Her current practice-led research is concerned with embodiment and subjectivity in contemporary performance. Much of her musicological work examines the relationship between music, language and meaning, with a particular focus on the musicality of Beckett's work and composers' responses to it. She has published many articles in this field, and her book, Headaches Among the Overtones: Music in Beckett/ Beckett in Music, came out in 2013 (Editions Rodopi).
Image Credit: from Martin Iddon, head down among the stems and bells (2009), c. 5'13" (page 4 of score)
The lecture will be chaired by Nicholas Johnson, co-director of the Beckett Summer School.
The public programme of the Samuel Beckett Summer School is generously supported by the School of Drama, Film and Music; the School of English; and Larry and Mary Lund. This lecture proceeds with the active support of the Trinity Long Room Hub, TCD's Research Institute for the Humanities.