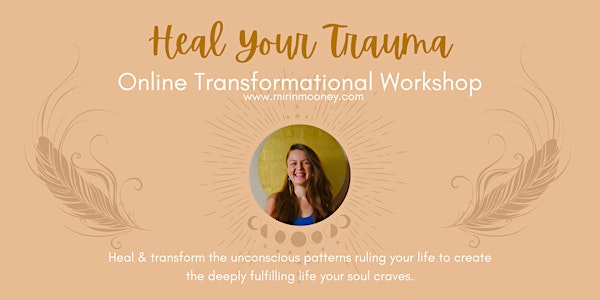 Heal your trauma
Heal the conscious patterns that rule your life
Refund Policy
Contact the organizer to request a refund.
About this event
So you've started your healing journey, done some inner work, yet you still find yourself repeating the same unconscious patterns over and over again. Intellectually you know things aren't working for you, but when it comes down to everyday living, you lose control and keep falling back into old unconscious habits. Whether it's self-sabotage, unhealthy relationships, playing small, lashing out, self-doubt, etc. If you're trying to change something but consistently failing, it's likely there's some unconscious pattern in place holding you back.
Trauma isn't necessarily always the big stuff, sometimes it's as simple as not getting the love you needed when you were a child. Everything leaves it's mark, yet in our attempt to avoid pain we create unconscious mechanisms to protect ourselves, however, the knock-effects of these can interfere with other aspects of our life. Are you ready to change that?
This workshop is for you if you want to:
take control of your life
stop living out unconscious patterns
live intentionally
be true to yourself
be seen and loved for who you really are
live a deeply fulfilling life
You will learn the origins of trauma, the different ways it shows up, and identify the core root of your own unconscious habits. This will be followed with exercizes and practices that you can personalize to help heal your core wounds so you can stop the unconscious cycle and start living the deeply fulfilling life your soul craves.
Trauma is imbedded in our culture and has been passed down through the generations, so when you choose to do the inner healing work, you break the cycle and stop it from being passed on. By doing this work not only do you do you improve all aspects of your life and start bringing your unique gifts to life, but you inspire others to do the same. As more of us join this movement of healing and conscious living, we create the new world we all dream of and know is possible.
Do this for you, for those you love, your community, and the planet.
WE ALL DESERVE BETTER!
Workshop includes:
1-1.5 hour workshop
Workbook
1 month access to workbook
1 month access to group forum for questions and support
A transformational experience
If you want discounted access to all three empowerment workshops, you can get tickets here!