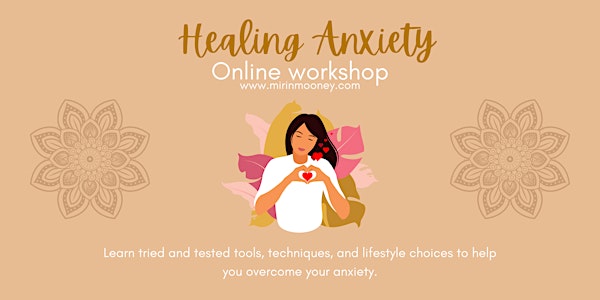 Healing Anxiety
Transform your life with tools, techniques, and lifestyles choices that actually work to heal your anxiety.
Refund Policy
Contact the organizer to request a refund.
About this event
In this workshop you will learn tried and tested tools, techniques, and lifestyle choices that will help you to manage and significantly reduce your anxiety. Learn how to switch off, to be "normal" and deal with life as effectively as the average person.
This workshop is for you if you experience any of the following:
Overthinking, over-reacting and worrying
Nervousness or restlessness
Feeling on edge or like you're under threat
Sleep problems
Unable to switch off
Tightness in your chest
Sweating, trembling, increased heart rate
Difficulty concentrating
Avoiding triggering situations
We live in a society that promotes anxiety - it is a symptom of the times we live in. However, although it is normalized, it is detrimental to our sanity, our physical wellbeing, and our capacity to show up effectively. It is up to us as individuals to make choices to reprioritize that which promotes our wellbeing, and in doing so inspire others to do the same, and in turn creating demand for an alternative way of living. Learning to manage your anxiety and calm your nervous system will allow you to show up more effectively in your life, make better decisions, to feel more at peace, and live the deeply fulfilling life your heart knows is possible.
Topics of support:
What is anxiety
Learn why you are the way you are and what you can do to change
Practices to help you when in an anxious spiral
Working with your nervous system
Daily practices & habits to help reduce anxiety
Lifestyle choices that will change your life
THIS WORKSHOP INCLUDES
1-1.5 hour workshop
Workbook
1 month access to recording
1 month access to forum for questions and support
A transformational experience