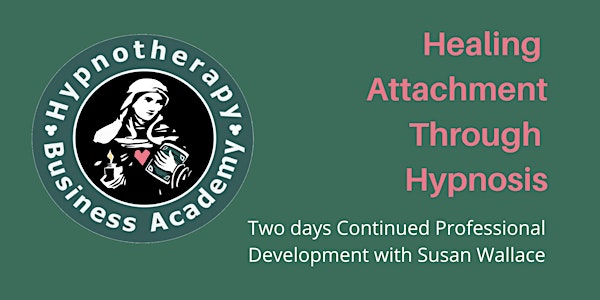 Healing Attachment Through Hypnosis
Two Days of Deep Dive CPD In-Person and/or Online Training Cost: €195 Saturday 10 September 10:00 - 18:00 Sunday 11 September 10:00 - 16:00
When and where
Location
Marino Institute of Education Griffith Avenue D09 R232 Dublin Ireland
About this event
Healing Attachment Through Hypnosis is a two day course that will give you the skills to work with your clients' subconscious, insecure attachment blueprint.
If you (or your clients) had childhood caregivers that at times were inconsistent, dismissive, disorganised or downright distant in how they gave you love, then the chances are high that you or they developed attachment insecurities because you didn't experience attachment in a way that felt secure.
These attachment challenges became the bedrock of our relationship blueprint or what we call in psychology our attachment style.
Over this two day course, you will develop a deeper understanding of how childhood attachment survival challenges show up in life and in therapy.
This course costs €195 for two days of CPD training.
Saturday 10th September join Susan in the Marino Institute or in our online virtual classroom.
Sunday 11th September we all meet online to ensure you can confidently add the learning outcomes to your clients services.
On this course you'll come away with the skills to confidently –
Explain the four main types of attachment to clients
Use three tools to help you and your clients understand attachment style
Understand the role of hypnotherapy within the Adaptive (Triune) Brain model
Teach clients four ways to recognise the strengths and stretches of their attachment style
Recognise how childhood attachment survival challenges show up in adulthood
Master Time Line Therapy techniques to explore attachment and develop more secure ways of bonding in adulthood
Deploy four soma (body) focused interventions with your clients to help them explore, understand, shift and shape their attachment style
Create personalised hypnotherapy scripts to help you clients develop more secure ways of attaching.
Know how attachment wounding fits into the three phases of Healing Trauma Through Hypnosis
For more information please click the link below:
https://hypnosisacademy.ie/healing-attachment-through-hypnosis/