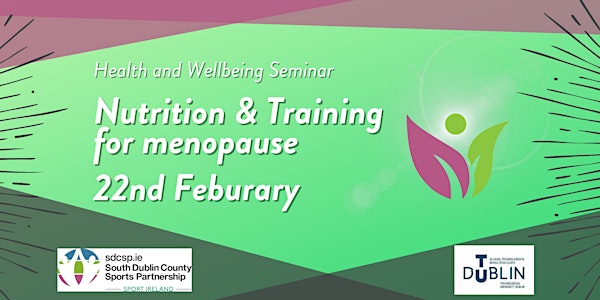 Health and Wellbeing Series - S2:Nutrition & Training for menopause
Health and Wellbeing Series - Nutrition & Training for menopause
By South Dublin County Sports Partnership
Date and time
Wed, 22 Feb 2023 11:00 - 12:00 PST
About this event
South Dublin County Sports Partnership has teamed up with Technological University Dublin, Tallaght Campus to deliver a series of Health and Wellbeing Seminars.
Our second seminar: Nutrition & Training for menopause, will be delivered by Richard Kelly a lecturer on the sport science and health programme in TUDublin .
The session aims to help people understand what Menopause is, the stages involved, and the key hormones that play a role. Participants will gain an understanding of the health, nutritional, and training challenges associated with menopause and gain a clear understanding of how nutrition and lifestyle plays an integral role. Also, the session will look give general advice on what and when to eat during menopause and the implications of training. Finally, the session will look at the efficacy of which supplements are effective in the management of the main menopause symptoms.
About Richard:
Richard is currently a sport and exercise nutrition lecturer on the sports science and health programme in TUDublin lecturing on biochemistry, metabolic health and sport and exercise nutrition.. He previously provided nutrition support to the Munster Rugby academy, sub-academy and NTS programmes. Richard also worked as a research assistant in the University of Limerick examining the effects of protein hydrolysates with carbohydrates for recovery following exhausting exercise. He completed my Master's degree in Sports Nutrition from John Moore's University Liverpool in 2016 and I am a graduate of the IT Tallaght BSc Sports Science & Health course (2015).
About the organiser
Our Mission
"Increase participation in sport and physical recreation and ensure that local resources are used to best effect."