Description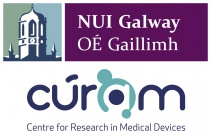 Health Economics for the Evaluation of Medical Devices
Event outline:
Health Economics is increasingly being used to inform the design and development of new medical technologies and is also a vital component in determining their commercial viability. The aim of this seminar is to describe the health economic methods available for health technology assessment (HTA) and in particular, to discuss the challenges associated with the assessment of Medical Devices (MDs). The following topics will be discussed:
The current regulatory landscape for MDs

The particular characteristics of MDs that lead to additional challenges for health technology assessment (HTA) of MDs

Key aspects of the conduct and methods of HTA for MDs.

The key recommendations for improvements in processes and methods that could enhance the potential for HTA and optimize the diffusion of MDs

.
This seminar is aimed at medical device developers, manufacturers, regulators, healthcare practitioners, analysts, consultants, and health technology assessors interested in health economic methodologies and their application throughout the full development and evaluation pathway of MDs. Those attending may be new to the field of HTA for MDs and may be working in an academic or industry environment. This seminar will also be suitable for experienced analysts interested in having a deeper understanding of the challenges of medical device evaluation.
For Registration:
Along with registering on Eventbrite we kindly ask delegatees to send a brief email to the organiser, Dr Michelle Queally: michelle.queally@nuigalway.ie specifying the area that you are currently working in, for example: regulatory, market access, government/academia or industry.
Online Streaming:
The seminar will be streamed live on the day, if you are unable to attend please join us online (link will be uploaded closer to the date).
Speaker:
The keynote speaker Prof. Rosanna Tarricone. Rosanna Tarricone is Associate Professor in Public Administration at Bocconi University, Milan and Associate Dean at SDA Bocconi School of management. She graduated in Business Administration at Bocconi University and holds an MSc in Health Services Management and PhD in Public Health and Policy, both from the London School of Hygiene and Tropical Medicine, University of London, UK. She has over 100 publications in the areas of health policy, healthcare management, economic analysis of health care services and health technology assessment (HTA). In recent years she has focussed on HTA of medical devices and has been the leader of a large, three-year EU-funded research project "MedtecHTA," that has made recommendations on how to improve methods for assessing the effectiveness and cost-effectiveness of health technologies. Rosanna also serves as advisor for the Ministry of Health of Italy and as an expert for the DG Research and DG Health of the European Commission. Rosanna is also a member of the International Association of Health Economics (iHEA), the International Health Technology Assessment (HTAi) organization and the International Society for Pharmacoeconomics and Outcome Research (ISPOR) where she
About The Health Economics and Policy Analysis Centre (HEPAC):
The Centre is part of the research network at the J.E. Cairnes School of Business and Economics, which includes the Whitaker Institute for Innovation and Societal Change. HEPAC have extensive links with clinical and social science researchers at NUI Galway, as well as being engaged in active collaborations with colleagues in national and international organisations. Researchers at HEPAC are currently applying health economic methods to explore a range of research questions in relation to ageing, dementia, disability, mental health, chronic disease, cancer, and obesity. While the research is mainly of an applied nature with an emphasis on peer-reviewed academic output, members of HEPAC also engage and contribute to policy formulation in a range of areas at national and international level. Current research projects include those funded by agencies such as the Health Research Board, Science Foundation Ireland, Atlantic Philanthropies, and industry partners.
About CÚRAM:
CÚRAM is a national centre funded through Science Foundation Ireland. While led by National University of Ireland Galway, CÚRAM's academic partners include UCD, UCC, TCD, UL and RCSI. CÚRAM aims to create a sustainable future for the Medtech sector in Ireland and train the next generation of world class Medtech scientists and entrepreneurs.‌‌ Our devices are developed with strong clinical collaborations to enable rapid translation of research findings to clinical application. Key to this approach has been the establishment of a unique network of synergistic national and international collaborations, integrating world-class academic, industry and clinical partners.‌
Schedule:
9:00am-9:15am: Registration will take place in the foyer in the ILAS building, NUI Galway.
9:15am-9:30am: Welcome from Health Economics & Policy Analysis Centre (HEPAC), NUI Galway
9:30am-11:00am: Guest Seminar from Rosanna Tarricone, Bocconi University, Milan
11:00am-11:30am: Q&A
11:30am: Tea/Coffee & Light refreshments in the foyer at ILAS
Parking:
Pay & Display parking is available at the nearby Park & Ride (near Corrib village) in the blue line boxes.

Date And Time
Monday, 13th May 2019, 09:00am-12pm
Location
Auditorium lecture theatre LCI-G018, Institute for Lifecourse and Society (ILAS), NUI Galway, NUI Galway, University Road
NB Eventbrite registration is free and closes at 12pm Monday 6th May.