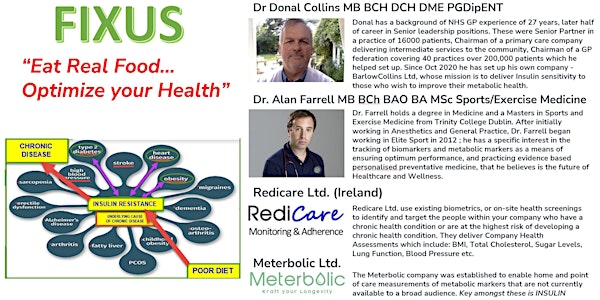 Health Event - Insulin, Cholesterol Testing and Health Talks / Q&A's!
Personal Health event: low cost Fasting Insulin/cholesterol tests for attendees - and insightful health presentations/QandA's all day long!
When and where
Location
Ashford Community and Heritage Centre Ashford A67 DH34 Ashford Ireland
About this event
Just a half hour approx. from South Dublin, all motorway pretty much - use postcode A67 DH34 in maps.
NOTE: IF AVAILING OF TESTS, PLEASE GIVE PREFERRED TIME OF DAY - we will strive to accommodate your preference. NOTE ALSO THE INSULIN TEST IS A FASTING SINGLE TEST - NOT POST-GLUCOSE KRAFT TESTING SEQUENCE. There will be a limited number of "1 hour" insulin tests, however - people can email specifically with a strong desire for that facility.
We have our experts flying in from the UK and mainland Europe to enable this fantastic opportunity. A unique event, where the newest testing technology combines with cutting-edge talks on delivering optimum metabolic health. And optimum metabolic health means minimum risk from chronic diseases.
10am-5pm Saturday June 11th, day as follows:
1. FASTING INSULIN test for attendees (the crucial test of health), and brief advice from GP on your result
2. CHOLESTEROL Profile test + advice
3. Planned also to have arterial elasticity / heart scanner diagnostic for attendees, on a first come first served basis
Note: Advanced 1 hour Insulin test can be conducted for a small subset of attendees (limited number of these - email your desire to go on waiting list)
ALSO: Live talks on key health topics throughout the day, with Q&A sessions - AND recorded video talks from some of the world's foremost experts in preventative medicine, followed by explanatory Q&A sessions. Including Dr. Arthur Agatston, cardiologist and inventor of the cardiac CAC scan Algorithm, Dr. William Davis, cardiologist and bestselling author, and more!
Talks/Q&A Content Draft:
"Insulin in Heart Disease" + Q&A - Ivor Cummins
"Heart Disease and CAC Technology" + Q&A - Dr. Arthur Agatston
"LDL Cholesterol and the Microbiome" + Q&A - Dr. William Davis
"The Ideal Human Diet?" + Q&A - Dr. Michael Eades
"TBD"    - from another incredible medical expert :-)
"Understanding - and Preventing - Modern Chronic Disease" + Q&A - Ivor Cummins