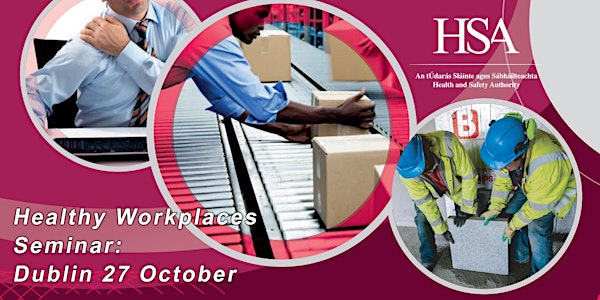 Healthy Workplaces Seminar: Dublin
EU-OSHA and the Health and Safety Authority invites you to attend our upcoming event on Healthy Workplaces, focusing especially on MSD.
When and where
Location
Clayton Hotel Cardiff Lane Sir John Rogerson's Quay D02 YT21 Dublin Ireland
About this event
Why attend?
The 2019 European Survey of Enterprises on New and Emerging Risks found that 65% of establishments identified repetitive hand or arm movements as a risk factor for MSD (musculoskeletal disorder). Prolonged sitting – often considered a new or emerging MSD risk – was also reported as a risk factor by 61% of those surveyed.
Work-related MSDs can be highly detrimental to an individual's quality of life and ability to work, and are one of the most common causes of disability, sick leave and early retirement.
This seminar on Healthy Workplaces will provide employers and employees with an understanding of the current health and safety issues arising in workplaces across Ireland and how best to assess risk and implement best practice changes. We will also introduce BeSMART.ie, the free online tool that lets you generate your own workplace risk assessments and safety statement, in addition to other HSA supports for both employees and employers.
Useful case studies on how organisations have managed ergonomic risks in their workplace will also be presented, while guest speakers will be in attendance to discuss occupational health, workplace stress, and the future of work.
Who should attend?
The workshop will be of a particular interest to:
Health and Safety Professionals
Occupational Health Professionals
Production and Operations Managers
Production or Manufacturing Engineers
Safety Representatives
Researchers
Others that have an interest in the science and management of work
Programme