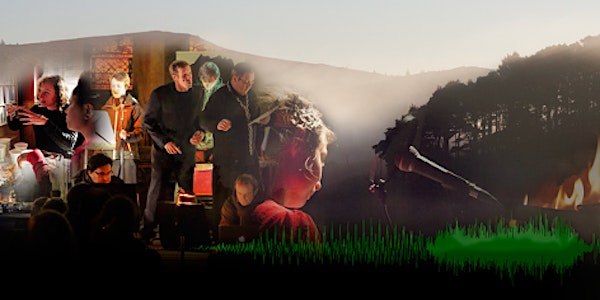 HearSay19 - The 4th HearSay International Audio Arts Festival : April 2019
Sales Have Ended
Registrations are closed
We're afraid that HearSay19 is completely booked out Please do join our mailing list at www.hearsayfestival.ie for news of commissions, the HearSay Prize and interesting developments we have in the pipeline for 2019 and 2020.
Event Information
Location
Kilfinane
Kilfinane
Co. Limerick
V35 T2P3 Ireland
Ireland
Sales Have Ended
Registrations are closed
We're afraid that HearSay19 is completely booked out Please do join our mailing list at www.hearsayfestival.ie for news of commissions, the HearSay Prize and interesting developments we have in the pipeline for 2019 and 2020.
Description
THE WAITLIST IS NOW ACTIVE for HearSay19
Click REGISTER to join the WAITLIST for a HearSay19 Multi-day All Event "Immerse" Pass (197 euro)
ALL HearSay19 Give Only what you can afford (30 to 150 Euro) Immerse Passes are now BOOKED OUT 1/3 of places were "Give only what you can afford" to ensure that HearSay remains Accessible and affordable
ALL HearSay19 Multi-day All Event Passes are now BOOKED OUT
[If you would like to be a Partner of HearSay19 - please get in touch via contact@hearsayfestival.ie]
The premise of HearSay19 is simple - a takeover by the worlds finest audio creators of an Irish mountain village for 4 days in April 2019 to inspire Creative Audio in all its forms.
For the 4th time, the HearSay International Audio Festival brings together international award-winning contributors and those breaking new ground from all disciplines of creative audio; radio features, podcasts, film sound, sound art, theatre, and audio fiction to foster collaboration & imagination.
Seventeen Venues in our home village from living rooms and chapels to barbershops and gardens, will host deep dives into the craft of creative audio, thoughtful reflections, powerful provocations, unique experiments, surprising encounters, creative challenges, immersive experiences, tea and scones.
HearSay means passion and free-flowing inspiration with no name badges rooted in a real sense of community There will be over 100 events in a joyful gathering of audio adventurers from 32 countries. (HearSay is truly international with over 80% of Multi-day "Immerse" Passes to date taken up attendees from outside Ireland).
Thank you to our amazing crew, passionate contributors, open-hearted participants and the people of Kilfinane for making Audio Heaven possible.
FAQs (Frequently Asked Questions)
Do I need an invitation to register for HearSay19
No. Just click on the Register Button --- This year we have made coming to HearSay much simpler, and more transparent. There is no three-step process (express interest, be invited, RSVP) as in previous years. You simply book your place at HearSay19 by registering for an HearSay19 "Immerse" Pass.
Why is there a fixed fee for a HearSay19 "Immerse Pass" this year.
We have introduced this to ensure the survival of the festival. HearSay is fiercely independent, but as a result we operate on a tiny budget, with a huge amount of goodwill. The fee aims to make HearSay sustainable on an ongoing basis. (For more on our decision, "Why is there a fixed fee for Festival Passes this year?" below.)
I cannot afford to pay the fixed fee. Can I still come? (Making HearSay19 Accessible)
We recognise that there are some who will struggle financially with the fixed fee.
We want to ensure HearSay remains accessible. Therefore, one third (33%) of the HearSay19 "Immerse" Passes will continue to be offered on a "Give only what you can afford" model. These are full HearSay19 "Immerse" passes but on a donation basis where you choose what you can afford BETWEEN 30 Euro and 170 Euro.
These places are explicitly aimed at ensuring HearSay remains accessible and inclusive to
low-income earners or those not earning an income at all.

those who would find it difficult to meet very high long-haul costs of travel (from countries like Australia or Argentina (excluding North America & Europe) to Ireland and a full price Festival pass.
If you have any questions drop an email to contact@hearsayfestival.ie
If you can afford it, please make HearSay sustainable by paying for a fixed cost HearSay19 "Immerse" Pass.
Will there be a difference between what I can do at HearSay19 if I get a Fixed Fee "Immerse" Pass or a "Give only What you Can Afford Immerse Pass?
No. Both will give you the same access to all events, experiences and encounters in the main programme. Only the amount you contribute to making HearSay sustainable changes.
Whats all this about "a Feast of Audio in Ireland - HearSay19 and IFC'19?
This year, HearSay has come together with the International Features Conference (IFC) which will be hosted by RTE in Cork, Ireland to organise both events directly after each other. HearSay runs April 4-7th directly followed by IFC, Apr 7th-11th 2019. Buses are provided for those attending HearSay (ends 2pm, April 7th) to take them directly to the IFC (c.1hr journey). Why not attend both events and place yourself at the centre of the audio universe for one full week!
I'm entering the HearSay Audio Prize 2019 - What happens if I win and I've already registered?
Best of luck with your piece. Remember entry to the HearSay Audio Prize 2019 closes 10th January 2019 and the maximum length is 7 minutes. Be inspired! (CLOSED)
If you end up winning one of the nine awards for the HearSay Audio Prize, you will be reimbursed what you will have paid for your "Immerse" pass and receive a PrizeWinners pass. Your flight from anywhere in the world to HearSay will be paid/re-reimbursed so you can attend the Awards Ceremony. You will be provided with up to a weeks accommodation and more. See www.hearsayfestival.ie

Can I pitch an idea to the HearSay19 Programme?
"You know HearSay, You know Kilfinane, anything is possible".
Please see http://bit.ly/PitchHS19 (CLOSED)
If you are successful with your programme pitch, you will receive accommodation at HearSay and other supports and will have the opportunity to have the cost of your HearSay19 pass reimbursed (in full or part) or donated.
What's the refund and Transfer policy?
There are no refunds. However Fixed Fee Immerse Passes may be transferred to another person up until 30th March 2019.
"Pay what you can afford" cannot be transferred but in the case of personal crisis, please contact us at contact@hearsayfestival.ie. The person who is registered should be the person who attends.
I love HearSay and want to see it suceed - can I become a sponsor or partner?
Thank you so much. You will help make audio heaven just that little more possible. If you would like to become a partner of HearSay please drop a line to diarmuid@hearsayfestival.ie
I'm from the Kilfinane area - Can I come to HearSay19?
Yes. Yes. Yes. HearSay is a coming together of two communities: The International Creative Audio community and the Ballyhoura Community centred on the village of Kilfinane. A Special HearSay19 Pass - the HearSay19 "Engage" pass will be available to local people living within 8 Kilometres of Kilfinane.
The HearSay19 "Engage" Pass will be similar to the Immerse Pass and will give you access to all events, experiences and encounters in the main programme. Details of how local people can secure HearSay19 "Engage" passes and participate in events will be circulated early in 2019.
There will also be a HearSay19 – "Discover" Pass for a small set of pop-up events and encounters within the programme. These events will be marked "Discover" and will be open to all on either a "Free of Charge" or "Give what you wish" basis.
Are there ID or minimum age requirements for HearSay?
No - though some individual events in the main programme may be age restricted. In Ireland the minimum age for consumption of Alcohol is 18 years of age. Much of the HearSay19 Programme is aimed at adults over 18 years of age but younger adults especially those interested in sound or storytelling may also gain much from the events.
HearSay takes places throughout our village. On check-in at the Welcome Desk (open from 3pm on Wedesday 3rd April till Sunday 7th) you'll be issued with a wristband which will give you access to all events and venues for the duration of HearSay19.
What are my transport options for getting to and from HearSay19?
Kilfinane is just an hour away from both Shannon and Cork International Airports and three hours from Dublin Airpot. There will be a dedicated HearSay Bus (with a schedule) that connects Kilfinane with public transport links from the Airports and major cities.
During the Festival, the HearSay Bus will also serve accomodation options in the surrounding villages during the festival. There is free parking with designated parking areas throughout the Village. Car hire from the airports can be very affordable at that time of year. We recommend parking at the Church Car Park. See also http://www.hearsayfestival.ie/getting-to-hearsay
What should I bring to HearSay?
All event are within a few hundred metres of each other. We do recommend a pop up umbrella just in case it rains - but rain never lasts long and you can always stay in the venue you are in and engage something unexpected. Some spaces out of respect for those offering them to HearSay will have restrictions on food and drink.
HearSay is an audio festival so a recorder if you have one can be useful for encounters but is not critical. Some events can be made even better with your own pair of headphones. Walking shoes/boots are also recommended for the sound related outdoor events. See also http://www.hearsayfestival.ie/what-to-expect
Do I have to bring my printed registration to HearSay?
Please do. It would really speed up things at the welcome desk. Alternatively you can bring it on the screen of your phone or with the Eventbrite App.
Can I update my registration information?
Yes you can - we appreciate that an email address can change or in a rush you made a typing error.
Can I contact the organising team with any questions?
Of course, we would be delighted to hear from you. Get in touch via email contact@hearsayfestival.ie or via Twitter (DMs open) @hearsayfestival.ie - Please be patient with us as we have a very small team running HearSay on a not for profit basis.
See you in Kilfinane in April!
Date and time
Location
Kilfinane
Kilfinane
Co. Limerick
V35 T2P3 Ireland
Ireland