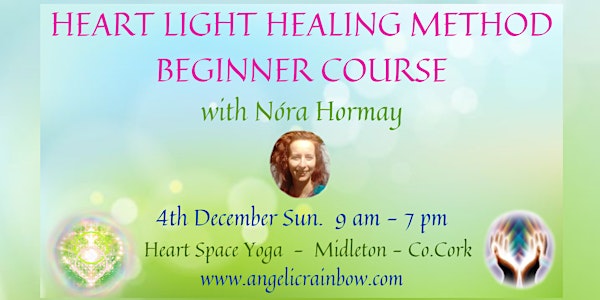 Heart Light energetic healing method beginner course
Heart Light healing is a gentle, uplifting energetic therapy method, using Rainbowlight energy, the vibration of unconditional love.
When and where
Location
Heart Space Yoga & Therapies 4a Main Street Midleton Ireland
About this event
If you are already a healer and would like to extend the variety of methods used, or you are considering a path to support other people's soul development, but have not found the method yet, or you simply want to live your life on a higher vibration and level of heart-consciousness, than this course is for You. Join me for the uplifting, Heart light method beginner level course in Midleton (Co. Cork) Ireland.
Fine touches generate vibration in the heart and body and it awakens the ability of self-love and self-healing. The Heart light method is a pure, efficient, pampering method to support people on their journey, releasing and healing their emotional wounds and bringing their life back to balance.
The method is based on Rainbowlight energy, which is a pure, angelic, unconditional love energy. The healing uses gentle strokes, it is a touch based, mostly non-verbal technique. We work on the spiritual, emotional and physical body level, plus the chakras.
The Heart light beginner course includes the following:
- Handing over the technique of the gentle, pampering Heart light method on a beginner level
- We learn about the basics of energy healing
- We talk about the shift in consciousness, ascension on Earth – a solution for humanity's future
- We learn about the 11+2 chakra system, 7 core + the spiritual chakras
- We activate the 11+2 chakra system through meditation
- We learn a daily chakra cleansing practice
- We learn about light body activation + mantra
- We talk about the Heart light method and its courses in general
The Rainbowlight energy channel, that we anchor during the course, helps you live life on a higher consciousness level. If you choose conscious living, you can change your world and your loved ones' world around you. The energy channel you will be connected to can be used in everyday life to support your environment, work, travelling, dealing with children etc. not just in healing. It can bring positive changes and will attract miracles into your life. Heart light is not just a method, but a lifestyle, a decision that you want to live your life in peace and love, with forgiveness in your heart.
TESTIMONIALS AFTER HEALING SESSIONS:
"Nora's work is truly from the Divine" – (Ireland)
"Nora's gentle energy and Heart-light healing therapy is like entering into the angelic realm and allowing them to bless you and open your heart. In that space, all fear is gone and only high vibrations exist, lifting us higher and filling us with divine unconditional love. After the treatment, I felt such peace, inner love and contentment that stayed with me. I don't know how she weaves this magic but I'm excited to learn more from her gifts. Thank you Nora 🙏🏼" – (Ireland)
"Wow, thank you. It is hard to find the right words to describe the treatment today. It felt like I was being gently touched by angelic forces awakening an inner sense of tranquillity, peace and love. I felt like I had transcended to source consciousness where everything was at peace and all was divinely connected.... The words thank you don't seem enough.🙏🏼" – (Ireland)
COURSE FEE:
Course fee: EUR 444 (payment in instalments is available if required)
CONTACT: Please let me know in advance if you would like to participate ideally before the 1st Dec. via email: heartlighttouch@gmail.com or via WhatsApp or phone call on +353-831685718 or messenger (Nóra Hormay) as spaces are limited. If you have any questions, please do not hesitate to contact me!
MY BACKGROUND:
I awakened 14 years ago and have been on a deep self-healing and spiritual path ever since, which became my passion. I have been healing with Rainbowlight energy for 8 years and became the teacher of the Heart Light method 7 years ago. I have been holding Heart light courses all over Hungary (www.szivfenyerintes.hu), but I always knew my role in the future will be to spread it internationally. Working with this energy took me through my own journey of awakening, deep healing and transformation.
Lots of love and light
Nóra Hormay
Heart light healer and wayshower
Life Coach and self-awareness consultant
www.angelicrainbow.com