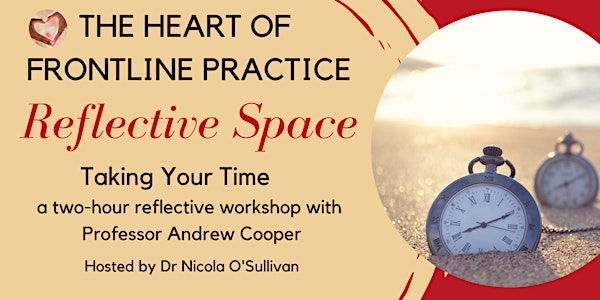 Heart of Frontline Practice: Reflective Space with Professor Andrew Cooper
Taking Your Time – a two-hour reflective workshop with Andrew Cooper
Refund Policy
Contact the organiser to request a refund.
About this event
The Heart of Frontline Practice alliance - Ag Eisteacht, SHEP and Dr Nicola' O Sullivan - warmly invites you to join Professor Andrew Cooper in a facilitated 2-hour workshop via Zoom on 'Taking Your Time' Tuesday 8th February from 11am to 1pm.
The event will be hosted by Dr Nicola O'Sullivan, Tavistock & Portman NHS Foundation Trust, one of the three collaborators behind the Heart of Frontline Practice alliance.
Andrew Cooper BA MPhil DipASS has been a Professor of Social Work at the Tavistock Trust since 1986. Andrew is a qualified and registered psychoanalytic psychotherapist, and a registered social worker. Teaching, researching, and promoting relationship-based and therapeutic social work has been central to his career, and many of his published works reflect this, Andrew founded the Centre for Social Work Practice which is a charity dedicated to promoting and developing relationship based social work.
This workshop will offer you the opportunity to take some time for yourself and your feelings about your current work stresses. It will be a reflective space. Under pressure of work and the anxiety of everything, we often feel we can't take any time. But actually everything can feel more manageable if we do...
We hope that you can take two hours out of your daily routine work to join us for this nourishing and inspiring workshop on Tuesday 8th February from 11am – 1pm with Professor Andrew Cooper who will share his wonderful wisdom and insight.
Places are limited so please book early to avoid disappointment.
Fees:
The fee for this 2-hour workshop is €30
Booking deadline February 7th, 2022
Cancellation Policy:
Refunds cannot be issued for cancellations received less than 2 weeks before the workshop. However, under exceptional circumstances, this can be reviewed by the organisers.
Contact:
If you have any further questions about this event please contact Sabrina by phone 085 8619468 or by email sabrina.moris@relationshipsinpractice.ie
SHEP:
The Social and Health Education Project CLG (SHEP)is a not-for-profit, community-based training and development organisation established with a commitment to personal and social transformation. Our key areas of work include: a unique training programme based on experiential group work approaches; advocacy; low-cost counselling; supports for community groups and organisations, earth awareness work and international partnership.
www.socialandhealth.com