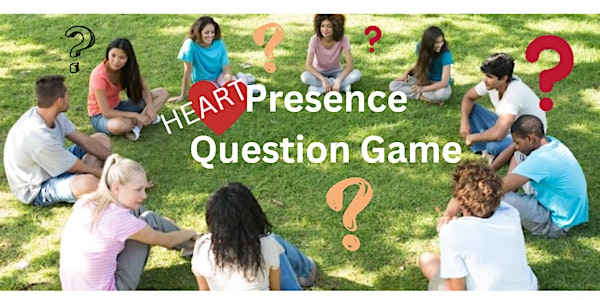 Heart Presence Question Game
Non-competitive Self-discovery and Community building Game . A FUN way to learn to be Present in our conversations and listening = healing!
When and where
Location
True Bliss Healing Tower Mount Donaghmore C15 R2E5 Navan Ireland
Refund Policy
Contact the organiser to request a refund.
About this event
Non-competitive Self-discovery and Community building Game
Whats it all about? Is this for me? Are you one who would like to dive deeper into:
*Self discovery *Getting to know ourselves & others on a deeper emotional level * Reclaiming your childlike Curiosity *Staying present in conversation *Practicing listening and problem solving skills * Cultivating creative ways of Questioning * Building PRESENCE awareness on mental, emotional an physical level *Celebrating our Wholeness in a safe, non-judgemental space * Activate and upgrade your natural Self-Healing ability * Liberate yourself from social/personal fears and anxiety * Open up for new ways of joyful living * Balance emotional & mental states *Relax, laugh and rejuvenate If this sounds like you: Come, bring your friends and family ( 15yrs +) to join and connect to each other on a whole new level to deepen friendships, relationships : it all starts with US...
Mindfulness in Action IS Heart Presence Communication!
Radical honesty, curiosity and trust with an open heart space.
Our ancestors sit in circles for eons of time , listening to each other ...cose through each others eyes we can sink deeper into ourselves, discover and understand more of our emotions, thoughts, intentions, character that literally creates our future in the present .
The intention of collective acceptance and divine presence creates the magical space of healing- Together we stand strong in each others support, to be heard and seen , connect and heal...
The Game Circle is set with specific Intention and a different THEME at each meeting. (preferably once a week)
As the group energy leads the circle, its likely to be flowing into creative, fun ways of self- expression like song, dance and laughter ... to be expected!
Basic Guidelines
Non - competitive, Non-judgemental attitude is Mandatory
Everything what is shared in the circle , stays private and confidential
We don't talk about people and external events/happenings that are outside of our circle ... to keep the focus on our PRESENCE
Answering and forming Questions is NOT mandatory, you are free to choose to sit and observe or leave at any point without any explanation
Questions and answers supposed be phrased in Present tense
Each answer has to end with a Question.. to keep the conversation flow
10 people only for everyone to be heard and seen... dont hesitate to book your spot early
Donation based
More details to be presented at the Game Circle ! We can't wait to meet you there!