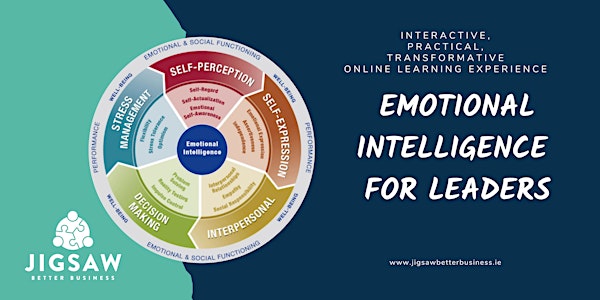 Hearts & Minds - Emotional Intelligence for Leaders (August)
Invest in yourself to become a more effective leader, manager, or individual contributor.
About this event
Emotional Intelligence is a set of skills that can be developed. It is your ability to understand, use, and manage your emotions, and those of others, in positive ways. This wide range of skills can enhance performance in any job that involves interacting with people, communicating with others, and managing change and stress. This programme is an opportunity to invest in yourself, to enhance your ability to thrive in the complex world of work.
Who is this for?
This is ideal for leaders, managers, or aspiring leaders/managers who want to improve their social and emotional skills in order to enhance their performance and effectiveness.
This is for you if you would like to:
• Enhance self-awareness
• Understand and manage emotions more effectively
• Communicate more clearly
• Develop assertiveness
• Build stronger, better-quality relationships
• Enhance decision making
• Adapt to change with flexibility
• Work well under pressure
Time commitment:
1 hour for eLearning modules (self-paced)
9 hours over 3 weeks to attend live group training
Total: 10 hours
Schedule:
Workshop 1: 11th August 2022
Workshop 2: 18th August 2022
Workshop 3: 25th August 2022
Testimonials:
"The course gave a great insight into understanding what is EQ both on a personal level and a professional level and how it impacts your work-life balance. Julie facilitated the group to share and learn from each other but also covered good tips for all areas. Julie delivered the course in a very professional and friendly manner and allowed all participants to feel comfortable in their own space." – Yvonne Sheehan, Managing Director
"Clear engaging delivery, interactive, fulfilling, Julie imparted the course content in a very professional practical and warm way, to encourage and whet the appetite for learning." – Emma Plant, vet and business owner
"The tools and methods that Julie shares are so valuable for all businesses to help us work better together. These sessions are inspirational. The group dynamic that she's created is also wonderful. Julie is an excellent trainer and breaks down all these ideas to be so digestible & easy to put into action." – Rosie Mansfield, Managing Director
For any further information: Please contact Julie@jigsawbb.ie or hello@jigsawbb.ie