Helfa Hanes Nefyn |Nefyn Historical Hunt
About this event
PLEASE SCROLL FOR ENGLISH
Ymunwch â Rhys Mwyn am helfa hanesyddol o gwmpas dref hanesyddol Nefyn. 
Bydd yr helfa'n cychwyn yn yr Amgueddfa Forwrol yna'n crwydro drwy hen stydoedd Nefyn gan orffen yn y twr.
Mae'n digwyddiad hwn yn addas ar gyfer plant a theuluoedd.
TYNNU LLUNIAU A FFILMIO
Byddwn yn tynnu lluniau a recordiadau byr yn ystod y digwyddiadau hyn i'w rhannu ar sianeli cyfryngau cymdeithasol, cylchlythyrau a gwefan LIVE. Byddwch yn cael cyfle i optio allan o ymddangos yn y recordiadau hyn. Os credwch eich bod wedi cael eich ffilmio neu dynnu llun yn erbyn eich dymuniadau, rhowch wybod i aelod o'r tîm LIVE a byddwn yn dileu'r ddelwedd ar unwaith. Os oes gennych unrhyw ymholiadau ynglŷn â sut rydym yn trin data personol, cysylltwch â live@ucc.ie neu cyfeiriwch at ein hysbysiad diogelu data
****************************************************************************
Join Rhys Mwyn for a historical hunt around the ancient and interesting town of Nefyn.
Starting at the Llŷn Maritime Museum, you will then be guided through the old streets which retain their layout from the Middle Ages.
This event is suitable for children and families.
PHOTOGRAPHY AND FILM DISCLAIMER
Please note that we will be taking photographs and short recordings during these events to share on the LIVE social media channels, newsletters and website. You will be given the opportunity to opt out of appearing in these recordings. If you think you have been filmed or photographed against your wishes, please let a LIVE team member know and we will delete the image immediately. If you have any queries regarding how we handle personal data, please contact live@ucc.ie or refer to our data protection notice.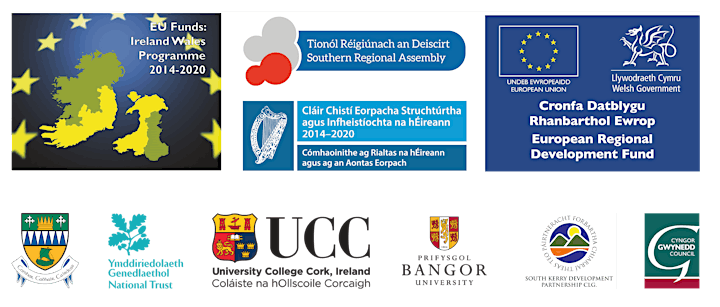 Organiser of Helfa Hanes Nefyn | Nefyn Historical Hunt
LIVE is a collaboration between Welsh and Irish community organisations, academic departments and local governments on the Iveragh Peninsula (south-west Ireland) and Llŷn Peninsula (north-west Wales). The aim of LIVE is to enable coastal communities to promote their natural and cultural assets and create opportunities for sustainable tourism, especially outside of the traditional peak tourist seasons. We aim to build on the varied work already underway to create a strong identity and sense of place for both peninsulas.
Find out more about the project here: www.ecomuseumlive.eu.
LIVE has received funding from the European Regional Development Fund through the Ireland Wales Cooperation Programme.