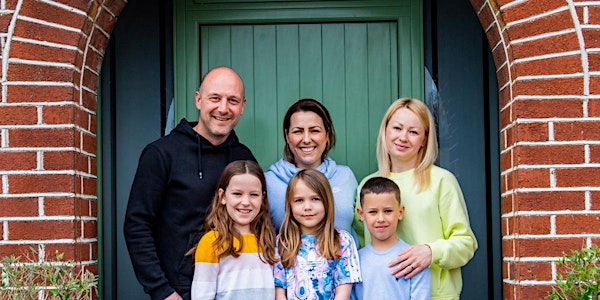 Helping Irish Hosts Information Roadshow - Ashbourne
An information and celebration event for anyone who's hosting or is interested in hosting displaced Ukrainians in Irish homes.
When and where
Location
Pillo Hotel Ashbourne Rath A84 KR91 Ashbourne Ireland
About this event
Over 52,000 Ukrainians have arrived in Ireland since the war started in February. In the midst of a wider housing crisis, the state has run out of emergency accommodation for new arrivals. We need hosts ready to go when the call comes!
Helping Irish Hosts arose in direct response to the Ukraine crisis, to empower and support individuals and communities in Ireland to host Ukrainians in their homes, safely and sustainably. We are hosts, helping hosts.
We've done an excellent job so far, with hundreds of Ukrainians in over 260 homes, a vibrant, trusted support network for hosts and presenting a strong voice in advocacy for hosts at all levels. Since the end of August we've been working with the Irish Red Cross to make matches in emergency accommodation centres, with our small teamplacing nearly 100 people from Maynooth University in 40 host homes.
We're going around the country to thank existing hosts, recruit new ones and help make sure everyone feels confident about taking the plunge. We'd love you to join us in Ashbourne.
WHAT TO EXPECT
The evening will be hosted by Today FM presenter Matt Cooper, who will be joined by local host families and Ukrainian guests, Angie Gough from Helping Irish Hosts and partners from Ukrainian Action, The Irish Refugee Council, The Irish Red Cross and The Open Community.
You'll find out more about :
- Who we are and how to pledge accommodation with Helping Irish Hosts
- The ups and downs of hosting and how to set yourself up for success
- What it's like to be a host AND what it's like to be hosted
- Community Sponsorship - what happens when communities host together
- Supports available to hosts and how to access them
There'll be a Q & A with the panel, where you can safely ask anything and everything and between us we'll find an answer.
Stay on for a cuppa and a chat afterwards.
All are welcome, if you are currently hosting please come along to share your experience - the good, the bad and the ugly! Write it in advance and bring it to add it to the HIH storybook on the night.
Ashbourne local and co-founder of Ash Meath (Friends of Ukraine Ashbourne) Sorcha Gough says, "Hear stories, ask questions, meet families. All are welcome, if you are currently hosting please come along to share your experience."
The Helping Irish Hosts roadshow is funded by The One Foundation and The Sunflower Foundation, in partnership with The Community Foundation . Coming soon to a town near you.
This event is organised by Helping Irish Hosts, in partnership with Ash Meath, The Irish Refugee Council, The Open Community, The Irish Red Cross, Doras and Nasc.
With huge thanks to Pillo Hotel Ashbourne for their support and sponsorship.
**By signing up to this event you consent to follow up emails related to follow up events, information and resources for people hosting refugees in the community.