Sales Have Ended
Ticket sales have ended
Thank You for your purchase. We look forward to welcoming you to The Rialto Cinema Club!
Sales Have Ended
Ticket sales have ended
Thank You for your purchase. We look forward to welcoming you to The Rialto Cinema Club!
HENRY GLASSIE : Field Work ( Director : Pat collins) Watch trailer link at bottom of page!
About this event
Irish Director Pat Collins' most recent film Henry Glassie: Field Work, is a magisterial portrait of the renowned American folklorist and ethnologist Henry Glassie, now in his seventies. Henry Glassie is one of the most celebrated folklorists across the world. He has spent the last 50 years making in-depth studies of communities and their art. Glassie's subject is folklore but his abiding love for the people who create it resonates throughout the film. "I don't study people. I stand with people and I study the things they create."
Early in the Troubles, Henry Glassie came into a community of active story tellers in County Fermanagh. There he discovered a world about to be lost. Over the course of ten years' research, he recorded the life and art, the folklore, history and common work but particularly the stories of that tiny community.
This film is an intricate exposition of Glassie's life's work and a vehicle for Collin's trademark perspicacity and keen eye for the smallest details which yield deep significance. The rituals and rhythms of working artists across Brazil, Turkey, North Carolina and Ireland are recorded in languorously paced sequences which mirror the real time process of the crafting of the work.
Pat Collins is an award winning Irish director. He could be described as a cinematic landscape artist of sorts, possessing a deft ability to capture texture, mood, and emotion, along with the confidence to let his films (and their subjects) truly breathe. With a long and distinguished body of work, he has made over 30 films since 1999. Work include the feature film Songs of Granite (2017),a portrait of Joe Heaney. Other portrait films include; A Private World (2004) portrait of John McGovern; What We Leave in Our Wake (2009); Tim Robinson: Connemara (2011); Silence (2012); Living in a Coded Land (2014). He was also co-director odf the three-part series 1916, which broadcast on RTE, BBC and PBS America.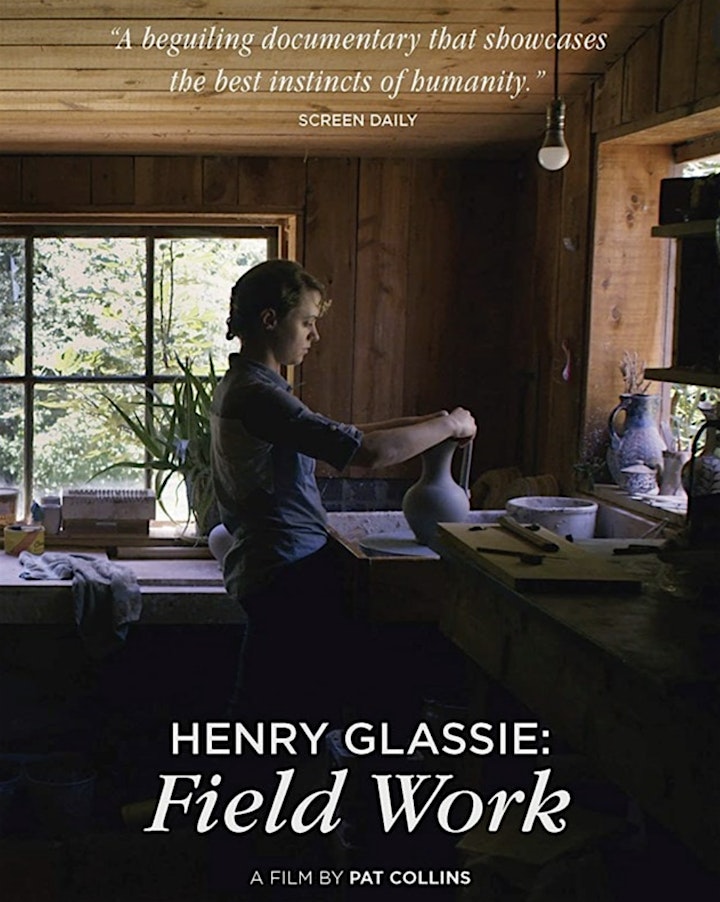 Organiser of HENRY GLASSIE : Field Work (2019 : 105 mins)
The Rialto Cinema Club, in the back room of The Circular, was set up in early 2020 by Jenny Keogh and John McMahon. It managed to squeeze in a few screenings before the world got turned upside down in March of that year. The premise of the weekly cinema night is to show feature length documentary films focusing on music, art and culture, with a lean towards Irish directors and a healthy sprinkling of International directors. It will also show a selection of short documentaries every couple of months. Jenny is a photographer, filmmaker and an avid film festival goer, with a particular passion for the documentary genre, so selecting and programming films is a pure joy and comes easy. John is the events manager at his two D8 venues, The Circular and Luckys – everything from art exhibitions, pottery classes to pub quizzes, so it was an absolute no-brainer to merge their skills to create a weekly cinema event in their local Dublin 8. Jenny's line up of films for the September/October program is setting the bar high. The November/December program is coming soon. And here's hoping we'll have a free run to keep the doors open into 2022!
Biweekly on Tuesdays 8.30pm – Launching 7th September 2021
Tues 7th Sep: PJ HARVEY - A Dog Called Money (Dir. Seamus Murphy)
Tues 21st Sep: SHOW ME THE PICTURE - The Story of Jim Marshall (Dir. Alfred George Bailey)
Tues 05 Oct: BEST BEFORE DEATH (Dir. Paul Duane)
Tues 19 Oct : HENRY GALSSIE - Field work (Dir. Pat Collins)
Tues 26th Oct : THE BLAIR WITCH PROJECT (Special Halloween Screening)