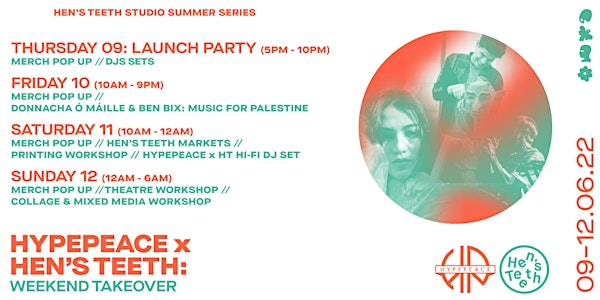 Hen's Teeth x Hypepeace: Weekend Takeover
Hen's Teeth and the philanthropic streetwear brand HYPEPEACE join forces to host a weekend of talks, workshops, music, and a pop up store.
When and where
Location
Hen's Teeth Studio Hen's Teeth Studio, Block A, New Mill, Mill St, D08 NN5V Dublin 8 Ireland
About this event
THURSDAY (5pm - 10pm)
- HypePeace x Hen's Teeth Launch Night .
FRIDAY (7:30pm - 8:30pm)
- Music for Palestine with Donnacha O'Malley and and Ben Bix. [Donation]
SATURDAY (11:30am - 1pm)
- Printing workshop hosted by HYPEPEACE. Creating your own A3 poster using hand cut stencils. You'll play with layering shapes, mixing printmaking ink and creating beautiful textures and patterns.[€15 per ticket]
SUNDAY (1:30pm - 4:30pm, 4:30pm - 5:30pm)
- Theatre Workshop about culture resistance and screening of return to Palestine play from the Freedom Theatre with Amir Abualrob. [€15 per ticket]
- Collage and mixed media workshop about Palestine with Tuqa Al-Sarra. [€20 per ticket]
About Music for Palestine
Dunny – organ
Ben Bix – various modular instruments
Donnacha O'Malley is an experimental musician, singer, keyboard player, songwriter and composer. He is one fifth of the outfit Meltybrains? and has a solo project under the name Dunny, both are set to release debut albums in the coming year. Donnacha studied classical piano from a young age and went on to complete a Bachelor of Music in NUI Maynooth, majoring in composition. O'Malley has performed in The Abbey Theatre and IMMA, as well as Other Voices Berlin, SXSW, Canadian Music Week, Iceland Airwaves and various Irish music festivals.
Bernhardt McKenna is an experimental musician, singer, multi-instrumentalist, songwriter, composer, DJ, sound engineer and producer. He is a member of acts such as Meltybrains?, I Am The Main Character and SSMMÜTT, as well as having a solo project entitled Ben Bix. McKenna has produced many of the acts he is involved in and is an in-house producer for Sim Simma, working with artists such as Denise Chaila and Loah.
The evening's performance will circle around improvised variations of O'Malley's original compositions.
About Amir Abualrob
Amir Abualrob is a Dublin based Palestinian theatre maker, performer, facilitator and director. In 2017 they finished their BA program at The Freedom Theatre (TFT) in Palestine, in theatre and cultural resistance. worked as a facilitator with TFT.
Amir was awarded the AIC bursary award for Collaborative Arts and Cultural Diversity in October 2020. In July 2021, they were awarded a one-week residence at the Hawk's Well Theatre Sligo and the Cairde Sligo Arts Festival as part of the Time at The Well. They were awarded the Arts Council of Ireland's Theatre Project Award Round 2 in July 2021.
About Tuqa Al Sarraj
Tuqa Al Sarraj is a Dublin based multidisciplinary artist. she studied Fine Art media at the National College of Art and Design (2021). Al Sarraj has also previously studied contemporary art at the International Academy of Art Palestine (IAAP), Ramallah (2017). She was a member at Almahatta Gallery.
Her practice combines mixed-media, found objects, collage, photography, video, performance and installation, navigating themes of memory, loss, and exile through social dialogues and personal conversations.
Tuqa has exhibited as part of group exhibitions in Oslo, London, Ramallah, Creil, Dublin and Limerick. At the moment Al Sarraj is an artist in residence at Mart studios- Dublin and member of PalArt collective.
About HYPEPEACE
HYPEPEACE is a philanthropic streetwear clothing brand. Through their design approach they playfully adapt fashion's hype aesthetics to ironic effect to raise awareness on humanitarian issues and use revenues to set up community projects.
Currently building Art For Palestine with Aida Youth Centre. Their aim is to provide creative opportunities for the local youth, to connect with their peers and build networks across the globe.
https://hypepeace.com/